CHICAGO, Illinois (CNN) -- Oscar-winning actress Jennifer Hudson is offering a $100,000 reward for the safe return of her 7-year-old nephew, who has been missing since her mother and brother were found dead in their home Friday.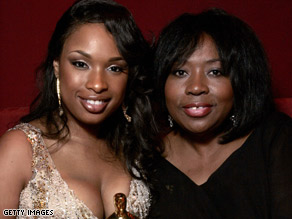 Hudson's publicist confirmed that the actress' mother, Darnell Donerson, right, was killed.
A spokeswoman for Hudson confirmed the reward, the latest development in the investigation of the shooting deaths of Hudson's relatives and abduction of her nephew, Julian King.
"Please keep praying for our family and that we get Julian King back home safely," Hudson said in a posting on her MySpace page Sunday. "If anyone has any information about his whereabouts please contact the authorities immediately."
Hudson also posted two pictures of her nephew wearing the brown-and-orange striped polo shirt he was last seen in.
Earlier, Hudson viewed the bodies of her mother, Darnell Donerson, and brother, Jason Hudson, the Cook County medical examiner's office told CNN Sunday. They were found shot to death Friday in their South Side Chicago home.
Meanwhile, Chicago police are handing out fliers as part of a massive search for Hudson's nephew.
Police issued an Amber Alert for Julian and asked people to look out for a 1994 white Chevrolet Suburban with Illinois license plate X584859.
Julian is described as being 4-feet-11 and 130 pounds. He was wearing a striped brown polo shirt and khaki pants when last seen, authorities said in the Amber Alert.

Watch the police news conference »
Police confirm they have taken a person into custody but are not saying who.
Fact Box
• Julian King, 7, is Jennifer Hudson's nephew and Julia Balfour's son

• Julia Balfour is Jennifer Hudson's sister and Julian's mother

• Julia Balfour's estranged husband is William Balfour, who is in police custody

• Michele Davis-Balfour is William Balfour's mother

• Jennifer Hudson's mother Darnell Donerson and brother Jason Hudson were found shot to death Friday in Chicago

News reports, however, say that person is Hudson's brother-in-law, William Balfour. Balfour's mother has also acknowledged her son has been questioned about the shootings.

Chicago news station WLS reported Saturday that Julian was not with Balfour when he was detained.

Police say they have transferred the person in custody to the Illinois Department of Corrections for a parole violation.

Watch the latest on the Hudson case »
According to the Department of Corrections, Balfour, 27, is on parole. He spent nearly seven years in prison for attempted murder, vehicular hijacking and possessing a stolen vehicle.
William Balfour's MySpace page states that he is married to Hudson's sister Julia and has a stepson. It also says he lives on Chicago's South Side.
Hudson's sister, Julia Balfour, made an emotional appeal Saturday for the safe return of her son.
"My greatest fear has already happened, my greatest hope is for having my child. I just want my son," Julia Balfour said. "That's all I have to say. Just let my baby go."
William Balfour's mother also urged the public to focus on finding Julian and said her son had nothing to do with the slayings.
"Out of no means did my son do this. This heinous crime to this family is unbelievable. It's unbearable," Davis-Balfour told WLS.

Watch Davis-Balfour's emotional appeal »
Deputy Police Chief Joseph Patterson said the bodies were found about 3 p.m. Friday (4 p.m. ET), when a relative arrived and found the body of a woman on the living room floor. The relative backed out of the house and called police, Patterson said. Authorities found a man shot to death in a bedroom.
Don't Miss
The Cook County medical examiner's office said Saturday that Donerson and Jason Hudson suffered multiple gunshot wounds and ruled the deaths homicides.
The FBI is working with Chicago police to find Julian, Chicago Police Superintendent Jody Weis said.
The FBI was brought in as a precaution because it would be possible to cross state lines in the amount of time the boy has been missing, which would make any abduction a federal crime, he said.
Neighbors reported hearing gunshots earlier Friday, Patterson said. Authorities found no signs of forced entry to the home and were not sure whether other items were missing.

Watch the scene outside the house »
"You've got two people who were killed inside a home. That alone will produce a great deal of evidence," Weis said of forensic evidence at the crime scene.
Hudson won a Best Supporting Actress Oscar for her portrayal of Effie in the film version of the Broadway musical "Dreamgirls." She competed on the third season of "American Idol" in 2004, making it to the top seven contestants before being eliminated from the contest.
E-mail to a friend

All About Chicago • Jennifer Hudson