From Bill Mears
CNN Supreme Court Producer
WASHINGTON (CNN) -- Iraq war veteran Patrick Lett admits he made a mistake, one that sent him to jail and resulted in a criminal record.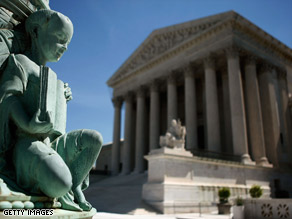 The U.S. Supreme Court refused to review the appeal of a case that involved sentencing guidelines.
But the judge who sentenced him initially to five years behind bars also admits to a mistake. Now the U.S. Supreme Court has bypassed a definitive ruling on whether the two wrongs can ever be made right, in a case involving judicial discretion in sentencing.
The high court Monday refused to review Lett's appeal. The justices' decision means the 39-year-old Alabama native will be going back to a federal penitentiary to complete his five-year sentence.
The case was among about 2,000 pending appeals considered by the Supreme Court this week as the justices returned from a three-month summer recess.
At issue was whether the trial judge's "misunderstanding" of his sentencing authority and his subsequent efforts to reduce the defendant's jail time is allowed under federal law. The government says the court's "honest mistake" cannot be undone.
Lett had just ended a 17-year stint in the U.S. Army, including two tours in Iraq, leading what the judge later called an "exemplary life." But in early 2004, Lett's life fell apart. Just after he left the service, his father died, he failed to find work as a civilian, could not support his two young daughters as a single parent and began drinking heavily.
His lawyers say "temptation" set in and Lett began working in Mobile, Alabama, for his cousin as a drug dealer and courier. But after six weeks, court records show, he left the drug trade and re-enlisted in the military.
Then in September 2005, he was indicted in federal court as part of a large drug conspiracy. Prosecutors said Lett, in 2004, had sold crack cocaine to an undercover agent on seven occasions.
Back on active duty, Lett went to court and immediately pleaded guilty. He asked the judge for leniency and to remain a soldier, saying "the most important thing is taking care of my mom and my kids and serving this country."
Despite favorable testimony on his character from fellow servicemen, U.S. District Court Judge William Steele -- himself an Army vet -- sentenced Lett to five years, believing he had no discretion to go below what he thought was the mandatory minimum prison term under federal guidelines.
In stepped Matthew Sinor, an old Army pal who was then a law student at Ohio State University. Sinor thought Steele had other options available, and urged his professor -- Douglas Berman, a national expert on sentencing -- to intervene.
The two men quickly wrote the judge and prosecutors, saying that under the facts of the case, the five-year sentence was not really mandatory after all.
The trial court agreed and reduced the sentence to the 11 days already served, plus three years of supervised parole. Lett was ordered freed immediately. Discharged from the Army in 2007, he now lives in nearby Pascagoula, Mississippi.
In a brief interview with CNN, Sinor said he was only "helping a friend and doing what was right."
The high court in recent years has given federal judges greater discretion to depart from mandatory minimum guidelines passed by Congress two decades ago in the midst of a crack cocaine epidemic sweeping many parts of the United States. The justices last December issued a 7-2 ruling giving judges the power to shorten crack cocaine sentences "when appropriate."
The U.S. Sentencing Commission has since given nearly 20,000 federal inmates jailed for crack cocaine offenses a chance to have their jail terms reduced, with many members saying the changes were long overdue and hampered by racial issues.
The changes were in response to long-simmering complaints over the wide disparity in sentences handed down over powder versus crack cocaine. Many of those inmates have been released over the past few months, having served newly shortened sentences.
Justice Department figures show more than 65,000 felony sentences are handed down in U.S. courts every year.
The case is Lett v. U.S. (07-1042).
E-mail to a friend

All About U.S. Supreme Court