From Paul Vercammen
CNN

LAS VEGAS, Nevada (CNN) -- Jury selection in the O.J. Simpson robbery and kidnapping case was briefly halted Thursday by Judge Jackie Glass after defense attorneys claimed prosecutors dismissed an African-American woman because of her race.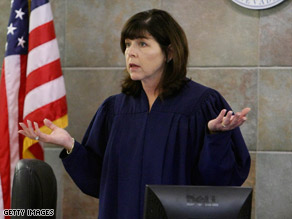 Judge Jackie Glass decided prosecutors had a "race-neutral" reason for dismissing the potential juror.
Glass eventually restarted the process and denied the challenge, saying prosecutors had demonstrated a "race-neutral" reason for the woman's dismissal.
Simpson's attorneys had made a so-called Batson challenge, the name of which stems from a U.S. Supreme Court case prohibiting dismissal of potential jurors on the basis of race.
"She is one of the only African-Americans who even has a shot of being on the panel," said Yale Galanter, an attorney for Simpson, who is black.
Prosecutors said race played no part in their decision to excuse the woman.
District Attorney David Roger said the potential juror was "the pastor of her own church and is forgiving in nature," and he feared she would forgive the defendants no matter what the evidence showed.
The woman also seemed conflicted on several issues, Roger said.
In all, 40 prospective jurors were needed to pass the "voir dire" -- or questioning -- process before challenges from lawyers on each side settle on 12 jurors and six alternates. Attorneys arrived at the jury pool of 40 earlier Thursday.

Watch what potential jurors are telling attorneys »
The high-profile case started with 500 prospective jurors.
The trial stems from an incident in which Simpson and five other men are accused of storming a Las Vegas hotel room on September 13, 2007, to recover sports memorabilia that Simpson said belonged to him. Prosecutors say at least two men with Simpson had guns as they robbed a pair of sports memorabilia dealers.
Four of Simpson's five original co-defendants have entered plea deals with prosecutors and agreed to testify against Simpson.
If convicted on all counts, Simpson faces a possible sentence of life in prison. He has pleaded not guilty and has told CNN he was trying to get his property back.
E-mail to a friend

All About O.J. Simpson • Criminal Trials