From Ted Rowlands
CNN
(CNN) -- O.J. Simpson arrived Monday for the start of his trial on robbery and kidnapping charges nearly a year after police arrested him in Las Vegas, Nevada.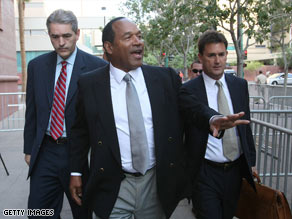 O.J. Simpson, center, and attorneys Gabriel Grasso and Yale Galanter arrive at the courthouse on Monday.
Prosecutors say Simpson and five other men stormed into a Las Vegas hotel room last September 13 to recover sports memorabilia that Simpson said belonged to him. They say at least two men with Simpson had guns as they robbed two sports memorabilia dealers.
Simpson faces a sentence of up to life in prison if convicted on all counts. He has pleaded not guilty and has told CNN he was just trying to "get his stuff back."
"O.J. Simpson did not know that there were guns in that room," said Yale Galanter, an attorney for the former athlete.
The court has eliminated 252 of 500 potential jurors based on their answers to a questionnaire. Attorneys for the prosecution and defense will start selecting a jury Monday, trying to find 12 jurors and four alternates from the remaining pool of potential jurors.
Simpson arrived at the Clark County Regional Justice Center at 7:30 a.m. CT (9:30 a.m. ET) wearing a black blazer, gray pants, white shirt and tie. He waved and smiled to onlookers as he walked into the courthouse with his attorneys and half a dozen sheriff's deputies.

Watch a look back at Simpson's legal history »
Attorneys expect many jurors to have heard about the case but are looking for people who will make decisions based on the evidence presented at trial, said legal analyst Jim Moret.
"It's not whether or not you've heard a lot about the case," he said. "It's whether you can set that aside and listen to the evidence that's presented in court and determine the case based solely on that."
The case centers on events that unfolded in a room in the Palace Station Hotel, off the Las Vegas strip, on September 13, 2007.
Two sports memorabilia dealers -- Bruce Fromong and Alfred Beardsley -- were in the room, expecting to meet a wealthy collector who wanted to buy Simpson memorabilia. Instead, Fromong said, Simpson and several other men barged in and held him at gunpoint.
"They had guns drawn -- one of the guys had a gun pointed right on me," he said.

Watch Fromong describe what happened that night »
Beardsley, however, has told CNN that he thinks Simpson is innocent.
Four of five Simpson's original co-defendants have struck deals with the prosecution to testify against Simpson. One testified in a pretrial hearing that "O.J. Simpson wanted me to have a weapon." Another testified that Simpson "wanted me to help him acquire some guns."
The fifth co-defendant, Clarence "C.J." Stewart, will stand trial with Simpson in Las Vegas starting this week.

See a timeline of Simpson's history »
Some legal experts say the prosecution faces problems: One victim says he believes Simpson is innocent and three of four original co-defendants who plan to testify against Simpson have criminal records.
"Talk about the gang that couldn't shoot straight," says legal analyst Stan Goldman. "Everybody here has got a problem. And they're going to have some problems with credibility."
E-mail to a friend

CNN's Jim Roope and Paul Vercammen contributed to this report.
All About O.J. Simpson • Las Vegas