ORLANDO, Florida (CNN) -- The mother of missing Florida toddler Caylee Anthony was arrested and charged Friday with forgery, fraudulent use of personal information and petty theft, the Orange County Sheriff's Department said.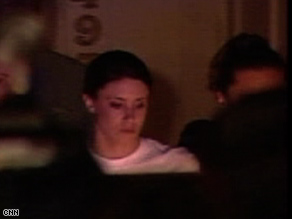 Casey Anthony was taken into custody Friday night at her parents' home in Orlando, Florida.
The charges relate to Casey Anthony's use of "some monies and checks in an account that did not belong to her and she knew that," Orange County Capt. Angelo Nieves said.
Orange County Sheriff's Department officers ushered a handcuffed Anthony through a crowd of protesters that had gathered outside her parents' Orlando home.
The protesters cheered as Anthony -- wearing a T-shirt with Caylee's picture and the words "Have you seen me?" -- was taken to a unmarked police car.
The dramatic scene played out live on CNN Headline News' "Nancy Grace."

Watch Casey Anthony being taken into custody »
Anthony had been out on bail after being charged with child neglect, making false official statements and obstructing a criminal investigation into her daughter's disappearance. On Thursday, a bounty hunter who had posted bond for Anthony said he planned to revoke the bond.

Watch bounty hunter Leonard Padilla explain why he wants to revoke bond »
The new charges carry an initial $3,000 bail, Nieves said.
Anthony reported her 3-year-old daughter missing in July, a month after the last known sighting of her.
Law enforcement sources said DNA evidence suggested that a strand of hair in the trunk of a car linked to Casey Anthony was Caylee's.
Nieves confirmed reports that tests had "indicated human decomposition was present and located in the defendant's vehicle."
After holding onto "high hopes" that Caylee could be found alive, Nieves said Friday, "that hope is somewhat diminished."
Anthony told police that a babysitter kidnapped Caylee, but police found inconsistencies in her story, according to police reports.
Police learned of the car from Anthony's mother, Cindy Anthony. At that time, Cindy Anthony told authorities that it smelled as if a dead body had been in the trunk.
Cindy Anthony has since said she believes that her granddaughter is alive.
E-mail to a friend

All About Casey Anthony