(CNN) -- A Texas grand jury indicted three more members of a polygamist sect that was raided in April, a Schleicher County official told CNN on Thursday.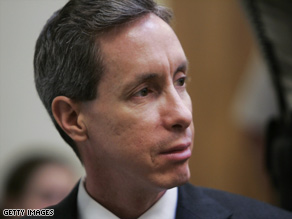 Warren Jeffs and four followers were indicted in Texas in July on child sex abuse charges.
"We have three indictments on three people," said Peggy Williams, the county clerk. "There will be no more information released until the three individuals have been served. We are not releasing names or charges at this time."
Five Texas members of the Fundamentalist Church of Jesus Christ of Latter Day Saints (FLDS), along with the group's leader, Warren Jeffs, were indicted in July in Texas on charges relating to accusations of sexual abuse of children.
Jeffs was charged with the sexual assault of a child, which is considered a first-degree felony. If convicted, he would face a maximum penalty of five to 99 years or life in prison, as well as a fine of up to $10,000.
Four of Jeffs' followers were charged with one count each of sexually assaulting girls under the age of 17, and one of those four also faces a bigamy charge. A fifth follower is charged with three counts of failure to report child abuse.
Jeffs, 52, is the leader and "prophet" of the estimated 10,000-member FLDS, an offshoot of the mainstream Mormon church. The FLDS openly practices polygamy at its Yearning for Zion (YFZ) Ranch outside Eldorado, Texas, and in two towns straddling the Utah-Arizona state line -- Hildale, Utah, and Colorado City, Arizona.
Critics of the FLDS say it forces girls as young as 13 to marry men. It is not affiliated with the mainstream Mormon church, which renounced polygamy more than a century ago. FLDS members maintain that no sexual abuse of children takes place.
Don't Miss
Texas authorities raided the ranch in April, seizing more than 400 children who were later returned to their families after the Texas Supreme Court ruled the state had no right to remove the children and lacked evidence to show they faced imminent danger of abuse.
Last November, Jeffs was sentenced to two consecutive terms of five years to life in Utah after being convicted on two charges of being an accomplice to rape in connection with a marriage he performed in 2001 between a 14-year-old girl and her 19-year-old cousin.
He is being held in the Mohave County Jail in Kingman, Arizona, awaiting trial on four charges of being an accomplice to sexual conduct with a minor.
Jeffs has been in custody since August 2006, when he was arrested during a routine traffic stop after spending several months on the FBI's 10 most-wanted fugitives list.
E-mail to a friend

All About Warren Jeffs • Fundamentalist Church of Jesus Christ of Latter Day Saints