(CNN) -- A 14-year-old girl believed to have married jailed polygamous sect leader Warren Jeffs was ordered to foster care by a Texas judge on Tuesday.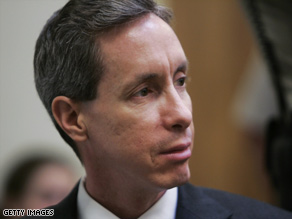 Warren Jeffs and four followers were indicted in Texas in July and charged with sexual assault of a child.
District Judge Barbara Walther said there was solid evidence that the girl -- who authorities allege was married to Jeffs at the age of 12 with the consent of her parents -- was an underage bride.
Walther also cited evidence that the child's mother, Barbara Jessop, refused to ensure the child's safety.
The girl was one of more than 400 children seized by Texas authorities from a polygamous compound in the spring. The state Supreme Court in June ordered them returned, but child welfare officials this month sought foster care for eight of the children, including the 14-year-old girl.
One of the eight, the girl's 11-year-old brother, was permitted Tuesday to stay with his mother. A 17-year-old boy's case was dismissed earlier.
Five girls on Tuesday were permitted to stay with their mothers, provided the women restrict contact with men accused of being involved in underage marriage, said Patrick Crimmins, spokesman for Texas Child Protective Services.
In April, the agency raided the Yearning for Zion Ranch outside Eldorado, Texas, putting more than 400 children into state custody on allegations of physical and sexual abuse.
Don't Miss
When the Texas Supreme Court ordered the children returned, it said the state had no right to remove them and that there was no evidence to show the children faced imminent danger of abuse on the ranch.
The ranch is run by members of the Fundamentalist Church of Jesus Christ of Latter-day Saints, a polygamous offshoot of the mainstream Mormon church. Jeffs is the FLDS leader.
Last month, a Texas grand jury indicted Jeffs and four of his followers on sexual assault charges. Jeffs was charged with the sexual assault of a child -- a first-degree felony.
Jeffs is serving two consecutive sentences of five years to life in prison on accomplice to rape charges in Utah for his role in the marriage of a sect member to his 14-year-old cousin. He is being held in Arizona while he awaits trial on similar charges.
The FLDS openly practices polygamy at the Yearning for Zion Ranch and in two towns straddling the Utah-Arizona state line: Hildale, Utah, and Colorado City, Arizona.
After Tuesday's court hearing, FLDS spokesman Willie Jessop said: "It's a very disappointing day."
"This court continues to destroy families, destroy people," he said. "It's not here for the interest of the children."
Child Protective Services officials have said the agency reviewed thousands of documents seized from the ranch, including marriage records and "other information that shows a pervasive pattern of spiritual marriages between older men and girls 17 and younger."
The mothers of girls ages 10 to 17 were asked to sign "safety plans" to protect their children from sexual abuse, officials said. The plans include a requirement to keep the girls away from men "who married underage girls or agreed to an arranged marriage of an underage daughter."
E-mail to a friend

All About Warren Jeffs • Fundamentalist Church of Jesus Christ of Latter Day Saints