LOS ANGELES, California (CNN) -- Former Manson family member Susan Atkins has requested a "compassionate release" from prison because she has less than six months to live, a California prisons spokeswoman said Friday.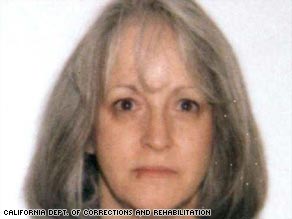 Susan Atkins, Califorina's longest-serving female inmate, is shown in her most recent mug shot.
Atkins, 60, was convicted in the 1969 slayings of actress Sharon Tate and four others. She had been incarcerated at the California Institution for Women in Corona, California.
But Atkins, the state's longest- serving female inmate, has been hospitalized since March 18 and is listed in serious condition, state corrections department spokeswoman Terry Thornton said. Because of privacy laws, Thornton would not disclose the nature of Atkins' illness.
Atkins' husband and attorney, James Whitehouse, was quoted as saying she has been diagnosed with terminal brain cancer, according to a blog called Manson Family Today. She also has had a leg amputated, the Los Angeles Times reported Friday, citing sources close to the case.
The compassionate release request has been approved by the prison, which conducted an evaluation, and is under corrections department review, Thornton said.
If the department approves, the Board of Parole Hearings and the sentencing court in Los Angeles also must sign off on the request. There is no timeline for a decision to be made, Thornton said.
Atkins, known within the Manson family as "Sadie Mae Glutz," has been in prison since 1971 and has been denied parole 11 times.
According to historical accounts of the murders, Atkins stabbed Tate, who was 8½ months pregnant, and scawled the word "pig" in blood on the door of the home the actress shared with director Roman Polanski.
"I don't want to seem like a heartless creature, but in all my years, I never considered this could happen," Debra Tate, the actress' sister, told the Riverside Press-Enterprise.
"She showed no compassion. She told my sister as she slit her throat that she didn't (care) for her or her unborn baby," Tate added.
Sharon Tate and three houseguests were slain in August 1969 by killers who burst into her Benedict Canyon home. A teenager who was visiting the home's caretaker in his cottage on the property also was killed.
The following night, Leno and Rosemary LaBianca were slain in their home in the Los Feliz neighborhood of Los Angeles. The two-day crime spree sent shock waves throughout Los Angeles.
All of the killers remain behind bars. Atkins also was convicted in the earlier murder of music teacher Gary Hinman.
Atkins, like Manson, received a death sentence, and the punishment was changed to life in prison when the California Supreme Court ruled the state's death penalty unconsitutional in 1972.
Vincent Bugliosi, who prosecuted Atkins, told the Los Angeles Times that she "has paid substantially, though not completely, for her horrendous crimes. Paying completely would mean imposing the death penalty." But, he told the paper, given her terminal illness, "I don't have an objection to her being released."
According to her Web site, Atkins is a born-again Christian who during her incarceration has worked to aid at-risk youth, victims of violent crimes and homeless children.
Last month, authorities dug for buried bodies at the Inyo County, California, ranch where Manson and his followers once lived, after police became aware that testing had indicated humans might be buried there. Nothing was found, police said.
E-mail to a friend

All About Charles Manson • Crime • Los Angeles