(CNN) -- China's sharp economic slowdown is set to cause more labor unrest amid factory closures and mass layoffs triggered by the global financial crisis, a government minister and economists have warned.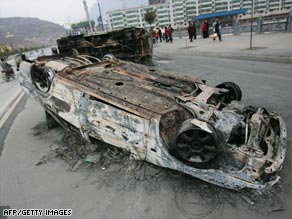 A wrecked car lies in the road following riots in Longnan over plans to relocate government offices.
Trade figures for November reported Wednesday by the China Daily newspaper showed the first monthly decline in Chinese exports in seven years.
Exports experienced a one month decline of 10.4 percent, with imports down 19.5 percent, the paper said, citing the General Administration of Customs.
Overall, exports are down 2.2 percent for the year, the first time that number has declined since 2001, when U.S. demand slumped slightly after the tech bubble burst.
Yin Weimin, minister of human resources and social security, last month described China's job outlook as "grim" -- and said the situation was likely to worsen until an economic stimulus package kicked in next year.
Fears over job losses have triggered several outbursts of unrest in recent weeks.
About 2,000 people rioted in the impoverished northwestern province of Gansu last month over plans to move Longnan's city government offices, which were damaged in the May 12 Sichuan earthquake, to a nearby county.
Residents, fearing the change would reduce their property values and threaten their livelihoods, clashed with police and looted government offices, according to the Gansu Daily.
Two days later, several hundred taxi drivers went on strike in Chongqing, in southwestern China, after the government said it planned to put more cabs on the district's roads, thereby increasing competition, the newspaper said.
Zhuang Jian, senior economist with the Asian Development Bank's China Resident Mission, told the newspaper that he expected the grim situation to persist.
"It means the financial crisis is not only weakening the economies of the United States and the European Union, but also weighing on China's economy."
Yin said labor unrest caused by the slowdown was the government's main concern. He noted that some businesses, mainly smaller ones, have been forced to close or suspend production in recent months.
The government's stimulus package, unveiled in early November, will pump $585 billion into rebuilding communities destroyed by May's earthquake in Sichuan province, constructing railways, housing, airports and highways, and funding other projects.
China's manufacturing sector, which produced 14 percent of the clothing, toys and footwear imported into the United States last year, has decelerated rapidly, pulled down by a pair of factors.
Firstly, the global economic slowdown and the subsequent drop in consumer spending has stymied demand for discretionary goods made in China.
Secondly, Chinese manufacturers are battling rising labor and material costs at the same time that the yuan's rising value versus the dollar is making Chinese exports to the United States and elsewhere more expensive.
Because of these challenges, more than 65,000 Chinese factories have gone bankrupt this year, said Lan Hailin, professor of business strategy with the South China University of Technology in Guangzhou, China.
And as overseas orders continue to shrink, he said the number of bankruptcies would keep rising.
E-mail to a friend