(CNN) -- Most of the major Asian and Pacific stock exchanges dipped slightly by midday Tuesday, taking a breather after a day of sweeping advances.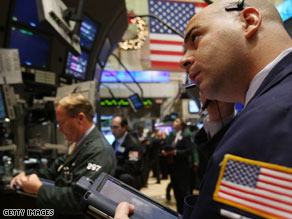 World markets appear to have reacted well to Friday's bounce on the Dow Jones.
Australia's All Ordinaries index was off 0.8 percent Monday afternoon, while Tokyo's Nikkei gave up earlier gains to slide 0.13 percent by early afternoon. Hong Kong's Hang Seng index was down 0.84 percent, while Shanghai's SSE dipped 1.08 and the KOSPI index in Seoul was off 0.76 percent.
The moderate movement contrasted with rallies on Monday, including those of the Hang Seng, which ended up more than 8 percent higher, and the Nikkei, which was up 5 percent.
Those gains rolled over into European and U.S. markets, with the Dow Jones industrial average briefly topping 9,000 for the first time in a month.
The Dow jumped 298 points, or 3.5 percent. The Standard & Poor's 500 index added 3.8 percent and the Nasdaq composite gained 4.1 percent.
Investors welcomed U.S. President-elect Barack Obama's plan to create 2.5 million jobs by 2011 through public works projects and reports that a roughly $15 billion loan package was in the works for Detroit's struggling Big Three.
"We're in a very unsettled period where people's opinions swing between hope and fear on very little news," said Ken Kam, portfolio manager of the Masters 100 Fund. "Right now we are seeing the impact of the hope that maybe the worst is over."
Still, he said, it was too soon to see the recent upswing as anything other than a bear market rally.
Major European markets also closed higher. The French CAC was up 8.7 percent in trading, Germany's DAX climbed 7.6 percent, while the UK's FTSE 100 was up 6.2 5.89 percent.
E-mail to a friend