(CNN) -- In December, CNN Business Traveller brings you "A Christmas Carol -- Books of the Past, Present and Future."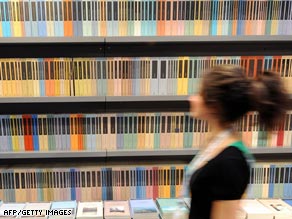 Books, books books: Which one would you reach for before embarking on your business travels?
One of the most popular presents at Christmas is a book. Books are also a trusty companion on a business trip or holiday. So on this month's show we are all about travel and books. Richard Quest will take us on a literary journey of the past, present and future.
The Book is not Dead: We look at the most popular travel books available on the road with an 'Airport Top 10', what makes a good coffee table book.
Gideon Bible: The Gideon Bible can be found in almost every hotel room, with 56 million copies distributed every year in 80 different languages. When a new hotel opens, a representative of the local Gideons camp will present a Bible to the hotel's general manager in a solemn ceremony. We take a look at how it all began and other religious books that are also available in hotels.
Writers in Residence: The places where poets and playwrights once stayed draw people to cities. In Paris, we visit a literary landmark that has been home to over 30,000 aspiring writers for more than 50 years -- The Shakespeare & Company bookshop. In exchange for a bed amongst the books, writers have to work in the shop and read one book a day. We speak to one of the writers and the Sylvia Whitman, who now runs the bookshop, taking over from her 94 year old father George, who still lives at the top of the shop.
Travel Writing: What do travel journalists and contributors experience that inspires them to entice their readers to that destination? We join a handful in Zurich who are discovering Switzerland through the eyes of architect Le Corbusier.
Electronic page turners: Books of the future! An electronic book can store a library, and some can even deliver your morning paper. Say goodbye to lugging books around and have a moveable feast of literature. We look at the market leaders, the Sony e-Reader and the Amazon Kindle.
City Guide road test: All city guides claim to take you off the beaten track and share hidden gems of that city. We put LUXE, Wallpaper, IDEO, Frommers' iPhone version to the test with Richard Quest in London.
CNN Business Traveller airs on CNN International at the dates and time below:
ALL TIMES GMT
Wednesday, 10 December:
0930
1830
Saturday, 13 December:
0830,
1900
Sunday, 14 December:
0530
1830
Monday, 15 December:
0400
E-mail to a friend