By Steve Mollman
For CNN
(CNN) -- "Don't be evil," goes the informal motto at Google. It's easy to see why a search giant might need those three words, but how about you?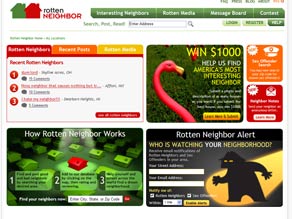 The Web site Rottenneighbor.com allows people to post complaints about others.
Making ethical decisions is, after all, a common task now in the realm of personal technology.
Below are just a few examples. None existed 20 years ago, and they're likely a mere taste of what's to come.
-- Downloading a pirated song is one thing. Copying 15,000 directly from your friend's iPod onto yours is another. Apple won't allow it, but now it's easy with a third-party bridge device like the miShare (mishare.com). Question: Is it ethically any worse?
The law certainly has an opinion, at least in the U.S. "Legally speaking, yes, copying 15,000 songs demonstrates 'worse' conduct than downloading one song, and fines would be tallied accordingly," notes Andrea M. Matwyshyn, a professor of legal studies and business ethics at the Wharton School in the University of Pennsylvania.
-- Common misconception: It's impossible to copy a YouTube video, or an online radio show, because they're streamed instead of downloadable. Actually, offerings like KeepVid and Audio Hijack Pro make it fairly easy -- and make a lot of media companies cringe. For instance plenty of music from the major labels is available for streaming at the popular site Last.fm. Copy those tunes and the site's ad-supported business model falters a bit. (Worse, share them on file-swapping sites later.)
"None of our products were created to facilitate theft," reads a blog post from the maker of Audio Hijack Pro (http://tinyurl.com/2d5tw2). But its products can nevertheless do just that. How you use them is up to you.
-- Some voice-over-IP services let you fake which country you're in. For instance with Skype-In, you can buy a number that suggests you're in drizzly London -- even if you're on Bali soaking up the rays. What's the harm?
-- Where there are games, there's cheating. In online gaming worlds such as Final Fantasy and World of Warcraft, building up your character takes considerable time and effort. But some China-based services will do all the muck work for you, for a price.
"I've toyed with the idea," admits Zach Elliott, a seasoned Final Fantasy XI player in Wisconsin, "but in the end couldn't bring myself to do it. I've known many people who have gotten their stuff the hard way, and it seems vaguely insulting to use the power of my credit card to circumvent the system."
-- Meanwhile, players of such games are growing up, raising children, and writing their wills. Can you bestow unto your offspring some assets won in online worlds? Should you? In some households father-son bonding now occurs on virtual battlefields instead of fishing trips, so Dad's hard-won magical body armor might be considered a family heirloom.
Bizarre? It gets weirder when you ponder the government's role. "The taxations of these wealth transfers presents uncharted ground," notes Matwyshyn.
Getting personal
-- The site Wikileaks (wikileaks.org) is a place for whistle-blowers to anonymously post documents revealing injustice and corporate wrong-doing -- or, apparently, e-mail hacked from the Yahoo account of Alaska governor Sarah Palin. Is it wrong to upload something that might be considered personal? Or that was attained by dubious means?
-- You might find a hideous party pic of yourself on Friendster, Facebook, or another social networking site. Worse, you might remain oblivious to it. "What is the ethical responsibility of someone posting photos online that have other people in them?" asks Neela Sakaria, a consumer strategist trend research firm Iconoculture.
-- Sakaria also points to Web sites such as Bitterwaitress (http://tinyurl.com/3k9dtv) and Rottenneighbor.com, essentially for complaining about people, whether lousy tippers (including celebs) or loud neighbors. On the latter site you can post video proof of just how obnoxious your drunken neighbors were at 2 a.m last Saturday -- and indicate where they live.
-- It's fairly easy to install stealth software on someone's cell phone or computer to track all their communications. Mobile Spy (www.mobile-spy.com) for instance will send copies of their call logs and text messages to a private web page for your perusal. Spector Pro (www.spectorsoft.com), for computers, will expose their e-mails, chats, and Web visits, plus track their activities on sites like Facebook and MySpace.
Evil? Not if you catch a stalker targeting your child. Then again, the same software could be used by a stalker, or by a jealous lover.
"We do not condone or promote the use of our software for illegal purposes," reads a disclaimer on the Mobile Spy site.
But, like a lot of personal tech with similar disclaimers, how it's used is up to you -- as is deciding where something falls on the evil meter.
"Don't be evil" might be simplistic, but it whispers to us all.
E-mail to a friend

All About Internet • Technology • Business