ROME, Italy (CNN) -- The ailing Alitalia airline has until Thursday to present a report on its state of finances to the Italian civil aviation authority or face a suspension of its license to fly.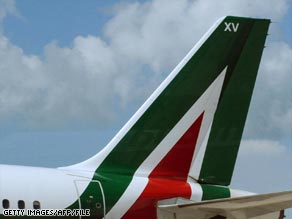 An Alitalia plane waits on the tarmac in Rome.
Alitalia is already operating under a temporary license.
Italy's civil aviation authority ENAC also has given Alitalia's special commissioner Augusto Fantozzi a September 30 deadline to submit bids by interested buyers for Alitalia or at least portions of it.
During a meeting Monday, Fantozzi told ENAC officials the airline has enough money to pay salaries until the end of this month.
Fantozzi was put in charge of Alitalia when the company declared bankruptcy at the end of August.
Meanwhile, a group of pilots and flight attendants in favor of accepting a deal for the airline proposed by a group of Italian investors organized a small demonstration at Fiumicino airport in Rome to show there is support for the plan among pilots.
Last week, the trade union representing the largest number of pilots and cabin staff failed to sign the deal, forcing the investors to withdraw their proposal.
Instead, the union made a counteroffer, essentially saying they will work longer hours for the same salaries, but requested fewer layoffs.
The board of directors voted to turn down their counteroffer.
While the deal is no longer on the table, there are reports investors would be willing to propose it again should the unions agree to sign it.
This latest deadline will increase the pressure on the trade unions to accept the offer of 1 billion euros ($1.4 billion) Italian investors made in late August or face massive layoffs.
Italy's Prime Minister Silvio Berlusconi said accepting the offer is the only possible way to save the airline.
E-mail to a friend

All About Alitalia-Linee Aeree Italiane SpA • Silvio Berlusconi