By Peter Walker
For CNN
LONDON, England (CNN) -- One of the major problems facing business school students is finance: How do you survive when you have not only waved a temporary goodbye to your pay check but must also pay out for often steep course fees?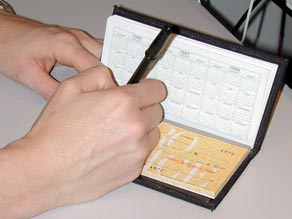 This could hurt: Scott Patterson's company helps students finance their college expenses.
It's an issue which occupies the minds of many students. But one of them has done more than silently worry and gaze balefully at his bank statement -- he has set up a business to tackle the issue for others.
While he has been taking an Executive MBA at Oxford University's Saïd Business School in the UK, Scott Patterson has devised and launched a brand new venture intended to help U.S. college students of all types get loans amid the current finance market tightening of the credit crunch.
Aside from the novel way in which he has put together his business model, Patterson's achievement is all the more remarkable given that he does not even finish the EMBA until later this month but already has the venture up and running.
The company, Student Choice, provides funding through credit unions. Although these are common across the U.S., with more than 88 million members and a good reputation for low-rate consumer loans, they have traditionally had almost nothing to do with lending for private education.
However, they are now filling a vital market gap given the absence of more traditional finance methods. Usually, families seeking to finance offspring through college have borrowed from lenders whose loans were generally sold to the secondary capital markets, which have all-but collapsed in recent months.
With the gap between capped federal loans and necessary finance reaching anything up to $100,000 a student, more liquidity was required, which is where the credit unions come in -- to everyone's benefit.
"Student Choice helps these institutions to enter the market and fill an important gap in their loan product sheet," Patterson said.
"We do this by enabling them to enter the student loan market with a significantly competitive product without the high costs or additional overhead that would otherwise be required for them to create their own product."
Fact Box
FT MBA Rankings
1. Wharton, U.S.
2. London Business School, UK
3. Columbia, U.S.
4. Stanford GSB, U.S.
5. Harvard, U.S.
6. Insead, France/Singapore
7. MIT: Sloan, U.S.
8. IE Business School, Spain
9. University of Chicago GSB, U.S.
10. University of Cambridge: Judge, UK
Source: Financial Times 2008

The new company aims to handle all parts of the process, including a dedicated call center, full underwriting and credit decisions. Thus far it has made available more than $60m in new credit through the unions.

The business, launched in May, was hatched when Patterson took part in the entrepreneurship project, part of the EMBA, a qualification usually aimed at older, more experienced managers.

"I started researching the idea of creating a credit union student loan company right around the time I was starting the EMBA," he said.

"The EMBA helped validate the idea and the emphasis on entrepreneurship at Saïd really helped bring the project to fruition.

"The program helped us to formulate strategies for entering the market, to raise the necessary capital, and has helped us explore possible future directions."

E-mail to a friend