By Peter Walker for CNN
LONDON, England (CNN) -- In a virtuous circle that has doubtless brought a wry smile to many MBA professors' faces, the very process of getting into a top business school has, itself, now become a deeply lucrative activity.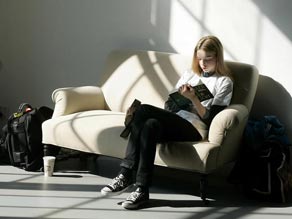 Reading carefully: Can a book get you into a top school?
To take one example, the unscientific but revealing method of tapping "MBA admissions consultant" into a search engine brings up more than 250,000 results.
For a sometimes hefty fee, these experts will coach you through admissions tests, tweak your CV and advise you how to look like a CEO of the future at the interview.
Why do they proliferate? Essentially, because getting into a top school can greatly boost your future career, and salary, making the consultation fee seem a worthwhile bet for some.
There are now, in addition, ever more books guiding the uninitiated into how to crack Harvard, Stanford and the other top schools, a new one of which has just been published.
"The MBA Application Roadmap," compiled by two consultants, Stacy Blackman and Daniel J. Brookings, aims to give readers their inside knowledge of what business school admissions staff are looking for in a student and how to develop what they call, only slightly grandly, "brand you."
In another neat congruity, a book aimed at busy, bustling young executives is, itself, designed to be easily digestible and is, as Blackman puts it, "light enough to take on a plane, and contains that which you need to know to help you successfully apply to the business school of your dreams."
Another title -- which also has its own accompanying website -- takes another tack in that it is written by a pair of recent MBA students.
Scott Shrum and Omari Bouknight actually wrote "Your MBA Game Plan" while still studying, and have put their newly-learned business skills to use by advising others how to follow their path, both with the book and an online consultancy.
There is, however, one recent book about business schools which, while it has gathered more headlines than the others, has not been universally welcomed in the MBA community.
Fact Box
FT MBA Rankings
1. Wharton, U.S.
2. London Business School, UK
3. Columbia, U.S.
4. Stanford GSB, U.S.
5. Harvard, U.S.
6. Insead, France/Singapore
7. MIT: Sloan, U.S.
8. IE Business School, Spain
9. University of Chicago GSB, U.S.
10. University of Cambridge: Judge, UK
Source: Financial Times 2008

Philip Delves Broughton was a British newspaper journalist when, disillusioned with his career, he gave up his job to study for a Harvard MBA.

While the course might not have been successful in the traditional sense -- at graduation, Broughton was the sole member of his 900-strong class without a job offer -- it did provide material for "Ahead of the Curve: Two Years at Harvard Business School."

Much of what the author says is highly flattering: His teachers were "inspiring and committed", he writes, and he loved most of the program.

The fuss has been generated in part by Brougton's fish-out-of-water observations of his hugely ambitious classmates, some of whom he mocks as alternating between pompous over-seriousness and frat-boy juvenile.

More seriously, Harvard has taken issue with some of the author's claims, for example that much of the school's intake comes from the "three Rs" -- Mormons, ex-officers, and alumni of the McKinsey consultancy. This is nonsense, Harvard contends, while it takes a similarly dim view of the notion that new students can con the college's financial aid system by depleting their bank accounts in buying a new car before arrival.

E-mail to a friend