By Peter Walker for CNN
LONDON, England (CNN) -- One of the key elements of many business schools' student intake is its diversity -- leading programs often have dozens of nations represented, including some from developing economies.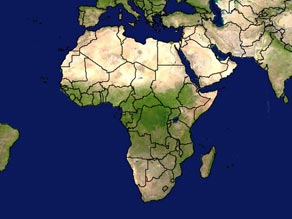 A continent on the rise -- but Africa needs more qualified managers.
While cynics might suggest that students from poorer nations tend, once armed with an MBA, to swiftly forget about home and seek a high-paid consulting job in the U.S. or Europe, the truth is more complex.
A good number of people benefiting from a top business education return to their own region in the hope of assisting with its development.
Witness Africa. The continent already has a number of good business schools itself, as well as a dynamic organizing body, the Association of African Business Schools, set up in 2005 to raise standards throughout the region.
Additionally, as illustrated by a recent alumni forum held by a leading U.S. school, Africa has many entrepreneurs putting their foreign-acquired skills to good use.
The gathering, organized by the University of Pennsylvania's Wharton school, took place in Cape Town, South Africa, home of the continent's top-rated MBA program.
Two panels, one representing investors and the other entrepreneurs, attempted to get to grips with both the reasons for Africa's decades of economic under-performance and its coming prospects.
According to one panelist, Eric Kacou, Africa head for OTF Group, a U.S.-based firm focused on emerging economies, the prior record has been poor. "The most blatant fact about Africa is that despite a vast amount of natural resources, we have very little to show for it," he said.
But now, he added, a "new mindset" relying less more on innovation and private sector growth was set to transform things.
Matters are changing fast, echoed Richard Herring, a Wharton finance professor, with armed conflicts becoming less common and real income per capita shooting up from a growth of just 1.8 percent between 1997 and 2002 to 4.6 percent since then.
Fact Box
FT MBA Rankings
1. Wharton, U.S.
2. London Business School, UK
3. Columbia, U.S.
4. Stanford GSB, U.S.
5. Harvard, U.S.
6. Insead, France/Singapore
7. MIT: Sloan, U.S.
8. IE Business School, Spain
9. University of Chicago GSB, U.S.
10. University of Cambridge: Judge, UK
Source: Financial Times 2008

Likening modern day Africa to Southeast Asian nations such as Thailand shortly before they experienced rocketing growth in the 1980s, Herring praised improved government policies for having "helped to lift the heavy hand of government ... stimulating a resurgence of private investment and a flourishing of entrepreneurial activity."

How can the process be stimulated further? According to another panelist, one important factor is a continued stream of African talent heading abroad to business schools.

James Eric Wright, head of African Venture Partners, a telecommunications and technology enterprise, said there were many talented businesspeople in Africa but that "they lack management depth."

His own firm's solution is to recruit Africans who have gone to school in the U.S. or Europe, combining familiarity with the continent and the requisite skills.

Stephen Priestly, head of investment banking for Sub-Saharan Africa for JPMorgan, agreed, calling the problem of finding entrepreneurs with the right talents the "biggest constraint to business development on the continent."

E-mail to a friend