LONDON, England (CNN) -- This month, we're all about "Business Travellers without Borders."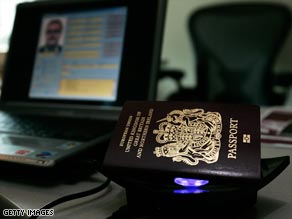 A passport to nowhere: Will the rise of new technology make the passport obsolete?
Go to Europe armed with a Schengen visa and you're free to hop between one country and the next within the Schengen zone. In the Middle East, citizens will be able to travel between Gulf countries via a new pass, and in Asia there is a Smart Identification swipe card.
The passport is becoming a thing of the past as new technology overtakes the little booklet. We take a look at the history of the passport which dates back to the 17th Century.
Meanwhile, biometric technology is playing a bigger role than ever in improving efficiency at airports as well as the introduction of voluntary schemes for registered travellers to jump the queue at check-in and immigration.
Airlines are also working hard to take the hassle out of travel, with self check-in kiosks, boarding passes on mobile phones, and dedicated terminals for first and business class.
We also examine the new U.S. visa waiver program. The Electronic System for Travel Authorisation or ESTA will require any passengers bound for the States to register at least 72 hours before flying. ESTA is voluntary from August 1 but will become a mandatory requirement in January next year.
We speak to the Department of Homeland Security about the significance of the visa waiver program and if it actually benefits the passenger.
So this month, from Basel, Switzerland, what does the future hold for the passport -- is there life in the old booklet yet or should we be ready to write its obituary?
.....................
Next show airs: August 9, 10, 14 (all times are GMT)
Saturday: 0730 (All Regions) 1330 (All Regions) 1830 (All Regions) (830 PM ET Latin America only)
Sunday: 1130 (All Regions) 1730 (All Regions)
Thursday: 1330 (All Regions) 1730 (All Regions)
E-mail to a friend