By Pamela Divinsky, Vice President, Ethos, JWT
For CNN
A rotating representative from advertising giant JWT answers your questions exclusively for The Boardroom.
(CNN) -- How do you balance ethical issues when designing seductive advertising campaigns for potentially hazardous products such as alcohol or tobacco?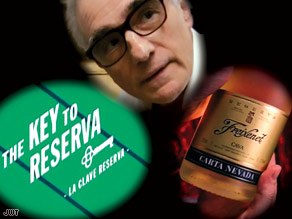 JWT advertisement for Freixenet, starring Martin Scorsese
There are three important parts to the question:
• The ethical issues advertisers have to contend with as they develop advertising that is designed to capture interest, and ultimately drive purchase.
• The proposition that advertising campaigns are "seductive."
• The specificity of hazardous substances.
The ethical issues
There is a wide band of ethical considerations that advertising needs to -- indeed is required to -- address.
• Legal requirements: Today there are a number of jurisdictions that have clearly defined rules and regulations about what can be advertised and to whom. For example, in North America there are strict rules that determine the shape of advertising to children, while in some jurisdictions advertising to children is illegal. In many countries, advertising harmful substances is illegal; for example, tobacco advertising is banned in Canada.
So the first part of the response is that in many instances, where audiences are considered vulnerable, or where a "product" is determined severely harmful, advertising has clear rules to follow.
• Ethical and legal implications: In the absence of clearly defined regulations, there are legal, business and social implications of not taking into consideration ethical and social considerations. In many countries there are official organizations mandated to vet advertising to ensure it is not offensive, not deceitful, and not culturally distasteful. Guardians of cultural sensibilities, these organizations ensure that advertising satisfies standards of taste and propriety.
Don't Miss
There are, in addition, the implications of offense or deceit that the producing companies and advertising agencies are answerable to. Even within regulatory environments, there is room for advertising to offend or offer not-quite-complete truths. While there was a time when these behaviors could pass unseen, or unchallenged, today, people demand full accountability. Claims are now tested and monitored with real implications for the integrity, credibility and reputation of the offending organization.
This environment is perhaps the most potent "watcher" as it ensures that we all carefully consider what we say and how we say it. Without trustworthy reputations, neither companies nor advertising agencies will survive -- hence we are all attentive to protecting, indeed fortifying, the reputation of the agency and its clients.
• Conscience-driven considerations: But even within this heightened sense of accountability, advertisers are careful to guard the quality of advertising. And today this means speaking truths. Because today the advertising that is successful -- that captures the attention and interest of people -- is that which speaks compelling truths. So even those who may be somewhat more cavalier or audacious, and greater risk-takers, know that truth defines quality, supports reputation, and ultimately is the source of success.
Which leads us to the second point of the query:
Seductive advertising
There is a powerful mythology that advertising does convince people to purchase things they neither need nor want. And clearly, the history of advertising is full of delicious examples of how we have been convinced, cajoled, seduced into purchasing new things that, once non-existent, are today essential.
But as individuals, communities and cultures mature, so has advertising, and the audiences we advertise to. Today, audiences have well-developed advertising savvy, and we can no longer interrupt people with inane, uninteresting advertising designed to "push product." This neither captures their attention, nor their purchase decisions.
To get people to spend time with brands we need to be interesting and compelling, because today people expect information, entertainment, and demand truth.
Consumers also demand that brands and companies be accountable for what they are selling. That means that what advertisers say about products needs to be truthful. Indeed, there are legal consequences if we are not.
In addition, today consumers want, and deserve, to be treated as responsible, knowledgeable decision makers -- and the only way to treat people with respect is to be truthful.
So while "seduction" may continue to be a guiding desire, today we know that it is truth that "sells."
Hazardous substances
The third part of the query asks specifically about hazardous substances. This is somewhat tricky, because "hazardous substance" is an ever-shifting category. What was once considered useful and beneficial -- for example, tobacco -- is today considered hazardous. We continue to unearth substances that are hazardous; the recent concern over a key substance in plastic bottles, or the concern that plastic shower curtains contain toxic materials are but two examples.
The first point therefore is that accountability standards, or definitions of hazardous, are not static, and we do not always know what is hazardous. What is important is that once we do, we approach all communications with truthfulness.
And this is because whether aware of the hazard or not, we and our clients will be held accountable for the hazard if and when it is discovered. Abdicating responsibility is no longer an option.
We have cultivated high standards of accountability, and we have the watcher mechanisms to hold us all accountable. Indeed, one may want to characterize the first half of the 21st century as the Age of Accountability. Defining what is "hazardous" changes with rapidity and piercing accuracy, and we are both required and compelled to pay attention to the ever-shifting ground.
Accountability requires us to produce better products, forces us to be more truthful, more transparent, more honest, and more humane. And that can only improve the foundation of how we do business, and how we live as both economic and social agents.
Because today we know that all actions have consequences. We know that we make an imprint in the world and that we need to manage that imprint to ensure that the consequences of not only the substances we use and promote, but all of our actions, first do no harm.
Reason vs. passion
We live in a time where accountability requires every individual and organization to take responsibility for their individual and collective actions. Collectively we have the social, political and legal power to enforce responsibility.
We are also clear-eyed consumers of culture, products and news. We are no longer easily seduced by myths and grandiose aspirations. We seek truths, we require credibility and integrity, and we hope for trustworthiness.
So even if advertisers could "seduce" as the query asks, our point of view is that advertising does not hold this power. We are compelled through legislative, political, and social power of accountability to attract with wit, honesty and truth.
We know that this is the source of good business -- for us and for our clients. And if we ever for a moment stray from this guiding principle, we are sure to be held accountable.
But one may say to all of this: Yes, but what about our desires? People just want stuff and business makes it for them, and advertisers sell it to them, irrespective of the hazards.
Yes, while we are savvy consumers that do want truth, we are also social creatures that desire. We struggle with our reason and our passions. And a great man said it best many years ago. David Hume, the 18th century Scottish philosopher, I believe offers us the best assessment of our condition:
"Reason is the handmaiden of our passions."
We will never escape what our passions drive us towards, but we can temper them if we apply our reason.
E-mail to a friend