(CNN) -- Christie's is the world's leading art business with global auction sales in 2007 that totalled $6.3 billion, marking the highest total in company and in art auction history.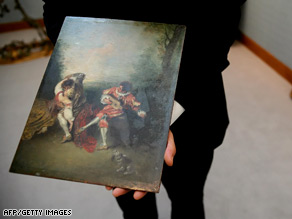 A Christie's employee holds the painting 'La Surprise' at Christie's auction house in London on July 4, 2008.
Founded in 1766 by James Christie, Christie's conducted the greatest auctions of the 18th, 19th and 20th centuries, and today remains a popular showcase for unique artworks as well as international glamour.
Christie's offers over 600 sales annually in over 80 categories, including all areas of fine and decorative arts, jewelry, photographs, collectibles, wine, cars and more. Prices range from $200 to over $80 million.
Christie's has 85 offices in 43 countries and 14 salerooms around the world including London, New York, Los Angeles, Paris, Geneva, Milan, Amsterdam, Tel Aviv, Dubai and Hong Kong.
Most recently, Christie's has expanded initiatives in emerging markets such as China, India and the United Arab Emirates, with successful sales and exhibitions in Beijing, Dubai, Mumbai and Russia.
Christie's also offers its clients worldwide access to its sales through its real-time online bidding service Christie's LIVE.
E-mail to a friend

All About Christie's International plc • Auctions