(CNN) -- In focus -- World Petroleum Congress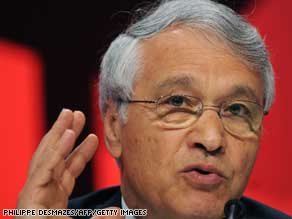 MME's John Defterios sits down with OPEC President and Algerian Minister for Energy and Mines, Chakib Khelil to talk about global energy demand.
As oil prices spiral upwards, industry makers convene in Madrid for the 19th World Petroleum Congress. Will the Madrid congress divert from the usual discussion on the long-term sustainability of the energy sector to come up with a solution to combat high oil prices? MME goes on the road to Madrid to find out what issues are on the agenda.
Facetime with OPEC President Chakib Khelil
He has strong beliefs that the weak dollar is a primary cause of record high oil prices; that OPEC has done all it can to help curb them, and that oil prices will not come down.
This week at the World Petroleum Congress in Madrid, MME sits down with Chakib Khelil, the President of OPEC and also the Algerian Minister for Energy and Mines.
Khelil is a key figure in the liberalization of the oil industry in Algeria, and he has a frank discussion with MME's John Defterios about spiraling prices and global energy demand.
Watch the show this week at the times (GMT) below:
Friday: 0815, 1945
Saturday: 0545
Sunday: 0715
E-mail to a friend