By Emma Clarke
LONDON, England (CNN) -- For every dollar that the price of fuel increases, costs to the aviation industry go up by $1.6 billion. And if oil hits $135 a barrel for the rest of the year, the International Air Transport Association says losses could hit $6.1 billion.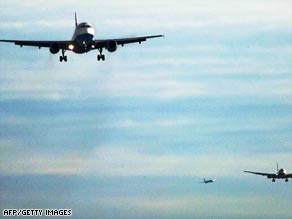 The industry, analysts say, is approaching tipping point. But airlines disagree.
They are fighting back with a host of measures to cut costs and boost revenue. And as demand for air travel continues to slowly increase worldwide, they believe -- for now at least -- they can keep bouyant.
As Richard Branson, chairman of the Virgin Group told CNN Business Traveller on this month's show, Virgin Atlantic's annual fuel bill has risen from £250 million three years ago, to £1.4 billion this year.
The only way to survive the increase, he says, is to pass the cost onto the consumer.
Last month, both Virgin Atlantic and British Airways (BA) announced increases in fuel surcharges on all routes. Charges for a BA flight of more than nine hours rose by $59 (£30) per flight to $213 (£109).
In the U.S., United Airlines, American Airlines and Delta Air Lines have all increased domestic roundtrip ticket prices by up to $60. And budget carrier AirTran raised its coach fares by $30.
For now, says Chris Pickard, aviation industry consultant, carriers can get away with these modest price hikes. "Legacy carriers had to bring their prices down at the back of the plane to compete with the low cost carriers. Now they're going to see how far they can edge these prices back up," he says.
And with fuel costs still only a small percentage of the premium class fare, increases will have less impact on ticket prices for business travelers.
But consumers will be less tolerant of some of the additional costs airlines are now imposing, he adds.
United and American and US Airways, for example, are planning charges of $15 for one checked-in bag, and a further $25 for a second. Other airlines are limiting fees to second checked bags only.
"Passengers not interested in all these add-ons," says Pickard. "They want to keep it simple and be told how much it will cost to fly from A to B."
Don't Miss
Airlines are also announcing plans to cut back flights on less profitable routes. Virgin America said this week that it will cut capacity by 10 percent, Continental Airlines by 11 percent (in addition to shedding 3,000 jobs), and Air Canada by 7 percent.
American Airlines has ditched its New York JFK to London Stansted, as well as its Chicago-Buenos Aires, Chicago-Honolulu, and Boston-San Diego. And Qantas will reduce capacity on routes serving South East Asia and Japan.
In the past, airlines have also protected themselves against rising costs by locking into fuel prices ahead of time, known as hedging. British Airways has, for example, hedged an average 65 percent of its fuel needs this year. But only 30 percent of fuel is hedged for 2009.
Looking ahead, airlines will have to come up with even more innovative methods to buffer costs. One option is by reducing fuel burn.
Virgin Atlantic now tows its aircraft to take-off areas at London airports to save up to two tonnes of fuel per flight. Airlines are also now flying planes at slower speeds to increase fuel efficiency and removing unnecessary weight from planes, for example by switching to lighter weight seats or carrying less water for toilets.
British Airways will strip old paint off aircraft brought in for re-spraying to make them 400kgs lighter. Japan Airlines has streamlined its spoons and forks to reduce weight by 2 grams per piece.
Airlines are also investing in more efficient aircraft and many are eagerly waiting for delivery of the delayed Boeing 787 Dreamliner that burns a third less fuel than similar size and range aircraft.
European airlines have also gained efficiency savings through consolidation. Air France's merger with KLM, and Lufthansa's with Swiss International Airlines helped the airlines maximize number of passengers per plane as well as cut back-office costs.
But further consolidation is now looking less likely, say analysts. United Airlines and U.S. Airways recently dropped merger talks, and before that United and Continental Airlines. The only merger left on the table is between Delta Air Lines and Northwest Airlines.
As Robert Mann, airline analyst and consultant says, mergers are costly undertakings. A more attractive option is consolidation through airline alliances.
Airlines work together in an alliance to sell tickets aboard each other's flights. A traveler flies one leg of a trip with one airline and the next leg on another. As a result, the arrangement boosts sales for airlines, without adding costs.
At the end of May, Continental said it was reviewing its membership in the SkyTeam Alliance. And following its failed merger with United, reports are that it might come together with United under the Star Alliance instead.
All airlines are conscious, however, that all these cost-saving efforts will be worthless as soon as demand falls for their profit-generating premium seats. But for now, they are hopeful.
As BA's CEO Willie Walsh told CNN, while demand for premium seats may be declining on short haul flights, on long haul business travelers are staying put at the front of the plane. "Club World has actually been one of the strongest performances we have seen ever," he said. "That justifies our decision to increase capacity in that cabin."
As Pickard says, while budget airlines will be hit hard given fuel makes up a larger proportion of their overall costs, legacy airlines can still rely on premium ticket sales for some protection. "Yes we've seen a few airlines go under in recent months but they are airlines that only had a limited number of services. The big boys are actually adding capacity," he says.
E-mail to a friend

All About Virgin Atlantic Airways Ltd. • Boeing 787 • British Midland Airways Ltd.