SYDNEY, Australia (CNN) -- In a country that demands excellence on the sporting field, John O'Neill has achieved the equivalent, off it.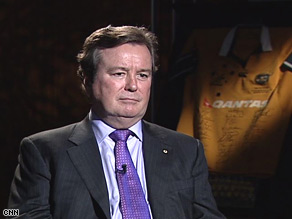 John O'Neill, CEO of Australian Rugby Union
This former senior banker has three times won Australia's Sports Executive of the Year. He was the brains behind the brawn of Australia's world-beating Rugby Union team of the 1990s and the man who helped take the country's soccer team to the World Cup Finals in 2006, their first World Cup appearance in more than 30 years.
O'Neill has recently returned to running Australian rugby after five years away, and he's facing an uphill battle to restore the game. Finances are at a critical level, attendances are down, and the national team the Wallabies have been struggling.
The Boardroom's Andrew Stevens met him at Australian Rugby HQ in Sydney and began by asking why he's prepared to risk his own reputation all over again.
O'Neill: I thought about that and openly said on the day of the announcement of my return, the greatest risk for me was in failing. People are saying you can't reheat old soup and etcetera, etcetera, but I always believe in backing myself. I'm not a miracle-worker, I'm not a messiah. But I took the decision that standing back and just watching rugby from afar and joining in as one of the many critics is just not in my style, I would much rather participate in the turnaround.
Stevens: From what you see and your experience, is there much difference between being the leader of a sports team, leadership on the field and leadership off the field, leadership in business?
O'Neill: Not a lot of difference at all. The fundamental of leadership, I think, transcends sport and business -- You need courage, you need composure, so when a lot of people around you might be losing their heads, someone will stay calm that is the same on the field as it is off the field.
Don't Miss
Stevens: And what are the unique aspects of managing the sports industry that apply to just the sport?
O'Neill: Well it's uniquely collaborative in a bank, for example, you go through a process to present to the managing directors, chief executives a proposal, and the CEO will make the decision and the organization will enact it. I learned that very early in rugby that taking the decision is the easy part, getting people to do what they were told was entirely different.
Stevens: You are obviously highly motivated, how do you motivate your people?
O'Neill: I motivate people by teaching them to enjoy success. You have to give people a reason to feel happy about coming to work and get a spring back in their step -- that we are in a bit of a downturn here but just sitting around glumly, you know, naval-gazing won't get you there, you really have to... Now here are the strategies, here's what we are going to do, and we are going to do it together.
E-mail to a friend

All About Australian Rugby Union • John O'Neill