HONG KONG, China (CNN) -- Our guest today is widely regarded as the greatest player ever to set foot on the tennis court. He's Roger Federer, I'm Anjali Rao, and this is Talk Asia.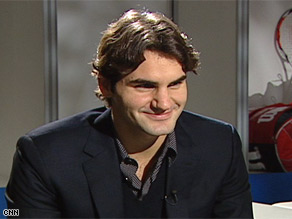 Tennis champion Roger Federer
Dominating the world of tennis, Roger Federer is the undisputed No. 1, holding his position for a record 200 consecutive weeks. At just 26 and with 12 Grand Slam titles to his name, the Swiss star is often called the best tennis player ever. Federer won his first Grand Slam title in 2003, but he has yet to conquer the French Open, and thus the Grand Slam quartet, as his arch rival Rafael Nadal continues to rein the clay court.
Known as the Mr. Nice Guy of tennis, Federer serves as a goodwill ambassador for UNICEF and has his own foundation supporting children. We catch up with him in Macau on the eve of his showdown with former No. 1, Pete Sampras.
AR: Roger, welcome back to Talk Asia, it's marvelous to have you with us again. It's been quite a year for you, hasn't it? How would you rate it?
RF: Well, excellent. It couldn't almost be any better. I really played great, you know, in the big tournaments this year. This is really what my big focus is, obviously. At the moment I can play well at the majors and hopefully finish the year off nicely in Shanghai. And I won four of the five big ones and was in the finals of the French Open, which was just great, and uh, protected my No. 1 rank again, won Wimbledon for the fifth straight [time], which was really important to me, equaling Bjorn Borg's record. So it's great now, looking forward to 2008, obviously.
AR: You were that close to getting all four major titles in the one go, and it just didn't work at the last hurdle. What happened?
RF: Well, what happened, Rafael Nadal was there, unfortunately. He's around, that's a bit of a problem. But I mean it's ok, he's great for the game and he's the toughest player on clay for the last three seasons, and I knew I wasn't the big favorite going into that final. Um, I've felt actually the same situation for the last two years now. I've won three majors and lost in the finals over the fourth, you know, at the French open, but I grew up on clay as well, so it's not like a surface where I don't feel comfortable on. But the thing is with Rafael, he's only played on clay his whole life long, and he won so many matches prior to the French Open that he comes into the tournament so confident. And on clay I just feel like there's a bit more opponent than on grass for me, and this is why it's hard, you know. But I'll keep working, and hopefully one day I can fulfill my dream by winning the French Open.
AR: Everybody loves to talk about the rivalry between you and Rafael Nadal like he's your arch nemesis on the court. What about off the court?
Don't Miss
RF: He's very respectful toward me and I have unbelievable respect for him, because he's already won three Grand Slams and I never had a Grand Slam at his age, you know, so it really tells you what a great player he is and how good he is for the game. Now it's calmed down, you know, we really have a good relationship on and off the court, and that's the way I like it, mutual respect. And I think in the future we're gonna have many more matches now, we've played over 10 times now and just played the epic finals obviously at Wimbledon, which was great for our rivalry.
AR: The French Open continues to elude you. One imagines that the next time that you play, you will probably be up against Rafael Nadal again. Does that mean it's never gonna happen for you, do you think?
RF: No, I disagree. Actually this year's been some sort of a breakthrough year in some ways. You might not understand why because of me being at the top for so long, but I won the Australian Open this year for the first time without losing a set in the Grand Slam, which was a great start to the season. Then I've beaten Rafael Nadal for the first time on clay in Hamburg just prior to the French Open, which was a big breakthrough for me. So I've beaten him now on all surfaces, so that gives me great hopes for next year, and this is why I will always believe and I'm sure I can do it, winning the French. Also if I have to go through Rafael, then it's not always the case, the draws change all the time.
AR: So here we are on the scene of your probable win later today.
RF: Let's hope so. Yeah, we've got a couple of hours. Just after I'm going to warm up with Pete, just right after I hit with you, so it should be good.
AR: So show me some of your signature moves, then.
RF: Well my favorite shot is always gonna be the forehand. It used to always be my favorite shot when I was young, so it's the one I've won all the points with. Backhand used to be my weakness. The serve, I was too young and too small and... not enough powerful to have a good serve when I was young, so my forehand was always my signature shot. So I used to always run around my backhand, you know, use my forehand as much as I could, and so that's why I think it's my strength also today, you know. So, what's your strength today?
AR: I don't have a strength today! I'm against Roger Federer!
RF: Against me it's different, you know. But what's your favorite? You prefer forehand over a backhand or...?
AR: I do, but occasionally I get a really good, sort of, single-handed backhand.
RF: Oh, you play single-handed?
AR: Yes, I can't do the double-handed.
RF: Me neither.
AR: Really?
RF: Yeah, I can't do it, no.
AR: Aww, I feel much better now.
RF: Yes, exactly.
AR: You have no idea how much better I feel.
RF: But the serve, I think, is the most difficult, you know, in terms of coordination, because you got the two arms going, and you got to toss it up at the right time so...
AR: Exactly. Well give us a look then of your famous forehand.
RF: Forehand? Very simple. Try not to miss it, of course. So happy I made it. It's obviously, you know... Actually almost the best forehands you can hit is out of the backhand corner, because you can actually run around, and you can, this way, the way is shorter to hit a winner. But if you go on the other side, you're gonna make the guy run, but then you leave yourself vulnerable obviously for the forehand court. It's really where I think usually all the guys have the best forehands, they use to... They like to hit it out of the backhand court because you can go the other way as well with a lot of spin, move the guy out of the court, and then you can come in or you can come take advantage of that shot.
AR: I tell you what. I'm gonna study your serve very closely, 'cause my serves are atrocious.
RF: Really?
AR: They're so weak!
RF: No double faults though. That's most important that you don't double fault, 'cause you just give away points, you know, you don't want to do that.
AR: I know, but the way I always double fault is by making it so weak it's pathetic.
RF: Really? Oh, no!
AR: That's the only way I can get it to stay in.
RF: I have to see one serve, but I'll show you one. Let's go to the baseline.
AR: Oh, no. I'm gonna lose all my viewers.
RF: So I'll show you one simple serve. That's actually very... For me it's a smooth action, you know, I try not to have too many, how to say yips, or hiccups or whatever in the serve, I just try to do it very smooth. It's all one motion almost, you know, because... It's all about technique, actually, in the serve. If you can't, you actually just want to toss it up, and then, you know, try to get the right timing and the right grip so you don't shank it, so you have a clean hit on the ball. The thing is the balls have really slowed down over the years. The string has become more synthetic instead of gut. That gives you more spin. So we play much further in the court, you know. We now actually return from back here, we play from back here, whereas the other guys they would play from here, so of course if you play from here, the court is much smaller and the whole thing goes much quicker, 'cause you play many more half volleys. So games have changed, for sure.
AR: How do you keep your cool when the stadium is full of thousands of people watching your every move?
RF: Yeah, well, I mean it changes from venue to venue, you know? Sometimes the crowds are really incredible, you know, like loud -- not aggressive, but they're really want to pump you up. Other ones are very respectful, so they only clap when you hit a winner. When the other guy hits an unforced error it's just silent you know, so it's very...
AR: You're in China now. There is no silence here.
RF: Exactly. So this is gonna be good. And I have a feeling this is really a nice court, because also when you look up at the stadium, you can potentially still see the face of the person, and this is what I like, when I feel like I'm close to the fans.
AR: Really?
RF: Yeah, it's nicer when you know they're right there.
AR: I would've thought you'd sort of want to block them out and just forget that they're people.
RF: Yeah, but this is just the reaction of... Coming into a stadium and then you can feel if it's gonna be good crowds or not, you know. So when, you know, it's not too big and not too small so like, between 10 and 15,000 is a good number, I think.
AR: So what kind of tactics are you gonna use against Pistol Pete today? 'Cause his serve is...
RF: Well this court... Fantastic, he's the best server in the world. I almost, still today, I honestly, and this court plays really fast, so it's gonna be really hard to break him, and I think this court really is very skiddy, you know? So when you slice or when you serve out wide on the deuce court, it's very good to ace or get the points, so he's gonna be attacking first, second serve. I will have to hit good returns and good passing shots and yeah, I'll just play aggressive so he can't attack. That's my goal really.
BLOCK B
RF: Aim high over the net. Footwork always important. Try again. I'm feeding too hard.... There you go... Try to read the spin of the ball... Even more... There you go, well done! There goes a point!
AR: I've got a point against Roger Federer!
RF: Pete has to play now. He's kicking us off.
AR: Exactly.
RF: But thanks very much. That was great fun.
AR: Thank you so much.
RF: Thanks, huh?
AR: That was really good fun.
RF: I hope you play every week from now on. Hope it doesn't rain too much in Hong Kong.
AR: You made me run, you know!
RF: Yeah, a little bit.
S: He's a good teacher, isn't he?
RF: You learn anything?
AR: The best. The best.
S: I'm looking for a teaching pro in my hometown.
RF: Maybe I can help you out, yeah.
AR: This is the best you can do.
S: He's all right.
RF: Yeah, that's his line, you know. He's pretty good, he's got a pretty good serve, you know.
AR: If we go way back to the start then, of your tennis days. You were what, 2, 3, 4 years old when you picked up a racket. Really little. Why tennis? What was it about this game that took you?
RF: I enjoyed the position I was in as a tennis player. I was to blame when I lost. I was to blame when I won. And I really like that, because I played soccer a lot too, and I couldn't stand it when I had to blame it on the goalkeeper. For me that was just something that was the worst, to go into the locker room saying I had played a great match, but we lost. Even though it's still my number one sport I follow, because I really like the atmosphere of the stadium and the game of soccer.
But tennis for me was always what did it to me, you know. I used to follow it in the living room, watching Wimbledon, seeing Becker and Edberg win or lose and crying if they lost, happy if they won, and it's always something that was close to my heart. And I realized this is really the sport I always wanted to do, and it's just a great feeling I could come so far. Honestly, today, I still can't believe how far I've come.
AR: Do you have those days now where you're lying in bed and you just think, oh God, I don't want to pick up a racket today, please anything but that?
RF: Well sometimes, yeah. It's sometimes hard, because we're like rock stars in some ways, we do world tours every year. Rock stars go on tour maybe once every other year. We do it January to November every year for about 15 years. But it's something that's part of my life now, and I've gotten used to it. And I hope I can do it as long as possible, because it is hard and rough and that's why I have to do a lot of prevention work with stretching and massage, and you know, stay healthy and also have a proper schedule, it's very important.
AR: Give us an idea of what goes through you when you've realized that you've hit that winning shot.
RF: When that match point comes around, or actually a few points for me anyway before that match point comes around, I start thinking, oh my God, I'm probably gonna make it again or do it again. So you start to, you're already dealing with it while you're actually hitting your forehand and backhand, so it's really awkward you know, sometimes what also goes through your mind is what I'm gonna say if I win. How is the picture gonna look when I hold the trophy? So you're like, oh my God, don't think about this.
AR: I always wondered how you knew what you were gonna say.
RF: Yeah, well no, then you, it just comes naturally afterwards, because you don't want to plan it, of course, you know. And the moment you hit it, it's just this release of pressure where for me, anyway, I just wanna lie down usually and just go like, just give me two seconds on the ground where I can just relax, you know. There's the most incredible emotion that goes through your mind, then you sit down on your chair and you're like, it's all over now. But it just feels great, and I'm so happy that all the hard work paid off. It's kind of this feeling, yeah.
AR: It has paid off, 'cause you've got millions in the bank, millions more in endorsement deals. Is the money side of it important to you?
RF: In the beginning it was a little bit, you know, honestly. I'm not lying about it, you know. My dad said if you become a tennis professional just make sure you get into the top hundred, because you have to make a little bit of money. You make a living so you can pay your coaching and, you know, your travels.
It's an expensive sport, tennis, but I got great support from the Swiss tennis federation, but then obviously, like you said, you know then, possibilities come around such as the sponsored deals and the media and this whole different world I didn't know about before, and like I told you, I really enjoy the business part of it. Now money, it's important, but I have plenty like you said, and it's just now important to enjoy the tour as much as I can and chase history, chase the records of the game and, you know, let the fans enjoy this ride with me, basically. It's a good situation for me to be in at the moment.
AR: You're known for being this all around Mr. Nice Guy. Don't you at least have to have a modicum of arrogance somewhere in you to be able to make it to the top and keep that position?
RF: Um, I think it's important to be confidant, you know. I don't know if that's cocky or arrogant or whatever that is, but you have to have strong belief. The moment you start to doubt yourself, you're probably going to lose. It was hard for me to do that at the beginning because I was always very humble, and I always said no, no, the opponent is the favorite and I'm just happy, but I've changed that tune a little bit.
AR: You've certainly got a lot of friends all the way through the sporting world. And your friendship with Tiger Woods is really sort of played up. I got to ask you, what do you two talk about when you get together?
RF: Yeah, well we do a lot of jokes, you know. People think we may be two quite serious guys. Actually we have a similar image almost. He's very well spoken, when we get together I think we just relax, you know, and we talk about our own careers, just joking around um, yeah, but, what's going on in his life, how crazy my life is sometimes, you know. It's fun to be able to talk to someone who goes through something so similar.
AR: You've been on Time magazine's list this year of 100 most influential people, People magazine's list of most sexiest men...
RF: Yeah, don't talk about it.
AR: ...or most sexy man in the world. I was gonna say though, I mean, given your famous modesty, surely that's got to make you blush? Like I see your cheeks going pink right now.
RF: Yes, yes, it is awkward. So... What can I say, it's been fun, you know. Actually the last couple of years, I will say the more success you have, the better looking you get in some ways. In some ways it's true, unfortunately you know, and uh, who's sexy... whoever can decide that. I hope it was some good-looking ladies, you know, and it's just... It feels nice, you know, but nothing more.
AR: I'm sure all those good-looking ladies who have voted for you would be gutted to know of your long-term girlfriend, who was also a pro tennis player. Um, she's not anymore, and she obviously travels the world with you. How much input does she have?
RF: We started dating when I had zero titles, and now I have 53 so she's been part of almost every title, you know. She didn't travel to every tournament I've been to in the beginning obviously, because she was playing herself, but what a great support she has been.
I asked her if she could help me out with maybe my media, because media was starting to grow and it started to get more and more crazy. And right at that moment I won my first Wimbledon, and she's like oof, flooded over with all the media requests. And so I can only thank her for everything she's done for me and yeah, still in love and everything's great and hopefully we'll have family and be married one day, but for the moment it's maybe a bit early, I don't know, we'll see how it goes.
AR: Aww, what a lucky girl.
BLOCK C
AR: You're currently playing the last in a series of exhibition matches here in Asia, and we are sitting in Macau for your last one against Pete Sampras. What's the appeal of going up against him? Because he's been retired for five years and you're the world number one, it hardly seems like a fair fight!
RF: Yeah, it's not fair, isn't it? But you know, I just started to play some exhibition matches and I actually had the idea. Why don't we play against each other, because he's still fit enough and good enough to actually really challenge me? And so we started practicing really hard, and I was like, really worried, you know, and 'cause I have in some ways nothing to gain, and he's got everything to win, you know, and it's a difficult situation for both of us, you know. He doesn't want to be embarrassed on the court, you know, but he did an incredible job so far, and honestly the surfaces we've been playing on are really fast, you know. It's going to be interesting again here, and then maybe we could do it again some other time, maybe in America, or maybe also come back to Asia. Because I love touring in Asia, it's just wonderful cultures here, and such nice people, and they're so friendly, it's just really nice.
AR: Do you think though, you could've taken him in his heyday?
RF: Well, big question mark obviously. I think when you're at the top, you always feel like you could beat anybody on any day, you know, and I think with, if I had started to play well I think I would've beaten him, and he probably thinks the same way as well. The thing with Pete's game, he was so dominant because he had the most incredible serve. He had, I think, the best second serve ever in the game, so I think it would've been an equal battle maybe. I probably would've had the edge on clay and some of the slower hard courts maybe. But on grass and indoors it would be really, really close.
AR: There's been a lot of talk recently about match fixing in tennis. Did you hear rumors about this exhibition match being rigged?
RF: No, I haven't heard.
AR: Yeah, it's weird, eh?
RF: Is that what they're talking about?
AR: There were some allegations.
RF: Oh come on, no.
AR: I know, isn't that strange?
RF: No, I mean that shouldn't be the case, you know, I mean we've had some speculation problems, you know, and the thing is, talking about speculation is the worst for us players. And the thing is the media then chases down every single player they can get to, and one guy says one bad comment and they take that out and they add it up and they create these stories around the world and everybody starts picking up on them. I've never been approached by any match fixing or, you know, betting scandals and stuff like this, offering me money to lose. And we owe it to the integrity of the game that we don't do such things, and I hope we're gonna get rid of those speculations because it's very important for the sport that it stays clean, obviously.
AR: Do you see any Asian players making it up the ranks? Because I mean, it's been a long time since this region had anybody that was up there. I think the last one really was Michael Chang.
RF: Yeah, yeah, and then he played for America so... But then we've had Paradorn Srichaphan from Thailand who made it into the top 10 at one stage, and he's now been hobbled by injury a little bit. But I agree, it would be really, really nice if this part of the world had some more players, you know, and I've been trying to promote tennis in this part of the world as much as I could, as much as I can. Coming here, you know for Shanghai, I've won Tokyo, I've won Bangkok, Dubai, Doha, I've really tried to come over here as much as I can. And it's got a great potential, obviously, and once Asia gets behind a sport I always get the feeling they can do it all, you know.
AR: You know there's this real sort of almost obsessive debate about whether you're the greatest player ever to set foot on the court. Do you pay attention to that? I mean does it matter to you that you're considered the best ever?
RF: Well, obviously, I would love to be that person, you know? But for that, I still have to probably win a few French Opens, Olympics, Davis Cups, stay No. 1 forever, and then break the Grand Slam title and most titles. There's so many records I have to hold myself to really be considered that. Till today actually, we don't know who is the best of all time, is it Rod Laver, is it Bjorn Borg? Is it ... Conners, McEnroe, or is it Sampras, you know? It's a difficult debate, but I'm happy I'm part of this debate, because that means I'm really, really up there with all my records, and I still have hopefully about 10 years to go, you know, to go on tour. I'd like to play as long as possible, so I can face as many generations as possible, because I really enjoy playing against the younger generations now.
AR: Roger, thank you very much indeed for spending time with us today. It's been fantastic meeting you. And that's gonna do it for this edition of Talk Asia. Thank you for being with me, Anjali Rao, and my guest today, world tennis No. 1, Roger Federer. I'll see you again soon, bye for now.
E-mail to a friend

All About Pete Sampras • Rafael Nadal • French Open • Roger Federer • Tennis