Interview with Elizabeth Yuan
CNN





HONG KONG, China (CNN) -- Hearing about the highway planned on Mount Everest, Shaun Horrocks, features designer for the South China Morning Post in Hong Kong decided it may be his last chance to see landscapes that may change within a year. According to Xinhua, the Chinese government has been planning a $19.7 million highway construction project. The project will facilitate the journey of the Olympic torch to the world's highest peak ahead of the Olympic Games, turning the 108-kilometer (67-mile) rough road linking Tingri County at the foot of Everest to Base Camp into a blacktop highway.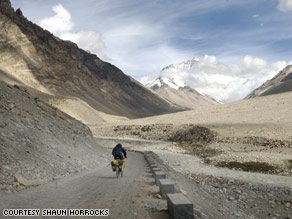 Horrocks, with Everest in sight, thinks a paved road to Everest would disrupt what he calls "raw beauty."
From June 7 to June 29, Horrocks and friend Steve Coward rode their bikes from Lhasa to Kathmandu, Nepal, via Everest Base Camp. Here are his reflections:
"Early on in the trip, we were riding along, and two girls came running up. These girls were running, laughing. They physically stopped us and ended up putting their bags on our bikes and running with us, dancing, saying "Disco" and singing the ABC's. After hours riding, and their running with us, it was getting dark and [there was] nowhere to camp. They got their father out, and they allowed us to sleep in their courtyard. They had boiling pots of water for us to drink.
"There were very nice incidents like that that contrast with the harshness of traveling in Tibet.
"There were also stones thrown at me, because we weren't giving money.
"[In] Tibet -- you go through villages, and there are no shops. I don't know where the locals get their provisions from. It's only when we got to major towns that we could stock up on provisions. You go to hamlets, and you're lucky to find one shop. You couldn't have luxury items -- a can of Coke was quite hard [to find].
"We went through quite a bit of roadwork. The infrastructure the Chinese are doing in Tibet is quite phenomenal. The first set of explosions [were while we were traveling] from Nagarze to Gyangze, where they were building a road. The main one was on the very last 100 kilometers of the Friendship Highway after Everest Base Camp. The Chinese government decided to tarmac the road before Nyalam, the border town between Tibet and Nepal. They're blowing up the road, making it difficult for tour operators to go from Nepal to Tibet.
Don't Miss
"We were just riding along, and after a month of riding, when someone says, "Stop, stop, stop!" you carry on riding. The road workers wanted to physically stop us, and we tried to get around them. The road was in very, very bad condition, and all of a sudden, we heard an explosion, followed by three very loud explosions close by, and shattered rock was raining down on us. And road workers threw us behind a lorry.
"A Chinese man told us in basic English, 'You stay, you stay. Road work.' We waited out the explosions, and once the debris stopped flying, they let us go. But the road was totally covered with debris.
"A lot of the time, you're riding into a headwind, the going is hard -- slow, monotonous -- and people on bikes forget to look. I tried and kept my eyes open, and I wasn't disappointed. The beauty and ruggedness of the terrain was spectacular.
"When you are on this kind of trip, you almost forget about everything else. You are more concerned about day-to-day living: Do you have enough food, can you get over that pass. I wanted to have the experience of depending on myself, of being in a beautiful area like the Himalayas. I can't think of anywhere more beautiful, whether in India, Tibet or Nepal.
"The weather -- we had everything. The nights were cold -- the coldest in the tent was minus 7 degrees Celsius (45 degrees Fahrenheit). Outside the tent, minus 12 (10 degrees Fahrenheit). Highest it went to was 42 degrees Celsius (108 degrees Fahrenheit).
"One day, we had glorious sunshine to the point you're getting severely burnt, followed by rain. Then sleet and hailstorm, followed by snow, thunderstorm, and back to glorious sunshine -- and that was maybe within the space of four hours.
"The majority of time we stayed in tents. When we had an opportunity to sleep in villages, the rudimentary guesthouses -- they call them hotels -- were very basic, very squalid. We'd opt to sleep in the tents, because they were cleaner.
"If the Everest road is built, then there really is no infrastructure. You've got small villages. The rooms are very rudimentary. Toilets are holes in the ground. I'm not saying I'm an explorer -- these are pretty bad toilets. I can just imagine grannies from the UK -- they'd be mortified by the quality. Where are they going to go?

"The first time you get a glimpse of Everest is after a 5,200-meter pass ... which is absolutely torturous as in hell. The road condition was very bad. After four and a half hours of continuous climbing up these never-ending switchbacks, I'm at my wits' end, physically and mentally drained for the day. I just want to stop, put my tent up and go to sleep. I heard Steve 100 meters up on the next switchback above me. He was on the crest -- on the pass. And he says, 'Shawn, you won't be disappointed.'
"I made it to the top, rounded a corner and then -- and because it was quite high -- the panorama was absolutely stunning. You are staring on the right hand side -- Cho Oyu, Makalu, Everest, Lhotse, Nuptse -- all the high mountains of the range, just in front of you. It was absolutely stunning, and Everest was dominating the range, and all the others seemed to melt away compared to Everest.
E-mail to a friend

All About Mount Everest