Story Highlights
• Carr started the Imbabazi Orphanage after Rwanda's civil war and genocide
• The orphanage cared for more than 300 children by the time she died last year
• Photos by Imbabazi's Camera Kids on display at Holocaust Museum, Houston
• Orphanage committed to its children, will remain open, Carr's niece says
By Elizabeth Yuan
CNN
Adjust font size:




(CNN) -- She never had children of her own. But more than 300 children in Rwanda call her their mother.
In the last months of her life, Rosamond Carr sought yarn and wool, bandages, medicine, clothes, money and other support for the Imbabazi Orphanage that she founded in Mutura, Rwanda.
Her energy was waning. She walked with effort, and when she went to bed at night, she had a long list of things to do, visitors to expect, problems to solve. (Watch Carr describe her 'children'

)
She was already 81 years old when she decided to open the orphanage. The American had called Rwanda home for most of her life when genocide broke out there in April 1994, forcing her to evacuate.
That August, one month after the war ended, she was back, fixing up an old building on her farm in Mutura to take in orphans from the nearby Kibumba refugee camp, where 200,000 people had fled.
"My family thought I was totally crazy," she told CNN in May, in one of her last interviews. "And everybody told me it would never happen, and that I shouldn't go back."
By the time she died at the age of 94 in September, the Imbabazi Orphanage had cared for between 300 and 400 children, said Carr's niece, Ann Halsey, who co-wrote with Carr her memoir, "Land of a Thousand Hills: My Life in Rwanda." The name "Imbabazi," Halsey explained, translates in Kinyarwanda to "a place where you will find all the love a mother would give."
Photographs taken by some of the Imbabazi children are being displayed at the Holocaust Museum in Houston, Texas, through February 18. The stop, along with one at the World Social Forum in Nairobi, Kenya, this past week, marks a long tour that has included the U.S. Embassy in Kigali and the United Nations.
Carr remembered the moment she decided to return to Rwanda and start the orphanage.
"It was when I was watching CNN," she said, recalling how she waited out the war while staying with friends in California, her eyes glued to the news.
Nurses at the Kibumba camp were telling the CNN reporter how the cholera epidemic was wiping out people and had left behind some 10,000 orphans, Carr recalled. "And at that moment, I knew where the camp was. It was exactly 10 kilometers [6 miles] from my house.
"I had already heard that my car had been stolen, my house emptied of everything. But I thought I could walk 10 kilometers without any problem. And I'll just walk over there, pick up babies, take them back and take care of them."
Carr had always followed her heart. She had left her job as a fashion designer in New York City 50 years earlier to follow her British husband, Kenneth, an adventurer and hunter, to the then-Belgian Congo.
In the midst of a troubled marriage, she moved to northwestern Rwanda, where in 1955, she and her estranged husband bought a flower plantation in Mutura called Mugongo. The two divorced after a 14-year marriage, in part because he didn't want to have children.
"I was heartbroken not to have children. But at 82, I told people I now had 40," Carr recalled.
"All of my hopes are on the children whom I'm taking care of," she said.
When Carr died, of natural causes, "The children were very, very upset," said Halsey. "They didn't know what was going to happen to them. They felt they had lost their mother."
Halsey and other board members of the Imbabazi Foundation, which was established to oversee the orphanage, met in Gisenyi in November to determine the future of the orphanage and its 117 children.
"We are committed to keeping it in operation," Halsey said. "Not forever, but for an indefinite period of time. We probably will not take any new children, but we are committed to the children we have now."
Rwanda: Through the eyes of children
Carr often talked about Frederic Ndabaramiye, whose hands had been chopped off by Hutu insurgents.
In 1998, Frederic was 15 and had gone to Gisenyi for the day when the Interahamwe, or Hutu militias, attacked his bus. They separated the Hutus -- among them, Frederic -- from the Tutsis with the aim of forcing the Hutus to kill the Tutsis.
"All the Hutus knew that they were going to be asked perhaps to kill the Tutsis, and they all started running. And Frederic was a kid, and he was caught. His hands were tied together with a rope and were cut off with a machete," Carr said. The rope had been tied so tightly it served as a tourniquet and kept him from bleeding to death, she said. He would spend nearly a year in the hospital before arriving at the Imbabazi Orphanage.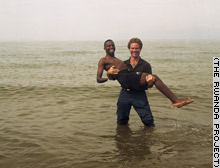 Frederic Ndabaramiye and David Jiranek, founder of The Rwanda Project, pose in the waters of Lake Kivu in this 2001 photo.
The next year, a visiting American photographer, David Jiranek, was so taken by the Imbabazi children that he conceived of a photo workshop to teach them how to use a camera. When he returned in 2000, he gave them disposable cameras to put those skills to the test, and what they revealed was Rwanda as seen through their eyes.
Their project became known as "Through the Eyes of Children: The Rwanda Project," and they came to be known as the Camera Kids.
One of them, Jacqueline, arrived at the orphanage in 1996, knowing little more than her name.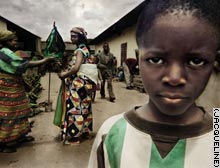 Jacqueline's "Gadi at the Market" depicts another Camera Kid, Gadi, and won first prize; the photographer was 8 years old.
A picture she took on her first roll -- "Gadi at the Market" -- was among those Jiranek submitted to the 2001 Camera Arts Magazine photo contest. Jiranek didn't have copies of the students' ID cards, so he explained the circumstances in a letter to the judges and suggested Jacqueline's photograph as an entry for "Portraiture." It won first prize -- and Jacqueline was only 8.
Now 14, she has the highest marks among the Imbabazi children and wants to work as a photographer.
Frederic was another Camera Kid, and holding his camera with the stubs of his arms, he shot pictures of other children at the market, selling meat, getting a haircut, washing clothes.
In 2005, he and an Imbabazi teacher opened the Ubumwe Community Center in Gisenyi for children and adults disabled not just by genocide but also by polio. The center, with backing from the Columbus Zoo in Ohio's Partners in Conservation -- which also funds the Imbabazi Orphanage -- offers English, Kinyarwanda, sewing and handicraft classes to enable people to become economically independent.
"I feel that the future of Rwanda is in the hands of the children," Carr told CNN. "And at the orphanage, we never mention Hutu or Tutsi. They're all Bandarwanda, the people of Rwanda."
However, before her death, she was less optimistic about Rwanda's ability to heal its wounds, even 12 years after the genocide. "If you're asking me about reconciliation, I don't think there's any hope for reconciliation within the next 10 years," she said, referring to parts outside the capital, Kigali.
Carr would not leave Rwanda, even in death. Her grave lies in the garden of her farm, beneath the Virunga volcanoes, Africa's heart.
---