CNN Student News -- Welcome to CNN Student News, a daily commercial-free, ten-minute broadcast of the day's news geared for middle- and high-school students. CNN Student News can be found on air and online, and whether you're brand new to the program or a longtime viewer, we've got new things in store for you.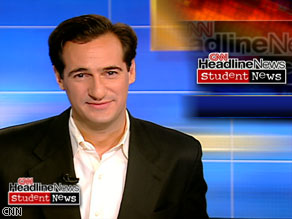 CNN Student News anchor Carl Azuz.
You've already found our new homepage, CNNStudentNews.com, where you can access the show and free related curriculum materials, including Learning Activities, Discussion Questions, Newsquizzes and One-Sheets.
CNN Student News airs on CNN Headline News at 4 a.m. You can record the show from 4:00-4:10 a.m. Eastern time on Headline News. (Check your local listings for channel number).
If you'd prefer, you can download CNN Student News to your desktop or iPod. Go to the CNN.com Podcast page and look for the Student News podcast. Once you've signed up for the free subscription, every episode will automatically be downloaded to iTunes.
In addition to CNN Student News, each week, CNN offers educators a commercial-free edition of "CNN: Special Investigations Unit," "CNN Specials" or its award-winning documentary program "CNN Presents," along with a corresponding free curriculum guide on CNNStudentNews.com. You can record these CNN Classroom Edition programs from 4:00-5:00 a.m. Eastern time on Mondays on CNN. (A short feature begins at 4:00 a.m. and precedes the program.)
And if you want to be the first to know what's coming up on CNN Student News and CNN Classroom Edition programs, you'll want to sign up for our CNN Student News Daily Education Alert. Registration is quick and simple. Just click here to subscribe.
E-mail to a friend

All About Continuing Education