Queen's 80th birthday: Your views
Jean Archdeacon sent us this photo of the queen taken in Vancouver, British Columbia, in 1983.
E-mail us: Do you have a message for Queen Elizabeth II on her 80th birthday? Have you taken a picture of the Queen? E-mail us with your stories and images, and we will share the best on air.
LONDON, England (CNN) -- CNN.com readers have been sending us their thoughts as Britain's Queen Elizabeth II celebrates her 80th birthday.
It is with great pride that I wish the queen a very happy birthday on her 80th birthday. She became my queen when I was a young boy of 7 and the first time I was able to see her in person was last year when I was 60. She was on a royal visit to Edmonton, Alberta, Canada, where I live, and I was thrilled to see her. She has weathered all manner of things that life has thrown at her with calm, dignity and graciousness. We could ask for no better head of state than Her Majesty and I hope her reign over us continues unabated for many years to come. Happy Birthday Your Majesty and may you have many, many more.
Dennis Kennedy, Edmonton, Alberta, Canada
Happy 80th birthday Your Majesty!! Thank you for making me so proud and fond of the most gracious, beautiful queen our country has ever had! If anyone in this entire world has done her job to perfection, it is certainly you. I'm sure there have been times when you wished you could just ride your beautiful horses and play with the corgis or just plain relax with family. Thank you from the bottom of my heart for portraying your role as Monarch to absolute perfection. I admire you immensely.
My 93-year-old mother was born on Queen Victoria's birthday, May 24th and she proudly carries her name, Emily "Victoria" with extreme pride. We are both staunch "royalists" and are extremely proud to call you our "gracious" queen.
May God continue to hold you in the palm of his hand and guide and protect you every day of your life -- may you reign for another 80 wonderful years!!!
Your Humble Servant, Gail Corrigan, Richmond, B.C., Canada
I was born in England 53 years ago and adopted and brought to South Africa. Even though I live here, I love England and the royal family and I wish the queen a wonderful 80th birthday and many more to come.
Liz Van Goeverden, Durban, South Africa
As a Canadian about to enter my 60th year, I fondly recall bringing pictures from the newspaper to school on the queen's coronation in 1953. I saw the queen several times in Toronto, and made a special trip to Ottawa for the signing of the repatriation of the Canadian Constitution by her and Pierre Elliott Trudeau, Prime Minister at the time. I have had the opportunity to see most of the family, and remember standing just a few feet from the Queen Mother in Toronto, her wonderful eyes sparkling and looking very much like a pixie. I did take many pictures of her, but have given them to my nieces and nephews, who were amazed and delighted to receive them, as they live in a remote area of Canada, and have not had the opportunity to see her. The monarchy is important to me, and I wish the Queen a long and happy reign.
Robert Berg, Cancun, Mexico
I feel as if I know the Queen.She has been one heck of a lady and good for England and the USA. May you have more birthdays and less troubles.
Orba and Toshiko Hall, American and Japansese Wife
Your Majesty... You have continued a tradition of strong female leadership in the world, which Queen Elizabeth I exemplified. Whatever your trials, you have remained steadfast in a changing world and you have helped your country and your family through chaos and tragedy. If the future is uncertain, you are not.
May God bless you in the year ahead, in all your endeavors, and in body, mind and spirit.
Deep Respect, Suzanne Green
Her Majesty Queen Elizabeth, I wish a very happy birthday! And all the best for the next year.
Tamara Blyth
I am in Chile, my great-great-grand father was Lord Thomas Cochrane, who helped the Chilean navy to get the independence of the country. Through the years my family looked at the British spirit of honesty and justice, and we know what it means to live in a republic, the presidents go and come, but a kingdom has a sense of eternity, the country home has a person, the queen.
We are deeply moved by her birthday, we appreciate her job, her beautiful presence.
The Britons have a great treasure, their queen.
George
To Queen Elizabeth: Your portrait says it all -- a beautiful lady on her 80th birthday.
From a former Canadian subject, best wishes, always.
Joyce Richard Alderete, Peace River, Alberta, Canada
I took this photo (at top of page) of Queen Elizabeth II in March 1983 at city hall in Vancouver, British Columbia. I thought she was going to speak to me but alas she stopped to take some flowers that the lady next to me gave her. She asked the lady if they were from her garden. The lady said yes and the queen moved on. It all happened in a few seconds but I managed to take this picture of her with her famous warm smile. I was disappointed that the man to my left of me got in the shot. Jean Archdeacon
Wishing Queen Elizabeth a wonderful 80th birthday! Although I am an American I have always admired the queen and all of the royal family. I am deeply disappointed that I cannot find any showings of her birthday festivities here. I watch whatever I can find about the royals and would love to see some of the celebrations for her birthday.
I deeply and respectively give you all of my well wishes for a smashing 80th birthday !
My best regards,
Judie Kolloen
It is a great privilege for most of British people to have a meek and loving queen that is very inspiring for most of the women all over the world. She is a reflection of pride and integrity for the people in United Kingdom. Again, Happy birthday. GOD SAVE THE QUEEN.
Richard M. Laigo, Philippines
Let me, wish the respected queen a very happy birthday. She is a real role model of a women who is respected all over the world. We pray that the Lord Almighty may bless her to see many more birthdays.
Madhu Walter, United Arab Emirates
As an American I am no great fan of the British monarchy. However, I cannot help but be moved by the great affection of the British people for their queen. If only our heads of state in Washington D.C. inspired such warmth.
Mark Hall, Krakow, Poland
Happy Birthday, dear Elizabeth and many many returns! Wish you on this very special day, long life, good health and happiness in your life.
With best regards, Carolina, Switzerland
As a 6-year-old New Yorker I idolized Princess Elizabeth and made a scrapbook of her wedding. Throughout the dramatic events and changes in the world since then, she has remained for me an enduring and inspiring figure. Long may she reign!
Lucy Kashangaki, Nairobi, Kenya
My name is Teng Fei. My English name is Kirk. I'm a Chinese college student. In my opinion, Queen Elizabeth is a great and legendary woman in the world. She dedicates her life to help the poor. She is a very kind woman, who is like my grandmother. I have the greatest respect for her. In her birthday, what I can say:"Happy Birthday."
Thank you. Regards, Kirk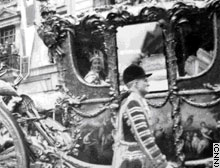 Judith Timbers, of Australia, sent this photo of Coronation Day, taken by the New Zealand Band, of whom her uncle was a member.
A segment of the report from CNN indicated that the queen "has not had a sniff of scandal in 54 years." I do agree that she was probably the less reported or scandled compared to other members of the royal family. However, nothing against the reporter, but where has he been for the last 20 years? There was the fire in Windsor Castle, and the taxpayer footing the bill, and someone dying in a very suspicious car crash. These are two things that come to mind immediately.
Aside from the "scandal" issue, I am personally more concerned about the queen not maximizing her capacity for the people. For example, she could donate some of her millions of pounds to Third World Countries (not only in the Commonwealth), such as the country I am in right now (Afghanistan). I wander how much the queen knows about Third World countries, and situations where clean drinking water and electricity have never been heard of? Maybe she could have taken a leaf out of Princess Diana's book, who actually took the time to physically help individuals and promote worldwide attention to the people who really need it.
I write this mail as a British citizen hoping that, by having such a high profile British figure/family, more could be done according to the potential they actually have.
Thanks for your time. Paul
Happy Birthday Queen Elizabeth II. May God bless you always.
James, Ena and Sharika Assad, South Africa
Want to salute Her Majesty Queen Elizabeth II and wish her a very happy birthday as she celebrates her 80th birthday. She has always been a source of inspiration to me to remain strong and cheerful in life. Just a comment, I wish she could travel the world more, especially Africa and brighten it with her charm. Long live the queen! Clive, Kenya
Happy birthday to the Queen, I must say at this point of her life she should channel her focused on elevating poverty in Africa for God has reasons for keeping her this long. Paul Martel, Netherlands
Dear Queen Elizabeth, Your image is probably one of the most printed in the history of mankind -- from different bank notes of different countries to news papers to magazines to tabloids, everywhere!
No doubt that people love you and that you deserve all the honor that these peoples give you. Happy 80th Birthday!
Long live the Queen!
Benedict M. Uy, Manila, Philippines
I'm sure she is a wonderful person and a highly respected and appreciated modern monarch, who has stayed and and risen above her family problems.
The question is, has she also remained above speaking out critically on the social problems of Third World countries? What has she really done to inspire people on the African continent, for instance, which has yet to have its moment in contemporary history.
As head of the Commonwealth, does she address the issues that all member countries grapple with on a daily basis. Poverty, disease, access to clean drinking, water are just some of the issues. Windsor Castle is a world away from these issues.
Sincerely, John Sampson, Windhoek, Rep. of Namibia
The queen is the living evidence of how social discrimination exists in modern UK, who believe in modern society of equal right for all, and nobody is above the law. Thanks, Tito
Throughout this email letter I would like to wish a very happy birthday to Queen Elizabeth II for her 80th birthday celebration. I hope that Queen Elizabeth will be granted with life lasting, more joyful, good health and be much happier in her life as well as for her family. And I hope that the queen will be much better in leading United Kingdom also with its empires and will be participating to make the peaceful on this earth for preventing wars and violence among the countries.
I think the queen is one of the most successful leaders in the world, as we can see Queen Elizabeth is the most popular person on earth, and she has become as the biggest role model for all women in the world for her dignity, charisma, and her ability to lead the UK. Thank you.
Im Kleopas Danang from Indonesia
At this moment I would like to wish the queen a very happy birthday. She is such a wonderful person that she is ruling the hearts of English people whereas our autocratic King Gyanendra is killing innocent people of Nepal. He should learn from the people like Queen Elizabeth and give people the freedom. May god bless him and give him the good sense of judgment and restore peace and democracy in the country.
Thank you. Prakash, Nepal
Wishing Her Majesty a very happy birthday an example to us all having served our Nation above and beyond the call of duty.
God Bless our amazing Queen
Love from Liverpool
Have all those who criticized Queen Elizabeth, actually taken an interest to learn what she has achieved, the knowledge she has gained and the impact she has actually had on the world? Whilst opinion is divided, I would challenge anyone who has a great deal of knowledge about the monarchy to mock its importance. Happy birthday to one of the last unique individuals of her kind the world is ever likely to see again! May she reign strong much longer!
Gareth Rogers
God bless the queen of England. And may she have a happy 80th birthday!
Queen Elizabeth is the epitome of royalty! A true heroine!
Best Wishes, Julia Rachev, Vancouver, British Columbia, Canada
I will like to wish the queen a happy birthday and also say here that to me she as the queen of all commonwealth nations should help talk to our President Obasanjo to please abandon his third term agenda and save Nigeria from chaos.
Sylvester Idoko, from Lagos, Nigeria

Home Page

CNN.com gives you the latest stories and video from the around the world, with in-depth coverage of U.S. news, politics, entertainment, health, crime, tech and more.

Home Page

CNN.com gives you the latest stories and video from the around the world, with in-depth coverage of U.S. news, politics, entertainment, health, crime, tech and more.