The Quest for spirituality
From the Himalayas to New York in search of inner peace
From Producer Matt Percival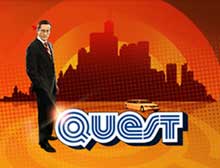 (CNN) -- As we enter the new millennium, many of us find our homes filled with machines that fulfil our every desire. In a matter of hours we can fly just about anywhere and, with the Internet, we can access the sum total of human knowledge.
Despite our achievements, wars and poverty remain widespread and, even in the so-called developed world, people are overworked, stressed-out and ultimately unfulfilled.
So, this month on Quest we seek out a little inner peace in troubled times.
From the gurus and ashrams of India, to a more spiritual life in New York, CNN's Richard Quest goes in search of the answers a few of life's big questions. What does "spirituality" really mean, how do we find it and what's God got to do with it?
Helping him find out how we can make our world seem a happier, more peaceful place is an unrivalled guest list, including the Dalai Lama, actress Goldie Hawn, cult film director David Lynch and scientist Richard Dawkins.
Richard's journey begins with a pilgrimage to the remote village of Dharamsala in the Himalayan foothills of India, the seat of the Tibetan government-in-exile and home to the 14th Dalai Lama, spiritual leader of the Tibetan people.
"Dalai Lama" is a Mongolian title meaning "Ocean of Wisdom," so who better to set Richard on the road to spiritual enlightenment? His Holiness tells Quest how he has managed to cultivate inner peace, despite the struggles of his people and a life spent pining for his homeland.
One of the major debates when it comes to spirituality revolves around the role of religion. For some, spirituality is an individual, secular notion but to others, God is indispensable to a spiritual life.
Actress Goldie Hawn's converted from Judaism to Buddhism.
Pastor Rick Warren preaches the latter view but, according to scientist and prominent atheist Professor Richard Dawkins he, is delusional -- he suggests that when it comes to inner peace, it is best to look for answers not in "heaven" but the world around us.
We also hear from cult film director David Lynch who argues that a spiritual nirvana lies inside us -- all you need to do is "dive inside" through transcendental meditation.
Goldie Hawn has delved into both sides of the argument. In her apartment 54 floors above Manhattan, she talks about her conversion to Buddhism from Judaism and explains how she found a spiritual path away from Hollywood.
Back in London, it is Karen Armstrong's story that has Quest captivated. The so-called "runaway nun" broke away from the shackles of a strict Catholic upbringing to become one of the world's foremost experts on world religion.
Having penned over a dozen books she is uniquely qualified to talk about spirituality both within and without religion.
Quest's journey ends where it began -- in India.
The Dalai Lama has cultivated inner peace despite his homeland's troubles.
Outside the southern city of Bangalore, the Art of Living Foundation is preparing to celebrate its 25th anniversary. More than a million dedicated followers will travel from all corners of the globe to join in the festivities and pay homage to their spiritual leader Sri Sri Ravi Shankar.
To many, this guru's blend of philosophy, meditation and breathing exercises make him a messiah. To skeptics, he is a self-promoter offering false hope to lost souls.
Either way, this is a modern spiritual movement that symbolizes our desire for inner peace and this event promises to be a party that Quest will never forget -- a 'Woodstock' for our time.
Mass meditations, spiritual sermons and Vedic chanting - will he come back a changed man or will true inner peace forever escape his grasp?

Home Page

CNN.com gives you the latest stories and video from the around the world, with in-depth coverage of U.S. news, politics, entertainment, health, crime, tech and more.

Home Page

CNN.com gives you the latest stories and video from the around the world, with in-depth coverage of U.S. news, politics, entertainment, health, crime, tech and more.