The Quest for wealth
From Producer Mat Morrison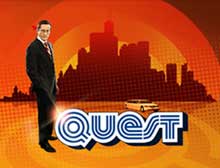 Follow the news that matters to you.
Create your own
alert to be notified on topics you're interested in.
Or, visit
Popular Alerts
for suggestions.
(CNN) -- They say it can't buy you love, some call it the source of all evil, and yet, millions spend their lives in search of it. The prize? Money, and lots of it.
Over the centuries men and women alike have dedicated their lives to the attainment of wealth, and with it the accompanying social and material rewards.
So this month, Richard is on a "Quest for Wealth." Along the way he meets business moguls and entrepreneurs, men-about-town and even aristocracy. Material wealth may be the common thread, but as Richard finds out there is much more to wealth than merely sporting a fat wallet.
Richard starts his Quest by seeking out one of the most famous moguls in the world, Donald Trump. "The Donald" became a billionaire though his casino and property empire, and found even greater fame with his reality TV show "The Apprentice."
Trump coaches Richard on how to amass a fortune, and then how to do it again once you've lost it all. It's called "The Art of the Comeback," and "The Donald" has quite literally written the book on it.
To hobnob with global bigwigs like Trump, Richard must dress the part. So he seeks out tailor-to-the-stars, Angelo Galasso. World famous for dressing the likes of David Beckham and Sean "Diddy" Combs, Galasso is the designer behind the "Billionaire Couture" brand. His trademark: a shirt that fits a Rolex watch right in the cuff.
Donald Trump knows how to hire and fire his way to wealth.
Looking dapper, Richard is now ready to meet Angelo's patron, Italian moneymaker Flavio Briatore. He's the head of Renault's Formula One team, and is renowned for his super model girlfriends, lavish clubs and champagne lifestyle. At his Formula One factory, Flavio explains to Richard how wealth allows him to enjoy the finer things in life. But there is one thing his money can't buy him: a family.
It's easy to wish you were the one with the wealth, but be careful what you wish for -- being rich is not without its downside. Spare a thought for those afflicted by the social "illness" called "affluenza".
Dr. Ronit Lami has spent her life treating those who suffer from the side effects of wealth: depression, anxiety, family problems and more. It might be hard for Richard to imagine but, as the good doctor teaches him, there is such a thing as having TOO much money.
That of course doesn't stop a unique brand of go-getters from risking it all to attain such wealth: they're the entrepreneurs. Richard wants to find out whether he has the DNA to make a mint. So he sits down for an online "Entrepreneur Test" -- but he might not be so pleased with what he finds out.
Richard Branson is no virgin when it comes to entrepreneurial success.
So he seeks out one of the world's true entrepreneurs: adventure-seeking billionaire Richard Branson. Branson tells CNN's Richard about his entrepreneurial beginnings, his management style, and how he oversees a business empire that ranges from airlines to bridal stores.
Branson has some high-placed admirers in the echelons of global business, among them, Google co-founder Sergey Brin. The Russian-born tycoon tells Richard how he made his University invention into one of the brightest success stories of the Internet age -- amassing a sizable personal fortune along the way.
Richard decides he wants a taste of the high life himself, so he heads to the world's most famous department store: Harrods. Upon entering, Richard immediately catches the sweet smell of success -- and it isn't cheap. Harrods owner Mohammed al Fayed shows Richard the world's most expensive perfume, valued at around $200,000! He then gives Richard a personal tour of one of London's most beloved institutions.
In Dubai you can buy the world, or a set of islands that looks like it.
Property developer Sultan Ahmed bin Sulayem knows a thing or two about opulence. He's building islands made-to-order in Dubai. On his private helicopter, he shows Richard some of his creations, including a set of islands designed to look like a map of the world. So, if Richard can't buy the world, at least he can buy a set of islands that look like it.
With such a "wealth" of knowledge under his belt, Richard is ready to live the high life in style. He gets his hands on a few millions dollars (temporarily) and heads out to enjoy some of the finer things in life: the world's most expensive hamburger, covered in luxurious black truffles; and the world's most expensive ice-cream sundae, featuring 23-karat gold leaf toppings.
And of course, he'll have to stay in the most expensive hotel room he can find -- the Presidential Suite at the Mandarin Oriental in New York. After all, he's a big spender now...at least for the moment.
So does wealth really bring happiness, or is money truly the root of all evil? Find out in this month's Quest.

Home Page

CNN.com gives you the latest stories and video from the around the world, with in-depth coverage of U.S. news, politics, entertainment, health, crime, tech and more.

Home Page

CNN.com gives you the latest stories and video from the around the world, with in-depth coverage of U.S. news, politics, entertainment, health, crime, tech and more.