Congo goes to polls for first time in decades
Familiar names on crowded ballot to lead strife-torn nation
By Jeff Koinange
CNN Senior Africa Correspondent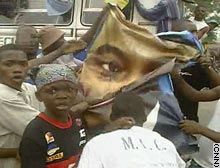 Youths at a rally ahead of elections in the Democratic Republic of Congo.
KINSHASA, Democratic Republic of Congo (CNN) -- To fully understand the challenges facing the Democratic Republic of Congo, one must go back four and a half violent decades to the time of independence.
The Belgian colony, then known as the Congo, gained independence in 1960 and was ruled for a short while by the pan-Africanist Patrice Lumumba, who was labeled a Communist.
But his days seemed numbered from the beginning. These were the heady days of the Cold War, and the Congo was viewed by the West as an important ally. Six months into his rule, Lumumba was overthrown by his Army Chief of Staff Joseph Mobutu, a friend of the United States. (Watch why one of the poorest countries may become important -- 5:10)
The former prime minister was arrested, detained and subsequently murdered.
Mobutu went on to install himself as president and soon after changed the country's name to Zaire. It would be the beginning of a long and painful chapter in Africa's history.
Mobutu would rule the country with an iron first for the next 32 years. He would also change his name to Mobutu Sese Seko Kuku Mbengu Wa Zabanga. Simply translated, according to legend, it meant he was the most powerful of all who went from village to village, conquering everything in sight.
And he did just that, suppressing all opposition and buying off those he couldn't silence. He and his cronies are also said by analysts to have drained the country's coffers -- buying themselves holiday homes and chalets across Europe.
Mobutu is said to have amassed a personal fortune of more than $6 billion, leading Western analysts to coin a new phrase for his rule -- kleptocracy, a government run by thieves.
By the middle of the 1990s, Zairians and the world had had enough of Mobutu. And when Zaire's tiny neighbor Rwanda invaded under the pretext of rooting out fleeing leaders of that country's genocide, most turned a blind eye.
Mobutu's disorganized armed forces gave little resistance, and the Rwandans continued their onward march across a wide swathe of dense African jungle. Along the way they picked a local Zairian to, in their words, legitimize their so-called revolution. Laurent Desire Kabila was a washed-out former brothel owner who shared the Rwandans' hatred of Mobutu and a longing for the return of the rule of law.
In early 1997, after marching more than 3,000 kilometers (1,860 miles) mostly on foot, Kabila's forces entered the capital, Kinshasa, bringing Mobutu's rule to an end. The embattled president was forced to flee into exile in Morocco, where he died of colon cancer several months later.
A new leader, a new name
Kabila was installed as president soon after. One of the first things he did was revert the country to its former name but with a slight twist. It would now be known as the Democratic Republic of Congo.
But just as quickly as Kabila's star rose, it plummeted. He cut off ties with his war allies, Uganda and Rwanda, while clamping down on anyone who dared challenge his rule.
It wasn't long after that Uganda and Rwanda teamed up to invade his country again, but this time they had no justification. Kabila quickly sought the help of his newfound friends in the region, among them Zimbabwe, Angola and Namibia, plunging the Democratic Republic of Congo into what experts would dub "Africa's First World War." Millions of innocent Congolese lost their lives and many more were displaced as the DRC spiraled into chaos and anarchy.
It seemed things couldn't get much worse. But one January morning in 2001, Kabila's bodyguards, tired of his stubborn leadership, turned on him. In the ensuing battle in the presidential palace, Kabila was gunned down, throwing the nation into further turmoil.
As the country paused to mourn its fallen president, a new, reluctant leader was selected by the Cabinet to fill the void. He was Kabila's 29-year-old son, Joseph Desire, the army chief of staff.
The young army major general's honeymoon period was anything but smooth. Intermittent fighting in the troubled eastern region continued as warring factions vied for the country's leadership.
In 2004, a peace deal was signed between Kabila and his main rivals. He offered several of them key posts in his government, including the vice presidency.
Fast forward to 2006, and the Congo faces its toughest test yet: The first multiparty elections in more than 40 years. Can this "giant of Africa" finally turn the corner and put its violent past behind?
The United Nations, aided by the European Union and the United States, is determined to make the elections a success. It's pumped close to $500 million into the electoral process in addition to providing all the logistics, including dozens of aircraft to transport paper ballots in a country the size of Western Europe (a third the size of the United States) because it contains only 500 kilometers (350 miles) of paved roads.
"The rest," a U.N. spokesman said, "is all jungle."
'It could go smoothly, or it could be be a nightmare'
The largest peacekeeping force in the world -- more than 17,000 "blue helmets," as the U.N. troops are affectionately known, and 2,000 European Union troops -- is on standby should there be any post-election violence.
More than 25 million people are expected to cast their votes in 53,000 polling stations. They'll be voting for a president among a crowded field of 33 candidates and an additional 500 members of the country's National Assembly out of a field of close to 10,000.
According to a United Nations official, "this could either go very smoothly or it could end up being a nightmare election."
But perhaps no other story best explains the complexities of the Congo's landmark elections than the tale of two men, both so similar yet so different. Their lives have crossed time and again, and now they find themselves competing for the most powerful office of the land. (Watch Congo's tale of two sons -- 2:59)
Current President Joseph Kabila, 34, is the clear favorite in most polls.
"I believe that the country needs a direction, and I would like to show that direction.," he told CNN.
Nzanga Mobutu, 36, trails Kabila. While his father staved off accusations of corruption and greed, the younger Mobutu grew up wealthy and privileged, spending many years at some of the finest schools in Europe. He is hoping to capitalize on some of the goodwill that still exists from his father's time.
"Most of the people that will vote for me will probably vote because they were in peace under President Mobutu, so they assume this heritage of peace of tranquility, this heritage will help me work in that manner," Nzanga told me on the campaign trail.
Both men's fathers have been described by Africa experts as dictators. Both sons are determined to see through democratic elections their fathers would have never have allowed. Joseph Kabila and Nzanga Mobutu seem firmly rooted in the 21st century, determined to distance themselves from their fathers' legacies.
Congolese politics has no doubt come a long way when sons of former foes can compete on the same stage without fear or favor.
Bat as the nation pauses to take a collective breath, many inside and outside Africa's third-largest country are quietly crossing their fingers hoping for the best -- but at the same time are preparing for the worst.

Home Page

CNN.com gives you the latest stories and video from the around the world, with in-depth coverage of U.S. news, politics, entertainment, health, crime, tech and more.

Home Page

CNN.com gives you the latest stories and video from the around the world, with in-depth coverage of U.S. news, politics, entertainment, health, crime, tech and more.