From bottles to Botticelli, new moms get 'outlet to the world'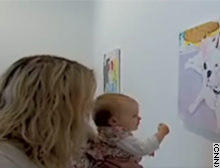 Sherri Schubert and her child enjoy an outing at an art museum.
NEW YORK (CNN) -- For many pregnant women, thoughts of motherhood teem with pastels and sunshine, quilts and Mother Goose, lullabies and nursery rhymes. Worries and anxieties emerge, of course, but only out of concern for having to take care of this new, small person in the family.
But what some mothers-to-be fail to include in their Mary Cassett-like daydreams are the feelings of isolation and detachment that can seep into their daily lives along with their new schedules and new role.
Particularly for mothers who had worked before their pregnancy, the transition from the hectic working world to the nursery isn't easy.
Motherhood is a time when "you are completely thrown into this new environment where everything is completely new and you know you may not have the same kind of stimulation that you had before," said Molly Snyder, mother of Sara, 2, and Sam, an infant.
Snyder, who had worked as an investment banker for Goldman Sachs and later for the New York City Investment Fund, said that as a new mother she felt disconnected from the outside world, cut off from social and intellectual pursuits.
She quickly found that she wasn't the only woman who yearned for activities beyond diapers and baby bottles, and craved social interaction, but without Elmo or Rafi.
It was through these feelings that the idea for Metropolitan Moms was born. The small New York City-based business offers culturally enriching themed classes for mothers looking to expand from finger painting to Marc Chagall, or from baby food to tuna tartare.
"The idea is to provide the moms an outlet to the world outside their baby, without having to leave their baby at home," Snyder said. (Read more about the Metropolitan Moms )
Her business partner, Dara Rosenberg, became involved with Metropolitan Moms after she had taken a number of classes herself. "All my friends went to work, and I didn't have really anyone going through the same situation as me," she said of her first few months as a mother to Madison, now nearly 3.
"When I took the class, I met very interesting moms that I felt connected to. And we saw incredible things," Rosenberg said. "When you are working you don't have time to enjoy New York City."
Museums, Sotheby's and historical walks
Initially, the business, now in its third year, only included museum trips for mothers with newborns, hence the name, but the success of Metropolitan Moms was such that the business grew to include gallery tours, behind-the-scenes trips to Sotheby's, architectural and historical walks through the Lower East Side or Greenwich Village, as well as culinary tasting tours through Chelsea. Additionally, there is now a series of classes for moms and their toddlers, and also series geared just for moms.
The business is thriving. About 170 women sign up for classes in a season, and the mailing list for Metropolitan Moms now reaches well over 2,000 people. "The growth has been astronomical, and I would say that the main limitation for us ... is just providing the infrastructure to accommodate ... the growth," Snyder said.
Metropolitan Moms isn't the first organization to latch onto the idea of mother and baby social interaction. Modern mothers have a multitude of other options as well. "Mommy and Me" has for 30 years provided playgroup options for mothers and fathers across the country. Additionally, children's museums, such as ones in Boston, Massachusetts; Chicago, Illinois; or Atlanta, Georgia, have cropped up across the country, offering activities for parents and their children.
For many of the new Metropolitan Moms, it's a welcome relief to get out of the home.
"You get to meet new moms, and that's always important. Especially in a big city like this where it's hard to get to meet people," Sherri Schubert, a mother who attended classes for several weeks, said.
"What I like about Metropolitan Moms is that it provides a venue to meet with other moms, do something somewhat intellectually stimulating like a gallery tour, museum tour," Ellie Wise, another class participant, said. "And the babies are pretty entertained the whole time as well, so it's nice."

Home Page

CNN.com gives you the latest stories and video from the around the world, with in-depth coverage of U.S. news, politics, entertainment, health, crime, tech and more.

Home Page

CNN.com gives you the latest stories and video from the around the world, with in-depth coverage of U.S. news, politics, entertainment, health, crime, tech and more.