Rice: Tehran is 'playing games'
Secretary urges action from U.N. on Iran's nuclear program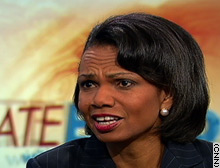 U.S. Secretary of State Condoleezza Rice
A look at the next steps in international efforts to pressure Iran over its nuclear program:
Tuesday -- Officials from the United States, Russia, China, Britain, France and Germany -- who report directly to their foreign ministers -- meet in France to discuss strategy on Iran.
Wednesday -- The U.N. Security Council is expected to meet informally to discuss the report.
May 9 -- Foreign ministers from the Security Council's five permanent members plus Germany meet at U.N. headquarters in New York. The council will meet on Iran formally after those talks.
WASHINGTON (CNN) -- U.S. Secretary of State Condoleezza Rice accused Iran Sunday of "playing games" with the international community over its nuclear program, but she stopped short of saying whether economic sanctions against the Islamic republic are inevitable.
"Every time they get close to a Security Council decision, there is some effort to say, 'Oh no, we really were in fact interested in that proposal that we rejected a few weeks ago.' Or, 'No, now the IAEA can come,' Rice told ABC's "This Week."
"They've had plenty of time to cooperate."
Rice was referring to the announcement Saturday by Muhammad Saeedi, deputy head of the Iranian Atomic Energy Agency, that his nation will allow snap inspections of its nuclear facilities by the U.N. nuclear watchdog, the International Atomic Energy Agency. The condition: that the U.N. Security Council, which comprises the United States, France, Britain, Russia and China, would not be involved.
The United States, France and Britain favor a tough response to Iran, including the possibility of economic sanctions. Russia and China have been reluctant to apply sanctions. The five members will meet informally on May 3 to discuss the issue and, with Germany, on May 9 at the United Nations. (Watch the different diplomatic efforts underway -- 1:28)
Saeedi's announcement was in response to a report that the IAEA delivered to the Security Council Friday finding Iran not in compliance with the U.N. demand to stop uranium enrichment. (Details)
Iran has insisted that its nuclear ambitions are legal and for peaceful energy needs.
But statements by Iran's leader, Mahmoud Ahmadinejad, calling for Israel to be "wiped off the map" and describing the Holocaust as a "myth," have heightened fears that Iran is seeking to build nuclear weapons.
On Monday, Israeli Defense Minister Shaul Mofaz called Iran's nuclear program the most serious threat faced by Jews "since Hitler." Israel, which was founded partly as a haven for survivors of German dictator Adolf Hitler's genocide of the Jews during World War II, is believed to have the Middle East's only atomic arsenal.
Iran also rejected last month a proposal by Moscow to enrich uranium on Russian soil and ship it to Tehran, provided that Iran cease all enrichment activity on its own soil. (Full story)
"The international community's credibility is at stake here," Rice said Saturday. "We can either mean what we say when we say that Iran must comply, or we can continue to allow Iran to defy."
According to the eight-page IAEA report, "Gaps remain in the agency's knowledge with respect to the scope and content of Iran's centrifuge program.
"Because of this and other gaps in the agency's knowledge, including the role of the military in Iran's nuclear program, the agency is unable to make progress in its efforts to provide assurance about the absence of undeclared nuclear material and activities in Iran," the report said.
To address Iran's noncompliance, the U.S. will seek a resolution under Chapter 7 of the U.N. Charter, which makes any resolution mandatory, as opposed to discretionary, by the member state, Rice said. Such a resolution could be enforceable by sanctions or, ultimately, by military action.
When asked about whether she agreed with her predecessor, Colin Powell, who recently said Iran has "pretty much decided" to accept economic sanctions, Rice was vague. "Well, we'll see, because I do know, also, that the Iranians are doing everything that they can to get this out of the Security Council," she said.

Home Page

CNN.com gives you the latest stories and video from the around the world, with in-depth coverage of U.S. news, politics, entertainment, health, crime, tech and more.

Home Page

CNN.com gives you the latest stories and video from the around the world, with in-depth coverage of U.S. news, politics, entertainment, health, crime, tech and more.