Testimony: Louisiana agency lacked evacuation plan
Head of department in charge of evacuating patients to testify
By Jeanne Meserve
CNN Washington Bureau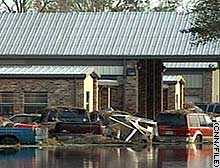 After Hurricane Katrina, 34 patients at St. Rita's nursing home were found dead.
WASHINGTON (CNN) -- The head of a Louisiana state agency given responsibility for coordinating the evacuation of at-risk populations during emergencies has told Senate investigators that no evacuation plans were in place before Hurricane Katrina struck in August.
The official, state Department of Transportation and Development Secretary Johnny Bradberry, is scheduled to testify Tuesday at a hearing called by the Senate Homeland Security and Governmental Affairs Committee.
The Senate committee, chaired by Maine Republican Susan Collins, is examining the government's response to Katrina. Monday's meeting focused on the search-and-rescue response, and Tuesday's will focus on the New Orleans evacuation.
Louisiana's emergency operations plan called for the secretary of the Department of Transportation and Development to appoint a coordinator to organize and coordinate transportation services, maintain information about resources and allocate those resources to the highest-priority missions, according to documents obtained by CNN.
But Bradberry told investigators, "We put no plans in place to do any of this," according to transcripts released by the committee ahead of his testimony.
After the storm passed, questions were raised about why hospital and nursing home patients in some areas were not evacuated. In one case, 34 patients were discovered dead at St. Rita's nursing home in St. Bernard Parish.
CNN has also obtained an e-mail sent two days before Katrina made landfall indicating that state officials might have spurned an offer by a federal agency to help evacuate or move some high-risk patients.
In the internal e-mail, Erin Fowler, a senior analyst with the Department of Health and Human Services, wrote that she had spoken with an official at the Louisiana Department of Health and Emergency Services who told her "that they do not require anything at this time, and they would be in touch if and when they needed assistance."
Help not accepted
Other documents obtained by CNN show that federal emergency officials failed to accept offers of possibly life-saving aid from the Department of the Interior immediately after Katrina struck.
The Interior Department offered the Federal Emergency Management Agency the use of personnel who were experienced in water rescues, and also offered boats, helicopters, heavy equipment and rooms, the documents say.
"Although we attempted to provide these assets, we were unable to efficiently integrate and deploy these resources," an Interior Department official wrote the Senate committee investigating the government's response to Katrina.
Collins said the additional resources might have saved lives. (Watch how FEMA brushed off offers of help -- 2:14)
"It is indeed possible that there was additional suffering and maybe even loss of life that might not have occurred if these assets had been deployed," Collins said.
A spokesman for Homeland Security, which includes FEMA, said the Bush administration is examining how to better utilize federal and other resources in catastrophes.
But, he observed, "Were there federal assets that were not used in Katrina? Of course."
According to government officials, 1,322 people died from Katrina, all but 15 of the deaths occurring in Louisiana and Mississippi.
CNN's Mike Ahlers contributed to this report.

Home Page

CNN.com gives you the latest stories and video from the around the world, with in-depth coverage of U.S. news, politics, entertainment, health, crime, tech and more.

Home Page

CNN.com gives you the latest stories and video from the around the world, with in-depth coverage of U.S. news, politics, entertainment, health, crime, tech and more.