More of your information than you think might be online
Government Web sites often display Social Security numbers
By Drew Griffin and Kathleen Johnston
CNN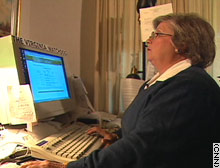 BJ Ostergren says governments often post documents containing personal information.
(CNN) -- If you are worried about a thief stealing your identity, it's not your wallet that needs guarding -- it's your state and local governments.
That's the alarm Betty "BJ" Ostergren, the self-proclaimed Virginia Watchdog, has been sounding for the past four years from her rural Virginia home.
Sitting at her computer, she shows us with just a click of the mouse she can find Social Security numbers, birthdates, bank loans and even digitized signatures that a clever thief could easily manipulate onto official-looking documents. Everything anyone would need to steal your identity is right online, put there by local and state government agencies.
"And it is so easy,'' she said during a recent demonstration for CNN. (Watch how easy it is to steal your identity -- 7:58)
"They have no clue, people," she said, pulling up a random divorce record that shows, among other things, a father's Social Security number and his former employer, the U.S. Air Force.
"See, because this man was in the Air Force, he's probably moved on and he's probably back home in Sioux City, Iowa, thinking life is good and he doesn't realize he's at risk," she said. "So, when his identity finally gets stolen, he's wondering, well, how did that happen?"
It happened, Ostergren said, in an effort by state and local governments to move toward a paperless society. That means records that once required a trip to a local courthouse or government office building to get can now be accessed from anywhere in the world simply by logging on and zeroing in.
To get her point across to those who might have the power to do something about the problem, Ostergren is not above a little showmanship. She is quick to pull up the records of politicians and celebrities. Like Florida Gov. Jeb Bush, the president's brother. She was able to find his Social Security number posted along with many other Floridians.
"I sat right at this very computer and got that record off the Florida Web sites," she said.
Bush has since had the number blacked out, but others in Florida are still vulnerable.
"Oh, you could get bank loans; you could get fake papers," she said. "You could come into this country using this man's information. ... Look, document fraud is a big thing; mortgage fraud is a huge thing."
Bush isn't the only high-profile name whose personal information is at risk. Take talk show Kelly Ripa and her husband, actor Mark Consuelos. "They own, apparently, two houses," she said.
In her own state of Virginia, she found the Social Security numbers, address and signatures of former Secretary of State Colin Powell and his wife, Alma.
But it's the average citizen Ostergren is most concerned about. She thinks few Americans know how vulnerable they are when it comes to online public records. She made exposing this electronic security gap her mission four years ago, after a concerned stranger warned her that her personal information was about to go online.
She has set up a Web site to lobby governments and financial institutions to stop posting this information. Now she volunteers her time to call strangers and warn them as she was warned.
She points out she does not want public records to suddenly become private; she just doesn't want them online or containing information that can give someone else another's identity.
Thieves are less likely to make a trip to a county recorder's office to steal information when they can do it anonymously through the Internet, Ostergren said.
Some are getting the message, she said. Most mortgage companies now delete Social Security numbers from their documents. But that's only been in the past few years, she said. And often, mortgages still contain signatures, which an enterprising thief could appropriate.
As CNN found in Maricopa County, Arizona -- the county with the highest rate of identity theft fraud per capita, with one in six people victimized -- old mortgages, copies of which are available on line, still contain Social Security numbers.
We randomly searched the Maricopa County recorder's Web site and then went to Phoenix, Arizona, and asked citizens what they thought about how easy it was for us to obtain their financial information.
"Your privacy was your privacy, that was until they came out with these computers,'' said Michael Russo, who said he has never used a computer and can't remember ever going to the recorder's office.
He ripped up the papers we showed him, but while it may have made him feel better, it changes nothing: The records are still online for anyone to see.
Maricopa County Recorder Helen Purcell said she is working with the state to figure out how to cleanse the records, like blackening out Social Security numbers. But she admits they did not anticipate fraud when trying to make it easier for the public to get public records.
"Maybe at the outset of that, all of these things weren't thought about," Purcell said.
Some officials are reluctant to do it. Suzanne Henderson, a past president of the National Association of Clerks, Recorders and Elected Officials and county clerk for Tarrant County in Fort Worth, Texas, said she is not sure it is worth the effort and cost. Citing the recent theft of a laptop and external hard drive that contained veterans' information, she said, "Why spend all that money when you can get it elsewhere?"
She estimated it would cost millions to cleanse records and that it would amount to "shutting the door after the horse got out."
Some states, she said, like Texas, allow the public to redact their sensitive info before filing. Florida has mandated local governments redact critical personal information before posting online. But Florida lawmakers recently voted to extend the deadline for another year to give agencies more time to cleanse records.
That is unacceptable to Ostergren. "We are very stupid in this country," Ostergren said. "Very stupid. This is just spoon-feeding criminals if there ever was such a thing."

Home Page

CNN.com gives you the latest stories and video from the around the world, with in-depth coverage of U.S. news, politics, entertainment, health, crime, tech and more.

Home Page

CNN.com gives you the latest stories and video from the around the world, with in-depth coverage of U.S. news, politics, entertainment, health, crime, tech and more.