'Funky Claude' brings soul to Montreux
Claude Nobs started the Montreux Jazz Festival in 1967 -- it has been held every year since.
| | |
| --- | --- |
| • Click here for more Claude Nobs Revealed | |
(CNN) -- Montreux Jazz Festival founder Claude Nobs is often referred to as "Nobby's in the Lobby."
Nobs earned the nickname because as a record label executive with Warner Music, he always made sure he was there to greet artists as they arrived to ensure they were happy.
It is no surprise then that he is close friends with most of the artists who play at his now 40-year-old festival and the hospitality he delivers at his chalet "Le Picotin" is legendary.
Nobs was born 70 years ago near Montreux, Switzerland. Growing up, he developed a passion for jazz music.
As a young man, Nobs' father demanded he focus his attention on earning a living, which resulted in a promising career as a chef before he turned to the hotel and tourist business.
Although Nobs did not care much for columns and figures, he accepted an accountant's job at the local tourism office in 1960.
With a string of languages behind him, he moved into the promotions department soon after, arranging charity concerts and traveling around Europe to boost the profile of his beloved hometown.
On his first trip to New York, he arrived unannounced at Atlantic Records, asking to speak to its head, Nesuhi Ertegun, whose name he had seen on countless records.
After being told it would be impossible, he explained to the receptionist he had traveled all the way from Switzerland. Ertegun agreed immediately -- his parents had been Turkish ambassadors in Berne -- and the pair became firm friends.
With Ertegun's help, Nobs staged the first Montreux Jazz Festival on June 16, 1967.
The festival was originally staged at the Montreux casino, but in 1971 a fire broke out while Frank Zappa was performing. Deep Purple immortalized the event the following year in their global hit "Smoke on the Water," which even name checked Nobs as "Funky Claude."
For the past 40 years, the Montreux Jazz Festival has attracted music legends at the top of their game -- year after year after year.
For four decades Nobs has used the most advanced technology available to record performances. The festival's legacy has been preserved in a priceless video archive, managed by Nobs' partner Thierry Amsalem.
Every year, artists who play at the Montreux Jazz Festival are invited to party at Nobs' chalets before their performance. Afterwards, they can view their own or other performances on a giant screen at Nobs' home.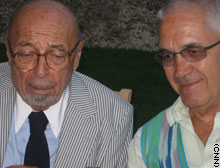 Nobs, right, with Ahmet Ertegun, left, at Nobs' chalet during this year's festival.
Two eccentric buildings contain his collection of juke boxes, model trains, musical instruments and assorted memorabilia.
Several artists have released Grammy-winning albums titled "Live at Montreux" and some of the performances are now being released on DVD under Nobs' company name Montreux Sounds.
The festival is run by a foundation with finances continually on a knife-edge as Nobs' musical ambitions test the budget, which started from a meager $8,000 and has grown to $12 million.
Now 70, Nobs knows he will not be around forever. He says he has an exceptional team who can take over the organizing the festival at any time, but even he admits that recreating the relationship he has with artists would prove virtually impossible for anyone else.

Home Page

CNN.com gives you the latest stories and video from the around the world, with in-depth coverage of U.S. news, politics, entertainment, health, crime, tech and more.

Home Page

CNN.com gives you the latest stories and video from the around the world, with in-depth coverage of U.S. news, politics, entertainment, health, crime, tech and more.