Whose life is it anyway?
Controversy over literary truth is nothing new
By Todd Leopold
CNN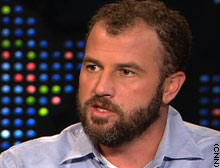 James Frey has come under fire for passages in "A Million Little Pieces."
Watch
"Showbiz Tonight"
on CNN Headline News at 7 p.m. ET weekdays.
(CNN) -- Perhaps Dave Eggers did it right.
In the opening sections of his, um, postmodern memoir "A Heartbreaking Work of Staggering Genius," Eggers addresses the problems of a creatively told life story head-on.
"For all the author's bluster elsewhere," Eggers archly writes, "this is not, actually, a work of pure nonfiction. Many parts have been fictionalized in varying degrees, for various purposes." Eggers then proceeds to list a number of these parts, some of which don't actually appear in the book.
Later, in his acknowledgments, Eggers is more pointed: "Besides, if you are bothered by the idea of this being real, you are invited to do what the author should have done, and what authors and readers have been doing since the beginning of time: PRETEND IT'S FICTION."
James Frey didn't pretend "A Million Little Pieces" was fiction, and maybe that was his problem. He said he's embellished and changed some events in the work, and now the chattering classes are up in arms.
In his appearance on Wednesday's CNN's "Larry King Live," Frey said the book was accurate -- but it was essentially his story, told from his point of view.
"I've acknowledged that there were embellishments in the book, that I've changed things, that in certain cases things were toned up, in certain cases things were toned down, that names were changed, that identifying characteristics were changed," he told King.
"There's a great debate about memoir and about what should be most properly served, the story or some form of journalistic truth. Memoirs don't generally come under the type of scrutiny that mine has."
Frey more or less admitted his reasons on his King appearance. When asked by King about the rumor the book had been turned down as a novel by several publishers, Frey said yes, it had, and it also had been turned down as nonfiction.
"We initially shopped the book as a novel, and it was turned down by a lot of publishers as a novel or as a nonfiction book," Frey said. "When Nan Talese purchased the book, I'm not sure if they knew what they were going to publish it as. We talked about what to publish it as. And they thought the best thing to do was publish it as a memoir." (Transcript.)
The implication of this (or perhaps my inference) is that it was finally published as a memoir, because ... memoirs sell. In other words, it was a marketing decision. And it blew up on Frey when Oprah Winfrey picked "Pieces" for her book club, because that turned "Pieces" from a best-seller into a phenomenon. (Watch Winfrey praise the book -- 4:56)
But what Frey has done is nothing new in literary history. In 1722, "A Journal of the Plague Year" was published, credited to H.F., "a Citizen who continued all the while in London" during the 1665-66 plague. Not quite. The author was the well-known Daniel Defoe, who was 5 when the plague first hit.
Two hundred years later, with novels a popular form, authors disguised episodes of their lives in fictional form. Dozens of books, including Jack Kerouac's "On the Road" and Sylvia Plath's "The Bell Jar," fall into this category of fictionalized autobiography. Indeed, if memoirs were in vogue in 1920, would F. Scott Fitzgerald have written "This Side of Paradise" as a memoir?
(There's also the genre of roman à clef, which seemingly exists so authors can get back at people they dislike without the threat of a lawsuit. See "The Devil Wears Prada" for an example: That's not Vogue editor Anna Wintour! No -- it's fiction!)
More recently, works of autobiography and literary journalism have come under fire. Jerzy Kosinski presented "The Painted Bird" as autobiography (or, in his word, "auto-fiction"), but investigations, most notably one in The Village Voice, revealed that he had appropriated other people's stories. (In fact, James Park Sloan's Kosinski biography observes that much of the author's life was fiction.)
Hunter S. Thompson's works veer between hard observation and fuzzy mind exploration. Even the conversations in Bob Woodward's profiles of Washington power have been questioned.
I interviewed Frey last summer in conjunction with his book "My Friend Leonard," the sequel to "A Million Little Pieces." He was thoughtful, passionate and interesting -- a good interview -- and he stood up for his story when I asked him if aspects of Leonard (an elegant gangster) seemed too good to be true.
I'm still not completely sure about Leonard. And like anybody, I feel misled when I find out that an event presented as true turns out to be exaggerated, or even completely made up.
In the end, though, from an artistic or literary standpoint, you're left with the work. (Historians and journalists have much bigger problems if they find that sources are false.) I've interviewed people whose work I've greatly admired; some of them were jerks, but I still read their books or listen to their music or watch their movies. I haven't read "A Million Little Pieces," but "My Friend Leonard" was a terrific book.
But next time, James, try a disclaimer.
Eye on Entertainment checks into other stories.
Eye-opener
"Glory Road," the new film produced by Jerry Bruckheimer, is the story of the 1965-66 Texas Western basketball team, which won the NCAA championship with an all-black squad playing. That was a first in college hoops history, and what made it more profound was the Texas Western team beat Adolph Rupp's all-white Kentucky Wildcats in the final game.
"Glory Road" takes some poetic license with the story. Coach Don Haskins didn't go directly from a Texas high school girls' team to coaching the eventual NCAA champs; he'd been at Texas Western (now University of Texas-El Paso) for five years. Scenes of white players learning black slang, or everybody gathering in Juarez clubs, seem calculated to play to modern audiences.
And nobody in college dunked in 1966.
But as crowd-pleasing entertainment, the movie fits the bill, helped immeasurably by Josh Lucas' performance as Haskins. "Lucas is perfectly cast as the driven coach, with [Derek] Luke and Mehcad Brooks ("Desperate Housewives") leading a solid cadre of youthful players who manage to both look convincing on the court and convey the mix of anger and enthusiasm that the youths felt," writes Variety's Brian Lowry.
Lucas "[turns] in what is arguably the most compelling performance of his career to date," writes Internet reviewer James Berardinelli.
"Glory Road" opens Friday.
On screen
"Hoodwinked" has been described as an animated "Rashomon" version of "Little Red Riding Hood." The film features the voices of Anne Hathaway, Glenn Close, Jim Belushi and Anthony Anderson. It opens Friday.
"Tristan and Isolde" is another telling of the classic romantic tale, also an opera by Wagner. The film version stars James Franco and Sophia Myles. Opens Friday.
Queen Latifah is a terminally ill woman who decides to take a last, glorious vacation in "Last Holiday." Naturally, there's a twist. Opens Friday.
On the tube
"Hustle" sounds like "House of Games" for the masses: A group of con artists and cops describe their cons -- and how they're broken. 8 p.m. ET Saturday, AMC.
"24" is back for another of Jack Bauer's exhausting days. The season starts off in exhausting fashion: a two-hour premiere Sunday, followed by another two hours Monday. But Kiefer Sutherland ain't dead yet. 8 p.m. Sunday ET, Fox.
The Golden Globe Awards are Monday night. Personally, the awards can go another 50 years and I'll still remember Pia Zadora. 8 p.m. Monday, NBC.
Sound waves
"The Hidden Land" (Columbia), the new album by Bela Fleck and the Flecktones, comes out Tuesday.
If Aaron Carter has been around long enough to put out a best-of collection -- which he has -- then I'm really getting old. But then, so is he. "Come Get It" (Jive/Legacy) comes out Tuesday.
Paging readers
Myriam Cyr's "Letters of a Portuguese Nun" (Miramax), an examination of a mysterious love story that first appeared in the 17th century, comes out Tuesday.
"Cultures of the Jews" (Schocken), a three-volume work edited by David Biale, is out in paperback this month.
Video center
The widely hailed "Enron: The Smartest Guys in the Room" documentary comes out on DVD Tuesday.
"Lord of War," starring Nicolas Cage, also is out on DVD Tuesday.

Home Page

CNN.com gives you the latest stories and video from the around the world, with in-depth coverage of U.S. news, politics, entertainment, health, crime, tech and more.

Home Page

CNN.com gives you the latest stories and video from the around the world, with in-depth coverage of U.S. news, politics, entertainment, health, crime, tech and more.