Senate Democrats press Iraqi PM on Israel remarks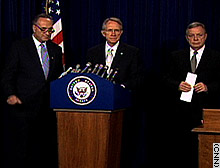 Sens. Charles Schumer, left, Harry Reid and Dick Durbin urge the Iraqi leader Tuesday to clarify his remarks.
WASHINGTON (CNN) -- Three high-ranking Senate Democrats on Tuesday called on Iraqi Prime Minister Nuri al-Maliki to explain his recent comments condemning Israel's "aggression" against Lebanon.
Al-Maliki is set to address a joint meeting of Congress on Wednesday after making his first visit to the White House and meeting privately with President Bush on Tuesday.
Last week, al-Maliki said that Iraq was urging the international community "to take a quick and firm stance to stop this aggression against Lebanon, to stop the killing of innocent people and to stop the destruction of infrastructure."
"What is happening is an operation of mass destruction and mass punishment and an operation using great force that Israel has -- and Lebanon does not," he said.
The crisis began July 12 after Hezbollah militants captured two Israeli soldiers during a cross-border raid into Israel. Since then, Israeli artillery and warplanes have been pounding Lebanon in their mission to destroy suspected Hezbollah hideouts, and Hezbollah has kept up a volley of rockets into Israel. (Full story)
In a letter to al-Maliki, Senate Minority Leader Harry Reid of Nevada, Democratic Whip Dick Durbin of Illinois and Sen. Charles Schumer of New York called the Iraqi leader's comments troubling.
"Your failure to condemn Hezbollah's aggression and recognize Israel's right to defend itself raise serious questions about whether Iraq under your leadership can play a constructive role in resolving the current crisis and bringing stability to the Middle East," the letter said.
The senators said some Democrats are considering boycotting al-Maliki's speech before Congress.
"I want the prime minister to denounce what Hezbollah has done," Reid said at a news briefing. "I will lose a lot of confidence in al-Maliki if he does not denounce what Hezbollah has done."
Al-Maliki urges cease-fire
At a White House news conference Tuesday, al-Maliki was asked to explain his comments criticizing the Israeli bombing missions in Lebanon, but he didn't directly address reporters' questions.
Instead, he talked about the destruction in Lebanon as the result of air and ground attacks and the civilian deaths and hardships.
Al-Maliki said he had discussed the issue with the U.S. president.
"I also emphasized the importance of immediate cease-fire and call on the international community to support the Lebanese government and support the Lebanese people to overcome the damage and destruction that happened,'' al-Maliki said through an interpreter.
The United States has opposed an immediate cease-fire, saying it's trying to pursue a long-term solution to the 2-week-old conflict.
The three Democratic lawmakers urged al-Maliki to back the war against terror. More than 2,500 U.S. lives have been lost in the Iraq war, they added, and Americans have contributed billions of dollars to the effort.
Schumer said he wants al-Maliki to discuss his comments before the congressional address.
"Before he speaks before Congress and the American people, we ask him which side is he on in the war on terror?" Schumer asked.
"Part of the reason that America was sold on Iraq was to have a staunch ally in the region -- a democratic ally that would back our policies," Schumer said. "Now if the prime minister can't condemn terrorism, which is ruining his country ... then where are we headed?"
Separately, Sen. Hillary Rodham Clinton, D-New York, declined to say whether she would attend al-Maki's speech.
"I hope that they have agreement about the outrageous comments he made with respect to Israel," Clinton said. "Look, we have a lot of fires this administration is trying to fight, and I think we have to expect he'll say something to repudiate his comments if he expects to get support from those of us up here."
Sen. John McCain, R-Arizona, said he couldn't say whether Democrats should or shouldn't boycott al-Maki's address due to his remarks. "I don't like them either, but he's entitled to them," McCain said.
Pressure on Hastert in the House
In the House of Representatives, Rep. Rahm Emmanuel of Illinois and two other Democrats are asking colleagues to sign a letter to House Speaker Dennis Hastert, R-Illinois, urging him to "cancel the address."
"With evidence mounting that the Iraqi leadership's goals are not in the best interests of the United States -- nor the Middle East -- Prime Minister [al-]Maliki's address is inappropriate," the letter said. "We are unaware of any prior instance where a world leader who actively worked against the interests of the United States was afforded such an honor."
In a statement, a Hastert spokesman called the Democratic moves "political gamesmanship during an election year."
CNN's Ted Barrett, Dana Bash and Andrea Koppel contributed to this report.

Home Page

CNN.com gives you the latest stories and video from the around the world, with in-depth coverage of U.S. news, politics, entertainment, health, crime, tech and more.

Home Page

CNN.com gives you the latest stories and video from the around the world, with in-depth coverage of U.S. news, politics, entertainment, health, crime, tech and more.