Bush: I'd rather be right than popular
President, wife sit down for wide-ranging birthday interview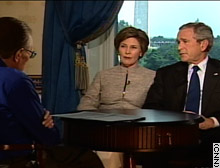 The first lady and President Bush discuss the challenges of the presidency with CNN's Larry King.
WASHINGTON (CNN) -- President Bush isn't troubled by some of the weakest approval ratings of his presidency, he said Thursday in a wide-ranging birthday interview with CNN's "Larry King Live."
"When history looks back, I'd rather be judged as solving problems and being correct, rather than being popular," Bush said.
"The president that chases the opinion poll is the president that will have failed policy," Bush said in an exclusive joint interview along with his wife, Laura, at the White House.
Some members of Congress are nervous about the effect Bush's political problems might have on their own fortunes in this fall's midterm elections.
But Bush predicted that Republicans would keep their majorities in the House and Senate, "Because we're right on winning this war on terror, and we've got a good economic record," he said. "People are working under the leadership of the Bush administration and the Congress."
When it comes to the most controversial single decision of his presidency -- invading Iraq -- the president told King he would make the same choice again, even knowing that Saddam Hussein's regime did not have weapons of mass destruction.
"We removed a tyrant," Bush said. "He was an enemy of the United States who harbored terrorists and who had the capacity, at the very minimum, to make weapons of mass destruction. And he was a true threat."
The president also said he believes recent missile tests by North Korean leader Kim Jong Il could present an opening to rally international pressure on the Pyongyang regime.
"I think he wants us to either fear him or pay attention to him. And I view it as an opportunity ... to get the Chinese and the South Koreans and the Japanese and Russians to work with us and send a clear message that this is unacceptable behavior," Bush said.
The president again ruled out the possibility that the United States would negotiate directly with North Korea over its nuclear program, a prospect he said Kim would "love."
"I think the best way to solve this problem diplomatically is for there to be other nations around the table with us so that when he looks out ... he looks at the world."
Bush also told King that if North Korea's missiles had presented a threat to the United States, "We had a plan in place to respond."
"We've got a missile defense system that will defend our country," he said without elaborating.
Bush: 'I feel great'
King's interview with the Bushes on Thursday afternoon in the Blue Room of the White House came on the president's 60th birthday, a milestone which the president conceded was "dramatic."
"But I feel pretty young. I'm surprised I feel so good," Bush said. "I can remember when I was a kid looking at people 60. I said, 'Man, there goes an ancient person.' But I feel great."
Despite more than five years in what has to be one of the world's toughest jobs, Bush said he does not feel beleaguered by the presidency.
"Quite the contrary. I feel it is an honor to be in this position," he said. "I wake up enthused about working on this year's problems because I've got confidence we can solve them."
Asked how her husband has changed since becoming president in 2001, Laura Bush said the biggest difference was his gray hair.
"He hasn't really changed that much," she told King. "He has a very solid, very centered personality. He always has."
Bush addressed several other topics in the interview with King:
• He said he fears another September 11-style terrorist attack. "I think we're safer, but I'm worried about an enemy that wants to hit us again."
• The president says he retains a good relationship with Russian President Vladimir Putin, even though "I don't necessarily agree with every decision he's made about what's happening inside of Russia."
• Bush refused to say whether he would support an independent candidacy by Democratic Sen. Joe Lieberman of Connecticut, who is facing a stiff primary challenge over his support for Bush's Iraq policy.
"You're trying to get me to give him a political kiss, which may be his death," Bush told King.
• The president said the federal government is "better prepared today than we were last year" to deal with another hurricane disaster.
"We've got supplies pre-positioned. We've got a better relationship with the [National] Guard so that the Guard can move more immediately. We've got better communications," he said.
• Bush predicted that al Qaeda leader Osama bin Laden will be captured eventually.
"Oh, we'll get him," he said. "It's just a matter of persistence and patience."
• The president said he was "really surprised" by the death early Wednesday of Enron founder Ken Lay, who was a family friend from Texas.
"My hope is that his heart was right with the Lord, and I feel real sorry for his wife. She's had a rough go, and she's now here on Earth to bear the burdens of losing her husband, a man she loved."

Home Page

CNN.com gives you the latest stories and video from the around the world, with in-depth coverage of U.S. news, politics, entertainment, health, crime, tech and more.

Home Page

CNN.com gives you the latest stories and video from the around the world, with in-depth coverage of U.S. news, politics, entertainment, health, crime, tech and more.