A very personal debate
Same-sex marriage issue is close to home for Tennessee couple
By John King
CNN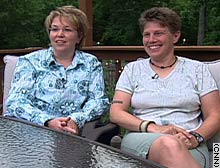 Nancy, left, and Joan VanReece say that same-sex couples deserve legal protections.
MADISON, Tennessee (CNN) -- Joan and Nancy VanReece have been partners for 18 years, share a home in the Nashville suburbs, and the same last name because they took the time -- and spent the money -- to combine their last names.
"We had to pay top dollar to create powers of attorney and health care powers of attorney and different benefits and stuff," Nancy said in an interview at their home in Madison, where the couple discussed their involvement in the campaign against a proposed state constitutional amendment that would ban same-sex marriages.
A stint in the hospital four years ago helped crystallize for Joan the benefits of marriage.
"It is embarrassing to walk into a place and to have to throw out your sexual orientation just because you want to make sure that 'this is the one I love, this is the one I want you to talk to,' '' in the event of major medical decisions. "Men-women married couples don't have to do that. They don't have to walk in and go, 'OK, well we met and we are together.' "
Churches dot the roads in their Bible Belt community. "Prepare to meet thy Maker," reads a sign outside one.
While they said they see more and more tolerance, Nancy and Joan say it is a bit risky for them to take an active role in the political campaign, including appearing in literature distributed by opponents of the proposed state constitutional amendment.
"It is a risk, but a good risk," Joan said, if they are able to protect and expand the rights of couples like themselves. (Watch the couple explain why they'll fight the ban -- 2:45)
Tennessee is one of seven states proposing bans on same-sex marriage this year. The others are Alabama, Idaho, South Carolina, South Dakota, Virginia and Wisconsin.
Nineteen states constitutionally ban gay marriage, and Christian conservatives like Tennessee state Sen. David Fowler predict the state-by-state movement will continue unless supporters of a proposed amendment to the U.S. Constitution can muster enough votes to send it to the states for ratification.
That is unlikely to happen. On Monday, the U.S. Senate took up the debate of the Marriage Protection Amendment, which would define marriage in the Constitution as between one man and one woman. Despite President Bush's support of the amendment, backers of the Marriage Protection Amendment lack the two-thirds Senate majority needed to move the amendment along. (Full story)
"Washington does need to address it, because if one state allows it and another doesn't and you get married in one state and move to another, it just creates problems," Fowler told CNN in an interview at his office in Chattanooga.
He disputes those who say Republicans cynically put the gay-marriage issue on the ballot to drive up conservative voter turnout.
"Many of us -- people like me -- we deep down do believe that marriage is not one of those things we can define any way we want to," Fowler said. "And it has nothing to do with politics, if it makes for good politics, fine. But to me it is not about politics."
White evangelicals are a major political and community force behind the proposed bans.
But opposition to same-sex marriages among black pastors is creating some odd political alliances this election year.
Pastor Henry Coles of the Word of Faith Christian Center in Nashville says some black ministers shy away from the gay-marriage debate because they do not want to offend some congregants, or because they do not want to join a cause more associated with Christian conservatives and Republicans.
But he is helping promote the proposed Tennessee amendment.
"For me, as a representative of Christ, unions begin with a man and a woman," Coles told CNN. "From the very beginning of the Bible, God introduces the relationship that ultimately has been the relationship of the foundation -- the standard of humanity: Adam and Eve."
Joan and Nancy met in Bible study in 1988, and bristle at those who bring God into the debate.
"I mean, I know my God loves me and I don't understand why that has to be -- I am sorry, I just don't understand the whole purpose of it," Joan said.
"I mean, we are in America," Nancy said. "How do you feel about it legally? ... How should we vote to include discrimination into our Constitution ever? And that is a legal question -- not a faith based question."

Home Page

CNN.com gives you the latest stories and video from the around the world, with in-depth coverage of U.S. news, politics, entertainment, health, crime, tech and more.

Home Page

CNN.com gives you the latest stories and video from the around the world, with in-depth coverage of U.S. news, politics, entertainment, health, crime, tech and more.