Sensenbrenner: Senate bill amounts to amnesty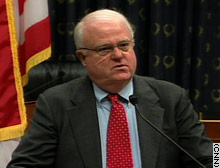 Rep. James Sensenbrenner dismissed the Senate's "pathway to citizenship" as amnesty.
Security
Authorizes enhanced border security measures, including the addition of a 370-mile, triple-layer fence along the border.

Authorizes President Bush's plan to send 6,000 National Guardsmen to the U.S.-Mexican border.

Bars those convicted of felonies or three misdemeanors from becoming legal residents or citizens.

Punishes employers who hire illegal immigrants with a fine up to $20,000 and three years in prison after an electronic verification system is established.

Guest workers


Creates a guest-worker program that would allow workers to work in the country for three years and be eligible for a three-year extension. The number of temporary-worker visas would be limited to 200,000 per year.

Legalization

Establishes a three-tiered path-to-citizenship program, which divides the 11 million to 12 million illegal workers in the United States into three groups:


Illegal immigrants here for more than five years could gain their citizenship after working for six years, learning English and paying a penalty and back taxes.

Illegal immigrants here from two to five years would have to return to an entry point and apply for a guest-worker program.

Workers here less than two years would have to return to their countries of origin.

Language


Declares English the "national" language of the United States.

Also declares English the "common and unifying" language of the United States.

WASHINGTON (CNN) -- A top House opponent to a Senate plan to offer illegal immigrants an eventual "path to U.S. citizenship" said Friday that senators who passed the bill were not being honest.
"What's going on now, in calling it a pathway to citizenship or earned legalization, is not honest because it is amnesty," said Rep. James Sensenbrenner, R-Wisconsin, chairman of the House Judiciary Committee.
The Senate approved a White House-backed overhaul of immigration laws Thursday, voting 62-36 to bolster security at the Mexican border and to grant many illegal immigrants a path toward citizenship -- under strict conditions. Conservatives say the Senate provisions amount to amnesty and prefer punishment and deportation legislation for illegal immigrants.
The two widely different points of view have set the stage for a battle between the Senate and the House, led by Sensenbrenner who co-authored the bill that passed in December.
The House and Senate bills next head to a conference committee for possible reconciliation. Sensenbrenner, like all House members, faces midterm elections in the fall.
"I don't plan on signing a conference report that might look good on a bumper sticker," Sensenbrenner said at a Washington news conference.
Sensenbrenner said he didn't want people telling him in his old age that he "made the biggest mistake" of his "career signing off on a bill that ended up making the problem worse."
Several senators said after the vote that President Bush's participation in the political maneuvering will be key to crafting a compromise. (Watch the challenges that await the bill -- 2:09 )
"I believe we can do it," Sen. Arlen Specter, a Pennsylvania Republican, told reporters. "I believe the president will put a very heavy shoulder to the wheel."
President Bush commended the Senate on its work in "passing bipartisan comprehensive immigration reform."
"I look forward to working together with both the House of Representatives and the Senate to produce a bill for me to sign into law," he said in a statement.
The prospects for that, however, remain uncertain.
Most members of the GOP majority in the Senate voted against the measure, with 23 backing it and 32 opposing. Among Democrats voting, 38 supported the bill and four did not. The chamber's independent senator voted in favor.
Senate Majority Leader Bill Frist, a Tennessee Republican who voted for the bill, has called for swift talks with the House to mold a compromise measure.
The House bill passed in December focuses on border enforcement, and omits a guest-worker program and a legalization process for illegal immigrants.
In the closing moments of Senate floor debate Wednesday, Specter looked ahead to the conference committee meetings and reminded fellow Republicans that midterm elections are looming.
"There is an important issue, political issue, about the ability of Republicans to govern," the Judiciary Committee chairman said. "There is an election in November, and our leadership positions as Republicans is on the line. And I think that will weigh heavily in the conference."
Frist said "the most contentious part" of the bill is how to handle the status of the millions of illegal immigrants already in the United States.
Under the Senate bill, he said, those who have been in the country two to five years would enter a temporary-worker program, while those inside longer would be eligible for legal status or citizenship after an 11-year probationary period. They would first have to meet other criteria, including learning English, and paying a penalty and back taxes.
Under the Senate legislation, illegal immigrants in the United States less than two years would be returned to their home countries.
Bush supports increased border enforcement and a guest-worker program with a path to citizenship for illegal immigrants.
The former Texas governor has successfully courted Latino support during his political career, and the worker program he favors has support in the business community.
But conservative critics in his own party say the Senate bill amounts to "amnesty" for illegal immigrants.
"The vast majority of the 11 million or so people here will be given every benefit this nation can bestow as a product of their illegality. I don't think that's a good principle," Sen. Jeff Sessions said.
"We have not developed a plan, even if implemented, that will secure the border," the Alabama Republican said at a news conference held before the vote with five GOP colleagues also opposed to the measure.
Others standing with him asked House negotiators to help keep some of the Senate provisions from becoming law.
"I'm hopeful that the House will save us from this bill," said Sen. John Ensign, a Nevada Republican.
Sen. Patrick Leahy of Vermont, the ranking Democrat on the Judiciary Committee, praised the bipartisan work on the bill, but said "it is still a 50-50 proposition to get a bill on the president's desk."
Both sides, he said, will have to make substantial changes, and added that the final legislation cannot be solely an enforcement bill.

Home Page

CNN.com gives you the latest stories and video from the around the world, with in-depth coverage of U.S. news, politics, entertainment, health, crime, tech and more.

Home Page

CNN.com gives you the latest stories and video from the around the world, with in-depth coverage of U.S. news, politics, entertainment, health, crime, tech and more.