Hastert: FBI 'took the wrong path' when searching lawmaker's office
Majority leader suggests that issue may go to the Supreme Court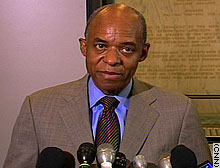 Rep. William Jefferson, D-Louisiana, denies any wrongdoing and says he plans to run for re-election.
WASHINGTON (CNN) -- House Speaker Dennis Hastert said Tuesday that the FBI and the Justice Department "took the wrong path" when they searched a Democratic congressman's office this weekend as part of an anti-corruption probe.
"We understand that they want to support and pursue the process that the Justice Department is trying to pursue," Hastert, a Republican from Illinois, said. "But there's ways to do it, and my opinion is that they took the wrong path."
The FBI searched the Washington home and office of Rep. William Jefferson, D-Louisiana, and found $90,000 of allegedly ill-gotten funds in the freezer of his home, according to an affidavit. (Full story)
Jefferson's office is in the Rayburn House Office Building on Capitol Hill.
Leaders from both both parties and both houses of Congress have expressed concern about the search.
On Monday, both Senate Majority Leader Bill Frist and Hastert said they were "very concerned" about the search, which was conducted under a warrant issued by a federal judge.
Hastert said the search was the first time a lawmaker's office had been searched in U.S. history.
"Nothing I have learned in the last 48 hours leads me to believe that there was any necessity to change the precedent established over those 219 years," Hastert said on Monday.
House Majority Leader John Boehner of Ohio said Tuesday that "the congress will clearly speak to this issue of the justice department's invasion of the legislative branch. In what form I don't know."
"I've got to believe at the end of the day it's going to end up across the street, at the Supreme Court," Boehner said. "I don't see anything short of that."
While emphasizing that all lawmakers must obey the law and the rules of the House, House Minority Leader Nancy Pelosi, D-California, on Tuesday echoed Hastert's concern that the Constitution's separation of powers had been violated.
"Our founders in their wisdom placed this separation of powers into our Constitution, not to put anyone above the law but to protect the American people of the abusive power of the executive branch," Pelosi said.
When asked whether Jefferson should step down, Pelosi said that "is a matter between him and his constituents."
Attorney General Alberto Gonzales, who oversees the FBI, defended the bureau's actions Tuesday but said Justice Department and congressional officials were having "private discussions" about the propriety of the search.
"It is true it's never been done before, and the reason isn't because there's never been corruption in Congress ... but because before, we were able to reach accommodation or agreement to get the information, the evidence we needed through subpoena," Gonzales said. "And through variety of reasons, that could not occur here."
"At the end of day, the decision was made that this was essential to move forward with that investigation," he said.
Jefferson vowed Monday to stay in Congress and fight allegations that he took bribes and blasted an apparently unprecedented weekend search of his office by FBI agents as an "outrageous intrusion into the separation of powers between the executive branch and the congressional branch."
"I expect to continue to represent the people who have sent me here," Jefferson said during a brief appearance before reporters.
However, he said that on the advice of his attorneys he would not discuss details of the allegations, which he said "would be extraordinarily foolhardy" because he is the subject of an ongoing federal criminal investigation.
"There are two sides to every story. There are certainly two sides to this story. There will be an appropriate time and forum when that can be explained," Jefferson said. "But this is not the time. This is not the forum."
Jefferson has not been charged with any crime, but a Kentucky businessman and a former Jefferson aide have both pleaded guilty to bribery charges and agreed to cooperate with prosecutors. (Affidavit outlines case against congressman -- 1:28)
Last week, the House Ethics Committee opened its own investigation into the allegations against Jefferson.
CNN's Deirdre Walsh contributed to this report.

Home Page

CNN.com gives you the latest stories and video from the around the world, with in-depth coverage of U.S. news, politics, entertainment, health, crime, tech and more.

Home Page

CNN.com gives you the latest stories and video from the around the world, with in-depth coverage of U.S. news, politics, entertainment, health, crime, tech and more.