Lawmakers decry search of D.C. office
Louisiana's Jefferson maintains innocence in bribery probe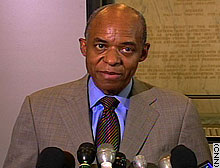 Rep. William Jefferson denies any wrongdoing and says he plans to run for re-election.
WASHINGTON (CNN) -- Rep. William Jefferson vowed Monday to stay in Congress and fight allegations that he took bribes and hid $90,000 of allegedly ill-gotten funds in the freezer of his Washington home.
In concerns echoed by the Republican House and Senate leaders, the Louisiana Democrat blasted an apparently unprecedented weekend search of his office by FBI agents as an "outrageous intrusion into the separation of powers between the executive branch and the congressional branch."
"I expect to continue to represent the people who have sent me here," Jefferson said during a brief appearance before reporters.
"This will not retard my capacity to continue to work for the people I represent," he said, adding that he expects to run for re-election in November.
However, he said that on the advice of his attorneys he would not discuss details of the allegations, which he said "would be extraordinarily foolhardy" because he is the subject of an ongoing federal criminal investigation.
"There are two sides to every story. There are certainly two sides to this story. There will be an appropriate time and forum when that can be explained," Jefferson said. "But this is not the time. This is not the forum."
Jefferson has not been charged with any crime, but a Kentucky businessman and a former Jefferson aide have both pleaded guilty to bribery charges and agreed to cooperate with prosecutors. (Affidavit outlines case against congressman -- 1:28)
Last week, the House Ethics Committee opened its own investigation into the allegations against Jefferson.
Search concerns GOP leaders
Meanwhile, the search of Jefferson's office in the Rayburn House Office Building has caused unease on Capitol Hill about the possible breach of separation of powers between Congress and the executive branch.
Both Senate Majority Leader Bill Frist and House Speaker Dennis Hastert said they were "very concerned" about the search, which was conducted under a warrant issued by a federal judge.
Jefferson told reporters Monday, "I believe that it's completely inappropriate to use the police of the federal government to come into the office."
Hastert issued a sharply worded statement Monday evening saying he planned to "seek a means to restore the delicate balance of power among the branches of government." He did not elaborate on what measures he might propose.
"Insofar as I am aware, since the founding of our republic 219 years ago, the Justice Department has never found it necessary to do what it did Saturday night, crossing this separation of powers line in order to successfully prosecute corruption by members of Congress," Hastert said.
"Nothing I have learned in the last 48 hours leads me to believe that there was any necessity to change the precedent established over those 219 years."
Frist said legal experts from both the Senate and House have been discussing "what a proper course of action is."
Speaking to reporters earlier Monday, Attorney General Alberto Gonzales acknowledged that the search had raised "institutional concerns" on Capitol Hill.
"We are talking to Congress and hope to allay their concerns," he said. "I will admit these were unusual steps that were taken in response to unusual circumstances."
In an affidavit filed in support of the search warrant for Jefferson's office, prosecutors said they had "exhausted all other reasonable methods to obtain these records in a timely manner."
However, details of what steps had been taken to get the records short of a search warrant were redacted from the version of the affidavit made public.
House Minority Leader Nancy Pelosi said that though members of Congress "must obey the law and cooperate fully with any criminal investigation," such probes "must be conducted in accordance with constitutional protections and historical precedent so that our government's system of checks and balances are not undermined."
Allegations detailed
The affidavit supporting the search warrant, released Sunday, revealed the most extensive details to date of the allegations against Jefferson, 59, an eight-term congressman.
Investigators have collected evidence linking Jefferson to at least seven cases where the congressman "sought things of value in return for his performance of official acts," according to the affidavit.
A search of Jefferson's Washington home in August 2005 turned up $90,000 in cash in the freezer, stashed in food containers and wrapped in aluminum foil, the affidavit said.
The money was part of $100,000 in cash that had been given to Jefferson by an informant working with investigators, and the delivery of the money was taped by the FBI, according to the affidavit.
Jefferson's home in New Orleans was searched at the same time. A month later, after flooding from Hurricane Katrina devastated the city, the congressman came under criticism for traveling to his home with a National Guard escort to retrieve personal belongings.
The congressman defended the trip, saying it was part of a larger tour to assess damage in the city and adding the escort was necessary because of security concerns.
According to the affidavit, the investigation of Jefferson began in March 2005, when the informant went to the FBI claiming to be "a victim of a fraud and bribery scheme" involving the congressman and two other men -- Vernon Jackson, the CEO of the Kentucky-based high-tech firm iGate, and Brett Pfeffer, a former Jefferson aide who was president of an investment firm owned by the informant.
The informant agreed to record conversations with Jefferson, Jackson and Pfeffer, the affidavit said.
The affidavit identified the informant only as a Virginia resident who headed an "educational technology philanthropic foundation." However, a government official told CNN on Monday that the informant was a businesswoman named Lori Moody.
Jefferson represents Louisiana's 2nd District, a majority black, solidly Democratic district that takes in much of the city of New Orleans and some suburban areas. When he was elected in 1990, Jefferson became the first black congressman from the Pelican State since Reconstruction.
CNN's Kevin Bohn and Terry Frieden contributed to this report.

Home Page

CNN.com gives you the latest stories and video from the around the world, with in-depth coverage of U.S. news, politics, entertainment, health, crime, tech and more.

Home Page

CNN.com gives you the latest stories and video from the around the world, with in-depth coverage of U.S. news, politics, entertainment, health, crime, tech and more.