Affidavit: $90,000 found in congressman's freezer
FBI wraps up search of Jefferson's office in bribery probe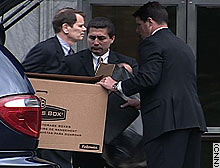 A box of materials is loaded into a car after FBI agents searched Rep. William Jefferson's office.
WASHINGTON (CNN) -- Federal agents searched the Capitol Hill office of a Louisiana congressman under investigation on bribery charges Sunday, while newly released court papers said agents found $90,000 in cash last year in his Washington home.
In a 95-page affidavit used to obtain a warrant for the office search, investigators stated that an August 2005 search of Democratic Rep. William Jefferson's home turned up the cash sum in a freezer.
The money was divided among various frozen food containers, according to the heavily redacted affidavit. (Watch what Jefferson said about the 'hell' of being investigated -- 4:47)
Agents told a judge the money was part of a $100,000 payment that had been delivered by an informant in the bribery probe, which already has led to guilty pleas by a Kentucky businessman and a former Jefferson aide.
The Justice Department has been investigating Jefferson's relationship to telecommunications deals in Africa and elsewhere, and the House Ethics Committee launched an investigation of him last week.
The eight-term congressman, whose district includes New Orleans and some of its suburbs, has denied any wrongdoing and vowed to remain in office to battle any criminal charges he may face.
But the affidavit states that investigators have collected evidence linking Jefferson to at least seven other cases in which he "sought things of value in return for his performance of official acts."
Robert Trout, the congressman's lawyer, decried the release of the affidavit. In a statement issued Sunday night, he said it served "no legitimate investigative purpose."
"This disclosure by the prosecutors is part of a public relations agenda and an obvious attempt to embarrass Congressman Jefferson," Trout said. "The affidavit itself is just one side of the story, which has not been tested in court."
He said Jefferson would respond "at the appropriate time" if charged with any wrongdoing.
FBI agents searched Jefferson's office in the Rayburn House Office Building from Saturday evening to early Sunday afternoon, bureau spokeswoman Debra Weierman said. One government official told CNN the search marked the first time FBI agents have searched a lawmaker's Capitol Hill office.
Weierman would not comment on what agents removed from Jefferson's office. But in the papers released Sunday, investigators stated they were searching for faxes, notes, telephone records and other forms of communication, as well as ledgers and computer files related to meetings and travel.
In an earlier statement, Trout called the search of Jefferson's office "outrageous" and said it was not necessary.
"There were no exigent circumstances necessitating this action. The government knew that the documents were being appropriately preserved while proper procedures were being followed. We are dismayed by this action -- the documents weren't going anywhere and the prosecutors knew it," he said.
However, a redacted copy of the search warrant and affidavit stated that federal investigators were unable to obtain the records relevant to the investigation inside Jefferson's office and, "left with no other method," proceeded with the search.
A government official close to the investigation told CNN the search was executed over the weekend when few people are on Capitol Hill because they believed that time would "be appropriate."
Agents had previously searched Jefferson's home in New Orleans. The cash found in his Washington residence was part of a $100,000 payment delivered by a cooperating witness, according to the affidavit, which said the delivery was videotaped by the FBI.
The FBI began investigating Jefferson in March 2005 stemming from accusations made by the witness, a Virginia resident who owns an investment firm.
He told the FBI that he was "a victim of a fraud and bribery scheme" involving Jefferson; Vernon Jackson, CEO of the Louisville, Kentucky-based company iGate; and Brett Pfeffer, the president of the investment firm owned by the unnamed witness and a former Jefferson aide.
According to the affidavit, Jefferson had asked the witness for a percentage ownership interest in his Nigerian broadband company in exchange for the congressman "using his official acts to support the the Nigerian business venture."
Guilty pleas
Jackson pleaded guilty in federal court earlier this month to bribing the congressman with more than $400,000 in payments, company stock and a share of the profits in order to promote iGate's high-tech business ventures in Africa. (Full story)
Pfeffer, of Herndon, Virginia, pleaded guilty in January to aiding and abetting bribery of a public official.
Both have agreed to cooperate with authorities as part of their plea agreements.
The affidavit states Jefferson "attempted to use his position as a United States Congressman" to promote other iGate business ventures in Nigeria, Ghana and possibly other African nations.
"In exchange for his official acts supporting the proposed business ventures," the affidavit said, Jefferson has received a 30 percent equity stake in the witness' Nigerian company and more than $400,000 in payments from iGate.
The 30 percent equity, in the form of stocks, was placed in the name of a Nigerian limited liability corporation held by the congressman's children, the affidavit said.
The cloud over Jefferson comes as Democratic leaders have been attacking what they call a "culture of corruption" surrounding the Republican leadership in Congress.
With midterm elections in November, Democrats are trying to highlight GOP ties to the influence-peddling investigation surrounding lobbyist Jack Abramoff, the indictment of former House Majority Leader Tom DeLay in a Texas court, and last year's guilty plea of California Rep. Randy "Duke" Cunningham, now serving an eight-year stretch for taking bribes from defense contractors.
In a news conference last week, Jefferson said he was innocent and that he would remain in office while he fights any charges. (Full story)
"I wish to say emphatically that in all of my actions that are here under scrutiny, that I have never intended to dishonor my office, or you, the public, and I certainly did not sell my office," Jefferson told reporters.
CNN's Kevin Bohn and Terry Frieden contributed to this report.

Home Page

CNN.com gives you the latest stories and video from the around the world, with in-depth coverage of U.S. news, politics, entertainment, health, crime, tech and more.

Home Page

CNN.com gives you the latest stories and video from the around the world, with in-depth coverage of U.S. news, politics, entertainment, health, crime, tech and more.