Fox anchor named Bush press secretary
Snow replaces McClellan as White House continues makeover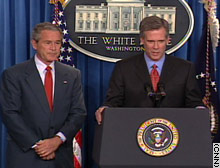 Thanking President Bush, Tony Snow, the new White House spokesman, says he wants to work with the press.
Age: 50
Education: Davidson College
Family: Married, three children
Career: 1996-2006, Fox News; 1994-2000, USA Today; 1991, White House speechwriter

Source: Fox News
WASHINGTON (CNN) -- Acknowledging the challenges ahead, former Fox News anchor and talk show host Tony Snow began his second stint at the White House on Wednesday, this time as press secretary.
President Bush appeared with Snow in the White House briefing room to announce his choice 15 years after the commentator was a speechwriter for President George H.W. Bush.
"As a professional journalist, Tony Snow understands the importance of the relationship between government and those whose job it is to cover the government," Bush said.
Snow thanked Bush and said he took the position because he believes in the president and wants to work with the White House press corps. (Watch Bush explain why he picked Snow for the job -- 4:44)
"These are times that are going to be very challenging," Snow said. "We've got a lot of big issues ahead, and we've got a lot of important things that all of us are going to be covering together, and I'm very excited and I can't wait."
Neither Bush nor Snow took questions from reporters during the brief announcement.
Snow takes the job as Bush's approval rating in opinion polls has reached a new low -- 32 percent -- and as the GOP-controlled Congress worries about winning the midterm elections. (Full story)
As a commentator, Snow, 50, has had some critical things to say about the president.
For example, in a November 11 column, Snow wrote that Bush's "wavering conservatism has become an active concern among Republicans, who wish he would stop cowering under the bed and start fighting back against the likes of Harry Reid, Nancy Pelosi and Joe Wilson." (Other Snow quotes)
"The newly passive George Bush has become something of an embarrassment," Snow wrote.
During the announcement, Bush shrugged off Snow's past commentary.
"He's not afraid to express his own opinions," the president said. "For those of you who've read his columns and listened to his radio show, he sometimes has disagreed with me. I asked him about those comments, and he said, `You should have heard what I said about the other guy.' "
Snow will replace Scott McClellan, who announced last week he would step down during a West Wing makeover by Josh Bolten, the new White House chief of staff.
Snow officially will take over the post in two weeks.
Before agreeing to take the assignment, Snow had sought and received assurances from Bolten and other senior aides that he would be an active participant in major policy debates and would have a significant say in press and communications hiring, sources said.
The White House hopes that bringing in the conservative commentator will smooth the at-times combative relationship between the administration and press corps, which deteriorated during McClellan's tenure.
The White House press corps often viewed McClellan as not having the needed access to the administration's decision-making to be effective.
The administration approached Snow weeks ago about the job, and sources familiar with his deliberations said he had been focusing on family, financial and health issues before making up his mind.
Snow was diagnosed with colon cancer in February 2005 and had been awaiting medical clearance before reaching a final decision.
Sources said that over the past week, he discussed the post with an array of senior administration officials as well as aides in previous GOP administrations and Republicans close to the White House.
As one source put it, Snow wanted to "address some of his questions and build a comfort level" before giving Bolten a final decision.
Snow also had lunch with Bush to discuss his role, two GOP sources said.
During the administration of Bush's father, Snow was director of speechwriting. Most recently, he has been a weekend news anchor for the Fox News Channel, which he joined in 1996. He also has hosted "The Tony Snow Show" on Fox News Radio.
In addition, he was a nationally syndicated columnist with The Detroit News in Detroit, Michigan, from 1993 to 2001 and was a columnist for USA Today from 1994 to 2000.
Before then, he was an editorial writer at The Virginian-Pilot in Norfolk; editorial page editor of The Daily Press in Newport News, Virginia; deputy editorial page editor of The Detroit News; and editorial page editor of The Washington Times.
McClellan became press secretary in July 2003 after his predecessor, Ari Fleischer, resigned. McClellan had been deputy press secretary under Fleischer.
CNN's John King and Suzanne Malveaux contributed to this report.

Home Page

CNN.com gives you the latest stories and video from the around the world, with in-depth coverage of U.S. news, politics, entertainment, health, crime, tech and more.

Home Page

CNN.com gives you the latest stories and video from the around the world, with in-depth coverage of U.S. news, politics, entertainment, health, crime, tech and more.