Voting for Big Easy mayor not so easy
23 candidates vying to lead New Orleans through rebuilding process
By John King
CNN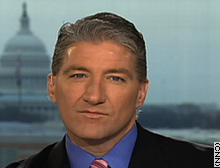 CNN's John King reports on the run-up to Saturday's mayoral election in New Orleans.
In our Behind the Scenes series, CNN correspondents share their experiences covering the news and analyze the stories behind the events.
NEW ORLEANS, Louisiana (CNN) -- The lawn signs advertising mold and debris removal companies are being crowded out all over New Orleans by political placards.
It's one of the many surreal signs of change here, though not all agree Saturday's first post-Katrina election represents progress.
So much of it seems routine: Like Mayor Ray Nagin at a busy street corner handing out literature early in the morning, with passers-by letting him know how they feel. He's hardly the first politician to get a few thumbs-down and middle-digit salutes amid all the horns and words of encouragement. He laughs it off.
"Comes with the territory," he says, clearly enjoying this moment. Thursday morning a man in a pickup truck "flipped the bird," as Nagin put it, to some of the mayor's supporters on one side of the street. Seeing this play out, Nagin walked across from the other side with a spring in his step, and approached the truck to hand the man some campaign literature.
"Oh...hello Mr. Nagin," the man said with a rather sheepish grin.
Just one colorful moment in what is anything but a routine campaign: 23 candidates, racial and class tensions, and the overarching question of how many people will actually vote.
Making history
Count Secretary of State Al Ater among the optimists. It is his job to make this unprecedented election work. And he's increasingly upbeat.
"We really do believe we have an opportunity to do two things here -- to make history and to run an election like none ever before in the history of America," Ater said in an interview at the University of New Orleans, while walking in on a women's basketball team practice to explain how the school gymnasium will serve as one of 76 "megapolling" places in a city that before Katrina had 262 voting precincts.
Unprecedented is an understatement.
More than half of the city's pre-Katrina population still lives elsewhere, forcing candidates who can afford it to campaign in places like Dallas and Houston and Atlanta. The state is mailing displaced residents and running television ads telling people how to vote by mail, fax, or in person.
The normal cost of a New Orleans mayoral election is $400,000. This one is approaching $4 million.
The election was delayed from February and some wanted it delayed even longer, arguing that tens of thousands of African-Americans are effectively disenfranchised because they have been displaced.
But a federal judge ordered the election, and Ater says he believes it will withstand any future legal challenges.
He thinks that's a good thing. "This community in my opinion cannot really start its rebuilding process until they have an election, until they can have legitimately elected leaders and they can start talking about tomorrow, because right now they are nearly in purgatory," he said.
High turnout expected
About 133,000 people voted in the last mayoral election. Based on early voting and requests for absentee ballots, Ater predicts turnout could reach 120,000 on Saturday, which he said would be a remarkable achievement.
Rosa Hines is among those working tirelessly to generate a high turnout.
Going house to house means being reminded that for every house with someone home, or living in a trailer on the property, there are two or three or four homes still abandoned. As she knocks on some doors, she is face to face with the telltale hurricane graffiti -- the spray paint signifying that a search crew came by looking for survivors, or bodies.
And when she does encounter voters?
"The number one question I get pretty much is, 'Where to go?' "
With most polling places destroyed, Hines carries a list of new polling places to show to residents. She predicts those who have decided to come back have made an investment in the city that will include making their voice heard in the race for mayor.
But nobody home is still an all too frequent occurrence in her canvassing, and a reminder of the challenges awaiting the winner of the mayoral race.

Home Page

CNN.com gives you the latest stories and video from the around the world, with in-depth coverage of U.S. news, politics, entertainment, health, crime, tech and more.

Home Page

CNN.com gives you the latest stories and video from the around the world, with in-depth coverage of U.S. news, politics, entertainment, health, crime, tech and more.