GOP senators offer immigration plan
Bush says he wants guest-worker plan without amnesty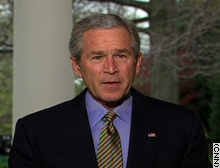 President Bush said Wednesday that his guest-worker immigration provision is not an amnesty plan.
WASHINGTON (CNN) -- In an effort to break an impasse on a pending immigration bill, Senate Republicans offered a proposal Wednesday that would allow many illegal immigrants now in the United States to eventually gain legal status.
The measure, sponsored by Republican Sens. Chuck Hagel of Nebraska and Mel Martinez of Florida, is expected to come to the Senate floor for a vote Friday.
It was unveiled on the Senate floor Wednesday night by Majority Leader Bill Frist, a Tennessee Republican.
The Hagel-Martinez plan would be substituted for a proposal now on the floor that would allow illegal immigrants to stay in the country and work toward legal status by paying $2,000 in fines, working for six years, learning English, undergoing a background check and paying any back taxes they owe.
The earlier version was included in a bill passed last week by the Senate Judiciary Committee and originally proposed by Sen. John McCain, an Arizona Republican, and Sen. Edward Kennedy, a Massachusetts Democrat.
Critics of the legalization process insist it is tantamount to giving "amnesty" to illegal immigrants. Supporters call it "earned citizenship."
While the McCain-Kennedy plan would apply equally to all immigrants who arrived in the United States before January 2004, the Hagel-Martinez proposal would make people who arrived between January 2001 and January 2004 climb steeper hurdles to obtain legal status.
Neither plan offers legalization to immigrants who have entered the country illegally since January 2004.
The estimated 3 million illegal immigrants who have been in the country two to five years would have to go to one of 16 designated points of entry within the next three years and apply to stay legally as a temporary worker. But they would be given no guarantee of getting permanent residency or citizenship.
Senate Democrats have pushed for a procedural vote Thursday morning to limit debate on the pending immigration bill, with the McCain-Kennedy language, and move to a vote. While most of the Democrats support the proposal, many Republicans do not.
Finger-pointing
On the Senate floor Wednesday night, Frist said he expected the Democrats' procedural motion -- which needs 60 votes to pass -- to fail, clearing the way for the Senate to consider the Hagel-Martinez amendment Friday.
Frist aides expressed confidence it could garner enough votes to pass, especially if the McCain-Kennedy plan fails to clear Thursday's procedural hurdle and senators eager to pass an immigration overhaul see little alternative.
Democrats have been involved in negotiations over the Hagel-Martinez plan but have not committed to supporting it.
The Senate had appeared deadlocked earlier Wednesday, with the Democratic and Republican leaders sparring over which party was preventing progress on the issue.
GOP senators expressed frustration at Democratic efforts to block consideration of amendments until after the cloture vote.
Their comments came amid intense behind-the-scenes negotiations in an attempt to reach an agreement that would garner 60 votes -- and amid heated election-year debate over procedure on the Senate floor.
"I haven't seen an issue in recent years that has so much emotion associated with it," McCain told the Senate.
Before the Hagel-Martinez proposal, McCain said that a bipartisan group of senators negotiating on a compromise was "close" to an agreement and that he thinks the result "would have 60 votes in this body."
Bush calls for action
President Bush on Wednesday morning urged senators to "come to a conclusion as quickly as possible" on an immigration bill that includes "a guest-worker provision that is not amnesty."
The president called for "a comprehensive bill, a bill that will help us secure our borders, a bill that will cause the people in the interior of this country to recognize and enforce the law, and a bill that will include a guest-worker provision that will enable us to more secure the border, will recognize that there are people here working hard for jobs Americans won't do."
Bush's brief remarks echoed a White House statement on Tuesday that told lawmakers that the administration "firmly opposes amnesty" for illegal immigrants and wants Congress to pass legislation that "does not create an automatic path to permanent residency or citizenship" for them.
However, Tuesday's formal statement of administration policy does not repudiate the Judiciary Committee bill's legalization process.
Any legislation that survives in the Senate will set up a legislative confrontation with the House, where anti-immigration sentiment is stronger. A House bill passed in December contains neither a guest-worker provision nor a legalization process.
But Speaker Dennis Hastert on Wednesday said he might support a worker program if the Senate adds it to the bill.
"I haven't ruled anything out because we have to have the dialogue with the Senate," the Illinois Republican said.
"There are some sectors of our economy that want to have a guest-worker program. You have to take that into consideration. But that's part of this dialogue. We'll wait to see what the Senate passes," Hastert said.
In California, meanwhile, Cardinal Roger Mahony, who opposes strict anti-immigration policies, declared Wednesday a day of prayer and fasting for "humane immigration legislation."
"This is a unique opportunity, and God help us if we let it pass without enacting good, sound and just immigration reform," the archbishop of Los Angeles said during a special Mass at the Cathedral of Our Lady of the Angels.
CNN's Ted Barrett, Dana Bash and Suzanne Malveaux contributed to this report.

Home Page

CNN.com gives you the latest stories and video from the around the world, with in-depth coverage of U.S. news, politics, entertainment, health, crime, tech and more.

Home Page

CNN.com gives you the latest stories and video from the around the world, with in-depth coverage of U.S. news, politics, entertainment, health, crime, tech and more.