Lawmakers vow overhauls in response to ports deal
Head of Dubai company seeks to reassure Americans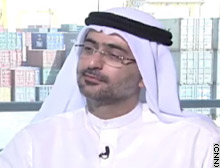 DP World CEO Mohammed Sharaf: "We are truly a global company."
(CNN) -- Two U.S. lawmakers called Sunday for overhauling the rules by which the United States approves foreign management of facilities involved in national security.
That came as the CEO of DP World sought to allay concerns over a deal that would give his United Arab Emirates-owned and -based shipping company control of several U.S. port terminals.
"We need to clarify to the American people ... it's a misunderstanding or misconception of us as DP World, what sort of an operator we are," Mohammed Sharaf told CNN.
"We need to educate the people in America that we are truly a global company, and it is not in our best interest to get into those areas where we feel or our customer feels that security is an issue."
Meanwhile, California Rep. Duncan Hunter and Maine Sen. Susan Collins, both Republicans, said they will introduce legislation on the matter. Both have criticized the ports deal.
The bill from Hunter, who is chairman of the House Armed Services Committee, would prohibit any foreign entity from owning facilities that the Department of Defense and the Department of Homeland Security deem critical to national security.
The bill from Collins, chairwoman of the Senate Homeland Security and Governmental Affairs Committee, would change oversight of the Committee on Foreign Investments in the United States (CFIUS), the administration panel that reviewed and approved the ports deal.
Sharaf said DP World works with authorities in every country on the five continents that it operates and meets international standards for port security, but noted that that security is not primarily the port operator's responsibility. That duty belongs to such authorities as Customs or, in the United States, the Coast Guard, he said.
Also, he said, DP World employees have to pass immigration and security procedures in the country where they work. Still, he said he wants to reassure Americans.
"We are recognized as the best in the industry," he said. "We are very confident that we have met and will meet the requirements."
State-owned DP World's purchase of P&O, the Britain-based company that manages cargo or passenger terminals at some ports on the U.S. Atlantic and Gulf coasts, has stirred up intense opposition in Washington. British authorities gave the $6.8 billion merger tentative approval Thursday.
President Bush has threatened to veto any congressional attempt to block the deal, warning that it would risk alienating a key ally in the Persian Gulf.
But under pressure from the White House and Republican leaders in Congress, DP World agreed to delay taking control of P&O's North American port operations until a 45-day security review can be completed.
The deal had already received approval by CFIUS, which is led by the Treasury Department and includes representatives from the departments of Defense, State and Commerce.
Critics of the deal have pointed out that two of the September 11, 2001, hijackers came from the UAE, and that funding for the attacks was funneled through Dubai, a major Persian Gulf banking center.
But UAE Economy Minister Sheikha Lubna al-Qasimi pointed out that those who participated in the attacks came from several different countries.
"You can't actually accuse a country because of two," she told CNN. "Two do not make a nation."
The White House said it supports congressional input.
"We welcome discussions with members of Congress on the CFIUS process," spokeswoman Maria Tamburri said. "We'll be talking with members of Congress about their ideas."
Nuclear allegations
Earlier this week, Hunter accused Dubai of facilitating transfers of nuclear weapons technology.
He elaborated Sunday on ABC's "This Week," saying that in 2003, 66 high-speed electrical switches, or triggers for nuclear weapons devices, were shipped through the UAE "even over the protests of the United States."
"Dubai has a reputation of being the place where you go in if you want to ship something with anonymity," Hunter said.
He said he did not believe Bush knew that, and that the CFIUS board looked at the ports deal "from a very superficial level, and they didn't get the intelligence briefs that go to Dubai's activities to transship things like centrifuge parts."
"They didn't look at the front companies that Germany has identified as operating in Dubai to secure nuclear components for Iran, and I think if the president gets that information ... we're going to see a turnaround."
Asked about the nuclear allegations, al-Qasimi said, "When you look at any port operation, you have to distinguish between products coming in and being re-exported and from products sitting in transshipment mode. Transshipment means that you don't inspect the box."
Collins said she believes Hunter's bill would go too far.
"Not all foreign investment is the problem," she said on "This Week." "But in this case, we have a country that has a very mixed track record on terrorism, a country that the 9/11 commission said had been both a valuable ally and a persistent problem."
She said she and Sen. Joe Lieberman, a Connecticut Democrat, will sponsor a bill that would move CFIUS oversight from the Treasury Department to the Department of Homeland Security.
"I think the process right now is deeply flawed," Collins said. "It's too weighted toward investment concerns when the purpose should be and needs to be national and homeland security."
Sen. Charles Schumer, a New York Democrat who also has criticized the deal, appeared to agree with Collins, telling CNN that the process of review and approval should be more open and thorough.
"The CFIUS committee in the past has let economic or diplomatic considerations trump security considerations," he said. "That's not good enough post-9/11.
Former Democratic presidential candidate Gen. Wesley Clark, however, called for an overall strengthening of port security on "This Week."
"It's weak, and it doesn't matter who owns it," Clark said. "We're not inspecting the containers that are coming in. We don't have the right radiation monitors out there. We don't know who's in the ports ... We have to work with the people in Dubai, the people in Rotterdam, the people in China, because that's where the threats originate that come to our ports."
CNN's Dana Bash contributed to this report.

Home Page

CNN.com gives you the latest stories and video from the around the world, with in-depth coverage of U.S. news, politics, entertainment, health, crime, tech and more.

Home Page

CNN.com gives you the latest stories and video from the around the world, with in-depth coverage of U.S. news, politics, entertainment, health, crime, tech and more.