Ex-FEMA director admits errors, calls for Chertoff's resignation
Brown admits he should have gone public with concerns sooner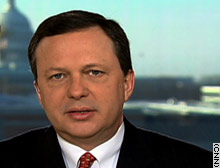 Michael Brown said President Bush was engaged during the response to Hurricane Katrina.
WASHINGTON (CNN) -- The former federal emergency director who resigned after the heavily criticized response to Hurricane Katrina admitted Friday that he should have been more forthcoming about problems with the government's response to the storm but faulted the performance of his former boss, Homeland Security Secretary Michael Chertoff, and called for his resignation.
Michael Brown, the former director of the Federal Emergency Management Agency, was well aware that his agency was overwhelmed during the immediate aftermath of the storm, he told CNN, but blamed a "beltway" mentality that believes that "the American public can't handle the truth" for not making his concerns about the response public.
"I should have owned up to the public very early in this disaster -- probably on Monday and Tuesday -- that's how catastrophic it was, how serious it was, and that we were going to have problems," Brown said.
"I think we need to get beyond that and just start being honest with the public and telling them exactly what is going on," he added.
Brown resigned from FEMA in September amid intense criticism of his own performance after Katrina, the storm that left more than 1,300 dead in Louisiana and Mississippi.
"I have apologized to the people of America and I think it's time for everybody else to own up to their mistakes, too," Brown said.
Recently-released video and transcripts of FEMA video conferences from August 28, the eve of the storm's landfall, and August 29, the day the storm moved ashore, have fueled criticism that Bush was not fully actively involved in the response. (Full story)
Brown said Bush was fully involved but said the president should be faulted for putting too much faith in his troubled agency that, he contends, deteriorated after being moved into the Department of Homeland Security.
On Thursday, Brown said he spoke with Bush directly "on at least a couple of occasions" on August 29 and told him about the failure of New Orleans' levees -- "Because that, again, that was almost foremost in my mind and my concern."
"I think the mistake the president did make is that he was overconfident in FEMA, despite my entreaties [about] what was happening to FEMA," Brown said.
White House Deputy Press Secretary Trent Duffy disputed Brown's suggestion that the president was overconfident.
"The president was well aware it was a devastating storm and we pre-positioned more manpower and material before the storm," Duffy said. "It turned out not to be enough."
Calls for Chertoff's resignation
Brown also reiterated that Homeland Security Secretary Michael Chertoff should resign for his handling of Hurricane Katrina, accusing Chertoff of lacking disaster management knowledge.
Brown has blamed the poor federal response on the dysfunctional structure of the Department of Homeland Security, which became FEMA's parent agency when DHS was established in 2003.
"It appears to me that, you know, when Chertoff does things like tells me that I've got to go to Baton Rouge and plop my butt down on a seat in Baton Rouge and run a disaster from there, I think that shows naivete about how disasters are run," Brown told CNN on Thursday. "And you've either have to get with it, or move on."
Asked whether Chertoff should be dismissed, Brown said, "Well, I think so." He said FEMA had been "marginalized" by Chertoff and his predecessor, Tom Ridge, and that he had expected the agency's performance to suffer.
"I had been screaming internally that the budget cuts, the personnel cuts and what they were doing within Homeland Security was in effect marginalizing FEMA, and I predicted that at some point -- in a very specific memo to both Tom Ridge and to Chertoff -- that at some point, FEMA would fail," Brown said. "I just didn't expect to be in the middle of the failure."
The White House has stood behind Chertoff, who became Homeland Security secretary in February 2005. President Bush said Tuesday Chertoff was doing "a fine job."
But a House committee that investigated the response to Katrina criticized Chertoff for waiting two days after the storm hit to activate a national response plan -- and for naming Brown to lead the federal response, even though he was not trained to take on that role.
In testimony before a Senate committee in February, Brown said communicating with the White House through Chertoff was a waste of time and graded Chertoff's performance a C-minus. (Full story)
Chertoff days later flatly rejected the accusation that either DHS or the White House were disengaged as the storm deluged New Orleans, Louisiana, and leveled much of coastal Mississippi. (Full story)
In a briefing the day before Katrina made landfall, Bush was told by National Hurricane Center Director Max Mayfield that Katrina might send water rushing over the tops of the levees and leave New Orleans flooded.
In an interview September 1, three days after landfall, Bush said, "I don't think anyone anticipated the breach of the levees."
White House spokesman Trent Duffy said he could not discuss Bush's "private conversations" and would not confirm anything "either way" about whether Brown had discussed the levee breaches with the president.
But he said the government had helicopters in the air quickly to help rescue people trapped in the flooded city.
CNN's Jeanne Meserve and Dana Bash contributed to this report.

Home Page

CNN.com gives you the latest stories and video from the around the world, with in-depth coverage of U.S. news, politics, entertainment, health, crime, tech and more.

Home Page

CNN.com gives you the latest stories and video from the around the world, with in-depth coverage of U.S. news, politics, entertainment, health, crime, tech and more.