Kerry appears to lack votes for Alito filibuster
Vote to stop debate scheduled for Monday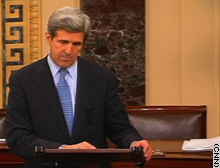 Sen. John Kerry, back from Switzerland, takes to the Senate floor Friday to oppose Judge Samuel Alito.
WASHINGTON (CNN) -- Massachusetts Sen. John Kerry has urged his Democratic colleagues to unite and filibuster Judge Samuel Alito's nomination to the Supreme Court, but senators from both sides of the aisle said Friday that isn't going to happen.
Kerry's mission was further hampered by the Gang of 14 -- a group of seven Democrats and seven Republicans -- most of whom said they will not grant the former presidential candidate's wish.
The Gang of 14 formed in May, with the Democrats of the bunch agreeing not to filibuster President Bush's judicial nominations in most cases, and the Republicans promising not to support any GOP attempt to abolish filibusters. (Watch Kerry's plea to his party -- :50)
Five of the group's seven Democrats have said they will support Alito's nomination, or at least oppose a filibuster to stop it. The two remaining Democrats, Sen. Joe Lieberman of Connecticut and Sen. Daniel Inouye of Hawaii, both said they will vote against confirming Alito. They did not indicate whether they would support a filibuster.
However, two Dakotan Democrats -- Sen. Tim Johnson of South Dakota and Sen. Kent Conrad of North Dakota -- have said they would vote down a filibuster. Johnson said he'll vote for Alito, and Conrad said he's "leaning in favor" of the candidate.
A filibuster is a maneuver allowed under Senate rules to block a vote by extending debate indefinitely. Sustaining a filibuster requires 41 votes in the 100-member Senate. Democrats have 44 seats, and often draw the support of the chamber's lone independent, Sen. Jim Jeffords of Vermont. (What is a filibuster?)
So, with a vote to cut off debate scheduled for Monday, the math is as follows: The chamber's 55 Republicans are all expected to oppose the filibuster. Add the seven Democrats, and there are 62 in favor of cutting off debate, two more than needed.
Senate Minority Leader Harry Reid conceded Friday that Kerry's efforts are likely to be futile.
"Everyone knows there are not enough votes to support a filibuster," Reid said.
Kerry was in Davos, Switzerland, attending the World Economic Forum on Thursday when he called for the filibuster. Democratic sources say Kerry called fellow Democratic senators earlier to rally support.
Also Thursday, Senate Majority Leader Bill Frist filed a motion to cut off debate on the Alito nomination after Reid objected to a move by GOP leaders to schedule a final vote on his confirmation Monday afternoon.
Frist's cloture motion will come up for a vote at 4:30 p.m. Monday. If successful, senators will then vote on Alito's nomination at 11 a.m. Tuesday, with a simple majority of 51 votes needed for approval. (Watch how the Senate Judiciary Committee voted for Alito -- 1:37)
Despite Kerry's proposal apparently crashing just after takeoff, one of his aides said the senator is paying no attention to Capitol Hill gossip and is standing on principle in backing the filibuster.
"Judge Alito's confirmation would be an ideological coup on the Supreme Court," Kerry said in a written statement. "We can't afford to see the court's swing vote, Justice Sandra Day O'Connor, replaced with a far-right ideologue like Samuel Alito."
The White House was so confident that Alito would be confirmed that Bush spokesman Scott McClellan openly mocked Kerry's actions.
"I think it was a historic day yesterday. It was the first-ever call for a filibuster from the slopes of Davos, Switzerland," McClellan said. "Maybe Senator Kerry needs to be spending more time in the United States Senate so he can refresh his memory on Senate rules. Senate rules say you have to have the votes in order to filibuster."
Even Sen. Ted Kennedy of Massachusetts, who is backing the filibuster, said Kerry's quest is "an uphill battle."
"This is a vote of a generation and a test of conscience," Kennedy said in a statement. "Judge Alito does not share the values of equality and justice that make this country strong. He does not deserve a place on the highest court of the land."
Sen. Hillary Clinton of New York and Sen. Dianne Feinstein of California say they will join the Massachusetts senators in backing the filibuster.
But at least one Democrat, Senate Minority Whip Dick Durbin, said he will shoot down a filibuster simply because it defies common sense.
"One of the first responsibilities of someone in Congress is to learn how to count," the Illinois senator said. "Having made a count, I have come to the conclusion it is highly unlikely that a filibuster would succeed."
CNN's Ted Barrett, Dana Bash, Lisa Goddard and Ed Henry contributed to this report.

Home Page

CNN.com gives you the latest stories and video from the around the world, with in-depth coverage of U.S. news, politics, entertainment, health, crime, tech and more.

Home Page

CNN.com gives you the latest stories and video from the around the world, with in-depth coverage of U.S. news, politics, entertainment, health, crime, tech and more.