'They pretended they were God'
Doctor, 2 nurses allegedly killed patients with lethal drug dose
From Drew Griffin and Kathleen Johnston
CNN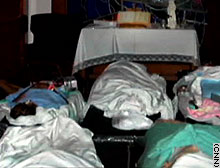 Bodies lie wrapped at Memorial Medical Center in the aftermath of Hurricane Katrina.
NEW ORLEANS, Louisiana (CNN) -- In the desperate days after hurricane Katrina struck, a doctor and two nurses at a flooded New Orleans hospital allegedly killed four patients by giving them a lethal drug cocktail, Louisiana's top law enforcement official said Tuesday.
"We're talking about people that pretended that maybe they were God," Attorney General Charles C. Foti Jr. said, announcing second-degree murder allegations against Dr. Anna Pou, Lori L. Budo and Cheri Landry.
"This is not euthanasia. It's homicide," Foti said. (Watch how a mercy killing probe led to murder charges -- 1:41)
The case stems from the post-Katrina deaths of some acute care patients at New Orleans Memorial Medical Center.
An affidavit said tests determined that a lethal amount of morphine was administered on September 1 to four patients ages 62, 66, 89 and 90. Hurricane Katrina swamped the city on August 29.
'Lethal cocktail'
According to the court document, the morphine was paired with midazolam hydrochloride, known by its brand name Versed. Both drugs are central nervous system depressants.
Taken together, Foti said, they become "a lethal cocktail that guarantees that you die."
The doctor and nurses were taken into custody late Monday, following a 10-month investigation that continues. Each was accused of four counts of being a principal to second-degree murder and released on $100,000 bond.
The case will be referred to the Orleans Parish district attorney's office for prosecution, Foti said.
Sources have told CNN the conditions at the hospital were dire, and the killings allegedly were carried out to speed evacuation. Foti would not discuss possible motives on Tuesday.
"We feel that they abused their rights as medical practitioners," was all he would say.
Attorney asserts innocence
Rick Simmons, Pou's attorney, issued a statement saying his client "is innocent of the charges and we intend to vigorously contest them."
He also criticized how the arrest was handled.
"I told them that she is not a flight risk. I told them that she would surrender herself," he told CNN. "Instead, they chose to arrest her in her scrubs so that they could present her scalp to the media."
The lawyer for Landry, John Di Guilio, told CNN he was surprised at his client's arrest. He said Landry plans to enter a "not guilty" plea and contest the charges against her.
Foti for months has been investigating whether hospital and medical staff euthanized some patients. He is expected to outline what he thinks happened to some of the 45 Memorial Hospital patients who were found dead in August after the hurricane evacuations.
"We obviously think it's a very credible. ... We spent a lot of time, energy and manpower working on this case, ... so we think it's a good case," Foti told CNN in February.
Euthanasia was discussed
In October, CNN reported exclusively that after deteriorating conditions -- with food running low and no electricity -- some medical staff openly discussed whether patients should be euthanized.
Dr. Bryant King, a contract physician with Memorial who was working before and after the hurricane, said another doctor came to him and recounted a conversation the doctor claimed she had with a hospital administrator.
According to King, the doctor said that the administrator suggested patients be put "out of their misery."
King said when he objected this physician acknowledged his concerns, but he said that "this other (third) doctor said she'd be willing to do it." King told CNN that he later that day saw one doctor holding a handful of syringes. He left, King said, because he believed the doctors would follow through with their suggestion of euthanasia. However, King never saw any wrongdoing occur.
Shortly after he began his investigation last year, Foti issued 73 subpoenas to hospital staff and physicians after he said the hospital owner, Tenet Healthcare Corp., was not cooperating in the investigation.
Since then tissue samples have been sent to a private East Coast lab to determine if fatal doses of medicine, including the painkiller morphine, were in the bodies of any of the dead, New Orleans Parish Coroner Frank Minyard told CNN in December.
Meanwhile, Tenet announced Tuesday that it is selling three New Orleans-area hospitals, including Memorial Medical Center, which has been closed since Katrina.
Editor's Note: CNN, which broke the hospital deaths story, was nominated Tuesday for an Emmy in Outstanding Investigative Journalism: "Death at Memorial Hospital."

Home Page

CNN.com gives you the latest stories and video from the around the world, with in-depth coverage of U.S. news, politics, entertainment, health, crime, tech and more.

Home Page

CNN.com gives you the latest stories and video from the around the world, with in-depth coverage of U.S. news, politics, entertainment, health, crime, tech and more.